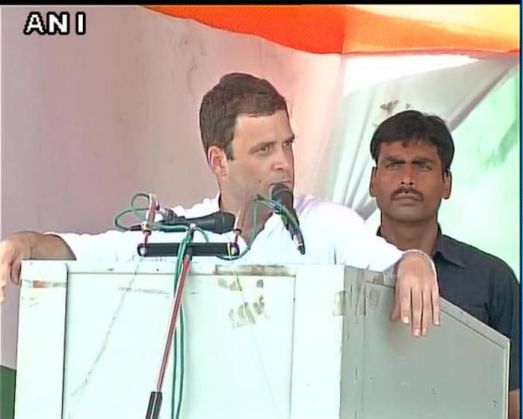 Congress vice-president Rahul Gandhi today addressed at a rally in West Champaran in a bid to woo voters for the Bihar assembly elections.
Though Nitish Kumar and Lalu Yadav didn't share the stage with Rahul, members of Rashtriya Janta Dal and Janta Dal United were present to provide support to his rally.
Here are some key points from his speech:
If the grand alliance forms a government in Bihar, we will bring employment to the state.
In the Parliament, I had mentioned that this government is 'suit-boot' government and is not for the poor; PM Modi now only meets with those people who wear suits.
Started off as a tea seller, Modiji's clothes started getting better. From Kurtas he moved onto 15 Lakh suits
Promised two lakh jobs, promised Rs15 lakh to each account and reduce high prices. Did it happen? He is a liar and will remain a liar.
He claims he and his 'suit boot wale dost' will change the future of this country, but PM Modi lies all the time; he is a 'Feku'.
He came to Champaran and said he will bring back the sugar mill. Has that sugar mill started again?
Sushma Swaraj ji is trying to shield and save Lalit Modi and still PM Modi ji says, "Na khaunga na khaane dunga."
We want to save Bihar from PM Modi and his 'suit boot wale dost'.