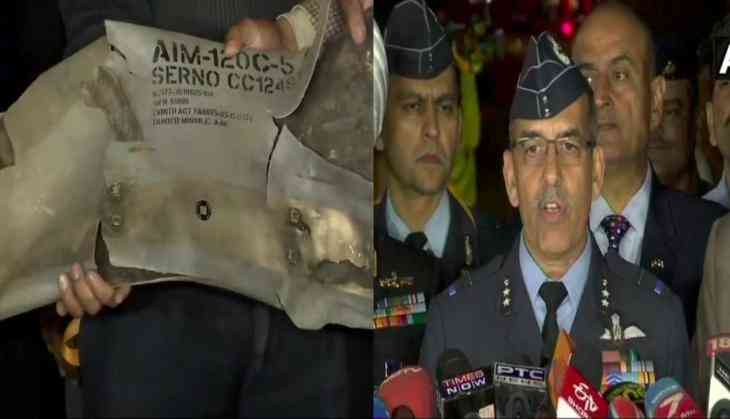 In the joint press briefing, the Army, Air Force and the Navy on Thursday addressed media and showed proof of that Pakistan violated Indian air space and used F-16 in the operation, that it's denying. The press briefing comes hours after the Pakistan Prime Minister Imran Khan announced that the country will release IAF pilot Abhinandan on Friday as a gesture of 'peace.'
Speaking on Pakistan's denial, Air Vice Marshal RGK Kapoor said that Pakistan has made many "factually incorrect statements." "There is enough evidence to show that F-16s were used in this mission through their electronic signatures. Parts of AMRAAM, air to air missile which is carried only on the Pakistani F-16s was recovered east of Rajouri within the Indian territory," said ir Vice Marshal RGK Kapoor in the joint briefing.
Visuals of cover of AARAM missile fired from Pakistani F-16 aircraft found near the LoC in India pic.twitter.com/qHdOm5cDqN

— ANI (@ANI) February 28, 2019
IAF fighters were tasked to intercept the intruding Pakistani aircraft and managed to thwart them. Although PAF jets dropped bombs, they were not able to cause any damage. One Pakistani F-16 was shot down by an IAF MiG 21 Bison Aircraft. East of Rajouri, parts of F-16 has been recovered, inside Indian territory. Also, IAF is happy that Wing Commander Abhinandan is returning tomorrow.
On the 'release' of IAF Wing Commander Abhinandan, Air Vice Marshal RGK Kapoor in a joint press briefing said, "We are happy that our pilot who had fallen across the Line of Control and was in custody of Pakistan is being released, we're extremely happy to have him back. We only see it as a gesture which is in consonance with all Geneva conventions."
Notably, the briefing was postponed by two hours to 7 pm from 5 pm after Pakistan Prime Minister Imran Khan announced the release of IAF pilot Abhinandan Varthaman tomorrow as a "gesture of peace".
Also read: If Pak provokes, we're ready for resolute action: Joint briefing by Army, Navy, Air Force