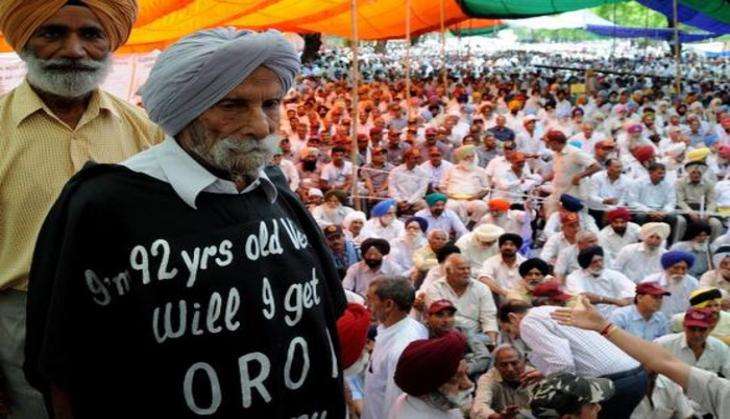 Former Indian Army soldiers residing in Nepal have praised President Pranab Mukherjee for describing them as the foundational pillars of the time tested friendship that exists between Nepal and India, and for his promise to deliver to them the benefits of one rank, one pension (OROP) at the earliest, besides other welfare measures.
These ex-servicemen, most of them Gurkhas, who have been serving in the Indian armed forces for more than 200 years, said they were extremely proud, happy and satisfied about the Indian president taking time out of his recent hectic two-day state visit to Nepal, to spend some moments with them in Pokhara and recall their enormous and well documented contribution in safeguarding India's borders from external aggressors in the years gone by.
Also Read: This is how Indians are making money from the currency ban

They said it was a particularly proud moment for them when President Mukherjee described them as the pride of the Indian Army and as people who had earned a name for themselves on battlefields and in other military-related operations.
They said they were also grateful to the Indian President for highlighting the fact that as on date, 32,000 Indian Army soldiers guarding the nation are of Gurkha origin, and that the Indian government is committed to never stepping back in its efforts to ensure the welfare of all of its ex-servicemen, including the Gurkhas of Nepal.
Also Read: Demonetisation program: Read to end your confusion, especially those who have undisclosed cash

They said that this gesture would not only benefit them, but also go a long way in giving a much needed boost to Nepal's economy.
During his interaction, President Mukherjee said it was a matter of pride for India that around 126,000 ex-servicemen and their dependents are drawing pension from the Indian Army in Nepal.
Also Read: Rs 1,000 notes to be introduced with new security features

He said relations between India and Nepal are based on multi-faceted social and cultural contacts, and reminded that both nations shared an open border and a friendship treaty that has elevated bilateral relations to a higher level.
This relationship, he said has also strengthened the friendship between the armies of both countries, and the ex-servicemen have made important contributions to the security and development of both our countries.
He said India is running many welfare schemes for the prosperity and well-being of ex-servicemen based in Nepal and informed that annually nearly 3100 crore Nepali rupees is distributed as pension in Nepal.
Also Read: Scrapping of high-value notes: Deposits above Rs. 2.5 lakh to face tax, penalty of 200% on mismatch

The objective in 2016-17 is to distribute around 4000 crore Nepali rupees under 'One Rank One Pension' and the 7th Central Pay Commission, he said.
He said that the Indian Army has an ex-servicemen Contributory Health Scheme in Nepal to take care of their health in old age, and added that approximately one crore Nepali Rupees has been distributed as medical assistance.
President Mukherjee told the ex-servicemen in Pokhara that ten medical teams from the Indian Army visit Nepal every year and that till now, 64 ambulances have been gifted to various ex-servicemen institutions in the Himalayan state.
The gathering of 150,000 ex-servicemen was informed that the Indian Army is providing scholarships to their dependent children; drinking water projects in 1049 villages and electricity through solar electrification projects in 17 remote areas.
The President said it is a matter of satisfaction and pride that a decision has been taken to increase the original pension drawn on 31 December, 2015 by 2.57 times and that the 7th Pay Commission had recommended a payment of 2.57 times of the pension drawn on 1 January, 2006.
The ex-servicemen said they were happy to hear about India's commitment to rehabilitation efforts pertaining to the devastating earthquakes that struck Nepal last year.
The Government of India has provided 32,000 Nepali Rupees per pensioner in addition to other aid to 6832 earthquake affected ex-servicemen.
-ANI