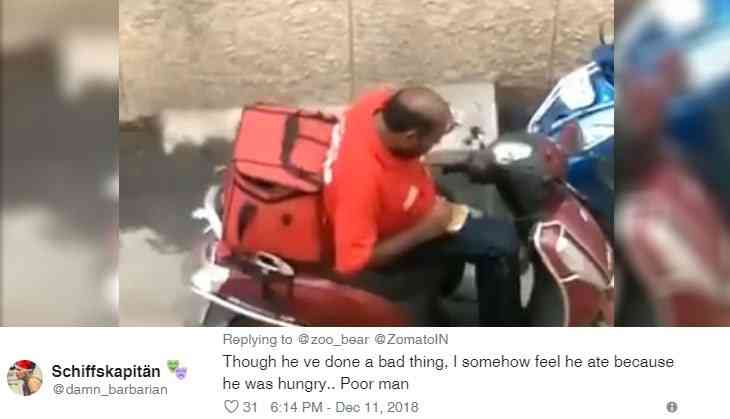 Is eating food a crime in India that it can even take your job? This sad thing has happened to a Zomato's delivery boy who caught on camera while eating a food that someone has ordered and after eating, he had packed it again.
The video went viral and has created a buzz on social media and the comments started coming over the video from the left and right directions and criticising the food application for such a thing.
In the viral video, it can be clearly seen that how a delivery boy is eating a food and then, pack it in such a way that the recipient couldn't understand that the food has been eaten by someone.
This is what happens when you use coupon codes all the time. 😂 Watch till end. pic.twitter.com/KG5y9wUoNk

— Godman Chikna (@Madan_Chikna) December 10, 2018
However, as the video started doing the round, the company soon apologised on social media.
In its apology post, Zomato has said that 'We take these kinds of reports extremely seriously and upon thorough investigation, we've found that the video was shot in Madurai. The person in the video happened to be a delivery partner on our fleet. We have spoken to him at length - and while we understand that this was a human error in judgment, we have taken him off our platform.'
Further, Zomato also added that they had sacked the man who did such a thing.
Well, it is a bit harsh punishment that has been given to the delivery boy because hunger is the call of nature which can't control for long.
After this shocking news, Netizens also felt sorry for him and said that it's totally wrong to punish him in such way.
Check out Twitterati reactions:
They've removed him. Feel very bad for this @ZomatoIN delivery guy :( pic.twitter.com/c3vDBri7wJ

— Zoo Bear (@zoo_bear) December 11, 2018
What shit is this.. if an action is taken people have problem in that also. Should he be given a fine for giving his leftover for the people who waits for food?

Theft cannot be sized like t shirt.. small medium or large, evrything is extra large(source anniyan). He deserves it

— spk. prave (@prave_spk) December 11, 2018
If people have to steal food, there is some problem with our society. I feel sorry for him.

— Nfuel (@nfuel900) December 11, 2018
Just because his video was exposed and he came in the open @ZomatoIN sacked him. There could be so many more such types yet in the organisation. The answer is in tightening the screws and giving warning to the staff. Also creating foolproof systems. You should immediately recall.

— Basant Bhoruka🇮🇳 (@basant_bhoruka) December 11, 2018
What do you think on this step of Zomato?
Comment your opinion on our Facebook page.
Watch Video:
Also read: WOW! Check out these funny car & bike number plates that will make you laugh you so hard!