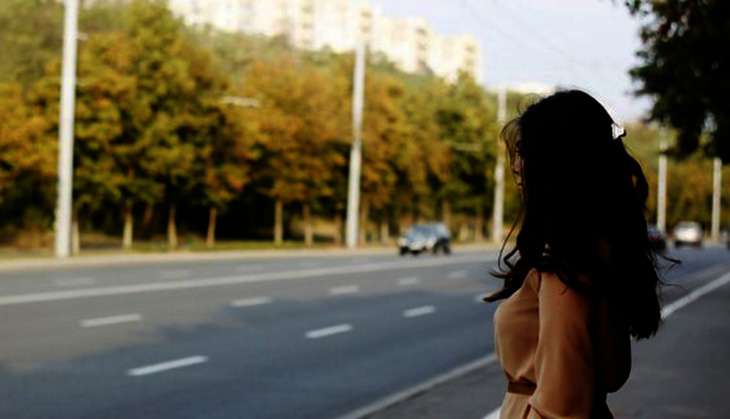 I usually like to usher in the New Year at home, but this New Year's Eve I decided to step out. I headed to Connaught Place to meet friends.
When I learnt the roads to Connaught Place were sealed, I instructed my driver to park near Ajmeri Gate railway station and to pick me up at the same point on the opposite side of the road.
The driver had been with me only a week and was mostly unfamiliar with Delhi roads. A little after midnight, I asked him to reach the road leading to ITO.
I started walking towards that point with hordes of hoodlums racing motorcycles across CP, making catcalls and chasing women. The cops were there in full attendance at all barriers they had installed to make the heart of Delhi safe -- never mind that the bikers had quite easily managed to conquer all such hurdles.
That their presence mattered little was obvious because some of them were busy peeing on CP's walls, while others kept busy ogling at women. Their foreheads did not wrinkle into a frown with (feigned) concern when they spotted women returning late from the New Year party, rather their faces were full of glee as if watching the last over of their favourite sport.
'Love' on New Year's
As two young women from the Northeast, one dragging the other, went past me, about two dozen hoodlums chased them shouting "I Love You". The woman whose step was more steady than the other's pleaded with her partner to run, but she couldn't.
I was so scared for the two women that I asked them to run to the next police barrier which was a 100 metres away. The cops did not stop the boys, but instead decided to check the women out themselves. They exchanged notes and chuckled as the women crossed over to the other side of the road and tried to hail a cab.
I turned around and told the cops that instead of sizing the women up they should have helped. They didn't budge, and the hooligans came for me.
I, too, crossed the road and ran over to the other side. My driver hadn't reached as yet, he said he was stuck in a jam. I called him every two minutes because it was impossible to stand at the busy traffic junction.
There were men staring at me from inside their cars, honking to invite me in, even the pavement dwellers had swung into action, whistling and winking at me.
Those few minutes crushed my confidence of a lifetime. I was horrified, because in my head I was way past the age group that gets ogled at, I am a boring dresser (fully covered too) and I was certain that I could take care of myself. I suddenly found myself half-hiding my face with a muffler.
I decided to walk in the opposite direction towards Ajmeri Gate because my driver said he was still stuck in a jam. As I walked, a couple of men decided to follow me, passing lewd comments. I walked 100 metres and then decided to retrace my steps to the crossing, which I thought was at least well lit.
After several desperate phone calls, I asked my driver to let me speak to someone else to decipher his exact location. To my horror I learned that he had driven past me long ago and was about to reach the Delhi Police Headquarters at ITO.
I wanted to burst into tears. The driver knew little of Delhi so I couldn't have asked him to come back and pick me up, and that would take ages, given the jam on the road.
I decided to quickly walk the distance which was at least 3 km. In between I tried to book a cab on the phone, but had no luck.
Party karke aa rahi hain?
It is not easy to walk in high heels on the road, and surely not when you dig your heels out very, very rarely. My feet hurt, but I walked. I walked half a kilometre, with men honking and stopping near the footpath.
Sometimes they'd get out to puke, but I would imagine the worst. I noticed a lot of broken bottles on the road - symbolic of the rough revelry the roads had just witnessed - and then someone flung a bottle on the footpath.
It was 1.30 am. The number of cars was thinning on the road. When I stopped, two cars pulled up. I froze. Just at that moment I saw a cycle rickshaw with a single occupant. I stopped it and requested the man to let me share the rickshaw.
I knew I was taking a huge risk, but I had no option. The man on the seat decided to talk to me: "Aap yahan kaam karti hain?" I did not answer. "Oh! party karke aa rahi hain?"
Instead, I pulled out my phone, called the driver and told him not to move from the POLICE HEADQUARTERS - just for effect.
I started talking to the cycle rickshaw puller, told him my driver had missed a crossing and driven ahead. The man seated next to me said, "Where do you want to get off?"
I checkmated him with "Where do you want to get off?"
His answer - "hum to kisi aur chakkar main yahan aye the. Hamein to ulti taraf jaana tha" - gave me goosebumps.
Did he really think he was 'picking me up'?
No woman's safe
For the rest of the journey, I decided to fiddle with my phone, half hanging from the rickshaw on one side just in case if I had to jump. I had an imaginary conversation with my husband and then with friends about cops and about how to hand over our driver to them.
After a kilometre, the man on the rickshaw started fidgeting, cribbing about wasting his time. I ignored him and told the rickshaw puller politely to drop me just a little further down the road.
A little before I reached the ITO crossing, it struck me that I did not have change to pay for the rickshaw ride. At the instruction of the rickshaw puller, the man in the rickshaw took my 500-rupee note and gave me Rs 400 back.
I jumped out of the rickshaw when I reached the ITO crossing and rushed towards the car which was parked at the bus stop.
As I got into the car I sent up a prayer of thanks. I had learnt the lesson of a lifetime. No woman on the streets of Delhi is safe - the variables such as young or old, fully-clothed or not, fit or physically challenged, dead or alive -- just did not matter.