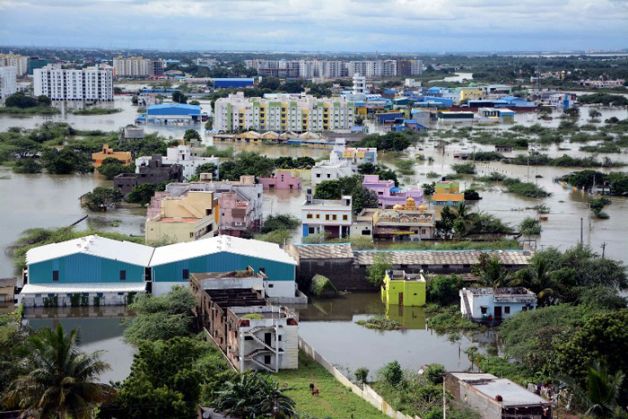 While it hasn't rained in Chennai for about 12 hours now, the city's troubles are far from over. Even as areas in the state caught a break from the incessant downpour, lakes continued to overflow, making rescue operations tougher for volunteers and government forces. Here are the top developments:
Chennai has received about 49 cm of rain in the last 24 hours alone. About 35 lakes and reservoirs continue to spew water over their banks into Chennai, including three lakes in Kanchipuram district. With the Met department's forecast of more rain for the next 72 hours, the city remains at risk.
The Saidapet bridge over the Adyar river was closed off last night as the river spilled water onto the road. The reasons cited include the release of about 30,000 cusecs of water from the Chembarambakkam reservoir into the river over the last two days, causing the narrowing stream to flood its banks.
Disaster Management
The National Disaster Response Force (NDRF) has deployed additional teams and with up to 1000 jawans present, the NDRF has rescued more than 2400 people so far. Rescue operations are expected to continue as over a 100 boats have been put to use.
The Indian Navy's carrier INS Airavat was also moved to Chennai with medical facilities and doctors. 20 divers and swimmers and 15 boats have will also be assisting the rescue operations.
The Indian Air Force is also dropping food packets in affected areas as supplies run out.
Rising death toll
The death toll stands at 269, Home Minister Rajnath Singh informed the Lok Sabha. The state government is yet to release official figures.
Rail, road and airways still affected
Railways and airport services have been halted with the airport mandated to be shut till 6 December. Chennai bound flights are expected to land at INS Rajali Airbase of Indian Navy, Arakonam which is about 60 kilometers away from Chennai.
Taking stock
Tamil Nadu Chief Minister Jayalalithaa is surveying the flood-affected as Prime Minister Narendra Modi is en route to Chennai to do the same.