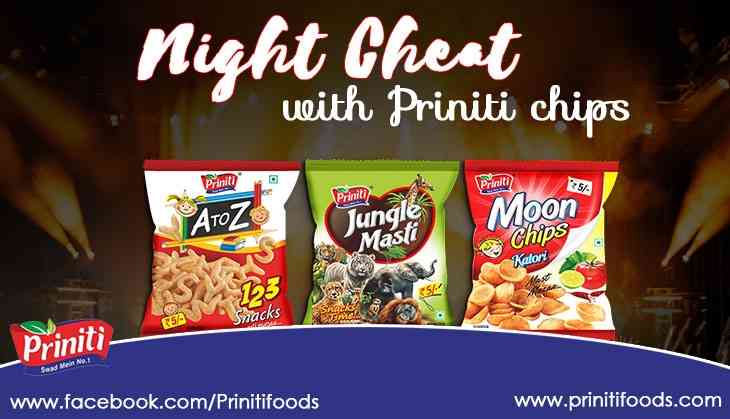 Snacks and Sweets are something we all Indians love to have during breakfast and with evening tea-break and
Priniti Foods Pvt. Ltd
is a name that is known for their best quality products. Priniti Foods is manufacturers of Indian Traditional Namkeen and Salty Snacks such as Potato chips, Puffs, Rings, Sticks etc. which are distributed all over India, be it urban or rural.
Priniti Foods Pvt. Ltd
is a renowned name in the field of Namkeen, Sweets and Salty Snacks. With 9 years of experience and with impeccable quality and exquisite taste, Priniti Foods gives you a variety of options to choose in fairly competitive prices. Priniti Foods is considered as one of the most preferred manufacturers of Indian Traditional Namkeen and Food items such as Potato Chips, Puffs, Rings, Sticks etc. with the combination of fair business principles, efficient service and solid products.
Priniti Foods are very conscious about credibility as the first priority as they conduct all their operations in a professional manner. Because of excellent quality products, they have established a strong reputation in the market. All their food products are made of quality raw materials.
Priniti Foods are among the top few manufacturers who have a state-of-the-art manufacturing unit coupled with the most sophisticated infrastructure. Their world class machineries are installed with cutting edge technology taking them far ahead of their competitors. Priniti Foods are equipped with a team of professionals working with utmost dedication utilizing their skills to give the best quality products to the consumers.
The expertise of their workforce are enhanced with proper training from time to time and the whole processing is done in a hygienic and clean environment where all measures are taken to maintain it round the clock.
Packaging and delivery is another aspect where intense care is taken by Priniti Foods. Packaging is done keeping international standards in mind and it is ensured that the finished products don't get contaminated by human touch. Their advance and spacious warehouse is the backbone of their company and has capability to store bulk amount of orders.
Priniti Products:Potato Chips:
Priniti Foods are offering finest quality
Potato Chips
. These potato chips are widely regarded and accepted by large number of quality conscious buyers. They use best of ingredients to produce their products. Priniti Potato chips come in four different flavors like Classic Salted, Cream 'n' Onion, Masala Punch and Tomato Punch and comes at a reasonable price of Rs. 25, 20, 15, 10 & 5.
Charchare Sticks:
Priniti Foods are putting forth great quality items. These are broadly acknowledged all over India and is adored by all. They come in two distinct flavors like Mast Masala and Tangy Tomato. The costs of Charchare Sticks are at Rs. 25, 20, 15, 10 and 5.
Rice Puffs:
These rice puffs are produced using best quality and furthermore under sheltered and clean conditions. These namkeens are generally acknowledged by Indian purchasers in urban areas and towns as well. The Rice Puffs come in three unique flavors like Masala Treat, Tangy Tomato and Khatta Meetha. Rice puffs are just accessible at Rs. 5.
Ringo Star:
Priniti Foods give great quality Ringo Star. These Ringo Star are generally acknowledged by Childrens all over India. These are made of best fixings in sterile conditions. Ringo Star comes in two flavors: Mast Masala and Tangy Tomato and the value begins at Rs. 5 for every parcel.
Popcorn:
There are very few companies in India that make
popcorn
and Priniti Foods are among one of them. There Butter Salted Popcorns are produced using best quality corns and furthermore under safe Hygiene conditions. These popcorns are broadly acknowledged by vast number of purchasers across India. Priniti Foods popcorn are sold at Rs. 25, 20, 15, 10 and 5.
Sweets:
Priniti Foods are likewise among pioneers in India with regards to assembling desserts. They have a variety of deserts and sweets including Rasgulla, Gulab Jamun and Soan Papdi. While Rasgulla and Gulab Jamun comes in a 1kg and half Kg tin pack, you can Get a pack of Soan Papdi available with different choices of 800g, 400g, 200g.
Indian Traditional Namkeens:
Priniti Foods are putting forth Indian customary namkeens. These customary namkeens are generally acknowledged by countless health conscious purchasers all over India, be it urban or provincial. Priniti Foods are known for their utilization of best ingredients to deliver their nourishment variety. They are putting forth an assortment of items with regards to customary namkeens. Their items are isted below:-
1. Bikaneri Bhujia
2. Cornflakes Mixture
3. Kaju Mixture
4. Sev Murmura
5. Tasty Nuts
6. Aloo Bhujia
7. Punjabi Tadka
8. Moong Dal
9. Masala Murmur
10. Salted Peanut
11. Khatta Meetha
12. Navratan Mixture
13. Chatpati Dal
14. Hing Jeera Chana
15. Ratlami Sev
16. Nutkhat Nimbu
17. Mast Matar
18. Diet Mixture
19. Boondi Masala
These all is the wide basket of Priniti. Apart from this, Priniti Foods also care for their customers on festivals by providing number of varieties in Gift Packs.