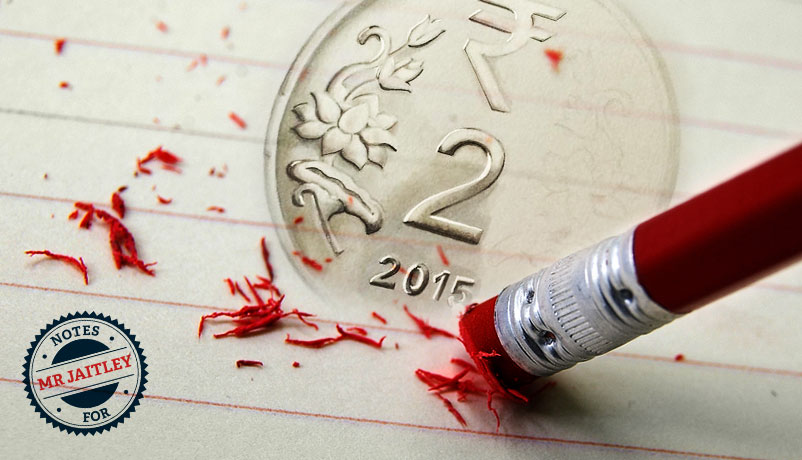 With the government facing flak for its handling of universities, Finance Minister Arun Jaitley's budgetary allocation for education will be keenly watched.
Will the government budget to create vibrant learning spaces? Or, as many have written away already, will it financially starve universities and places of higher learning?
Last year, Jaitley slashed the overall education budget by 16% - from Rs. 82,771 crore to Rs. 69,074 crore.
Read- #NotesForMrJaitley 7: set realistic targets, build credibility
India still has an literacy rate of 74%. But that's only at the face of it. Several studies such as Pratham's ASER survey finds that half the country's fifth graders can't read a grade 2 textbook, 75% of technical graduates and 85% of general graduates are unemployable. What education are we providing our youth and what needs to be done to fix it?
Congress MP Shashi Tharoor also aptly called education a national security issue by stating: there is nothing more dangerous to the nation than legions of under-educated, unemployed and unemployable young men with no stake in our society.
Catch looks at the 5 education subheads that deserve attention and funds this budget:
The flagship Sarva Shiksha Abhiyan, which funds schools to be setup across the country had been reduced by 22.14%. When the Ministry of Human Resources Development had asked for Rs 50,000 crore in 2015-16; it received Rs. 22,000 crore from last year's Budget.
The impact of that has been 6 lakh posts of teachers vacant under the SSA. Only 63% of government schools have a pupil-teacher ratio as per RTE norms (30:1 primary, 35:1 upper primary). According to the RTE Act, the prescribed norm had to be reached by March 2015. It didn't then and it hasn't even in 2016.
The other concern is our Gross Enrolment Ratio at primary level is high (over 101 per cent) but so is the dropout rate. Almost a third drop out by Class 8. We need a higher quality of instruction and better trained teachers to retain them.
02
Nourish the mid-day meal scheme
Funding for the Mid-Day Meal Scheme was cut by 16.41%. Also only 69% of the kitchens-cum-stores sanctioned for the mid-day meal programme have been constructed This has led to a poorer quality of food being served at mid day meals. Civil society groups alarmed by the Bihar mid day meal poisoning tragedy want the budget for a healthy diversified diet for children at schools with better quality control and monitoring.
03
Improve secondary education
In the last budget, the Rashtriya Madhyamik Shiksha Abhiyan for secondary education was slashed by 28.7%, hurting the functioning of high schools and increasing drop out rates after 8th grade. This trend must be reversed urgently.
04
Support state colleges, improve existing infrastructure, not just open more IITs
In a push to create more IITs, the Rashtriya Uchhattar Shiksha Abhiyan, to support state colleges was slashed by 48% last budget. This severely hampered the plans to improve access of students to state colleges across the country.
Also read- #NotesForMrJaitley 2: Let Raghuram Rajan clean up the bad loan mess
Jaitley had promised the opening five more IITs with a budget of 1000 crores for each and more IIMs. According to the Government's own estimate this amount is too little because the new IITs need 310 crore per year over 7 years. Critics feel Jaitley should not just focus on building (low quality) IITs but should budget for strengthening infrastructure in existing institutions.
Teacher absenteeism is an even bigger problem in higher education with Central Universities, IITs, NITs, IIMs, all suffering crippling shortages of teachers.
05
Budget for disadvantaged groups