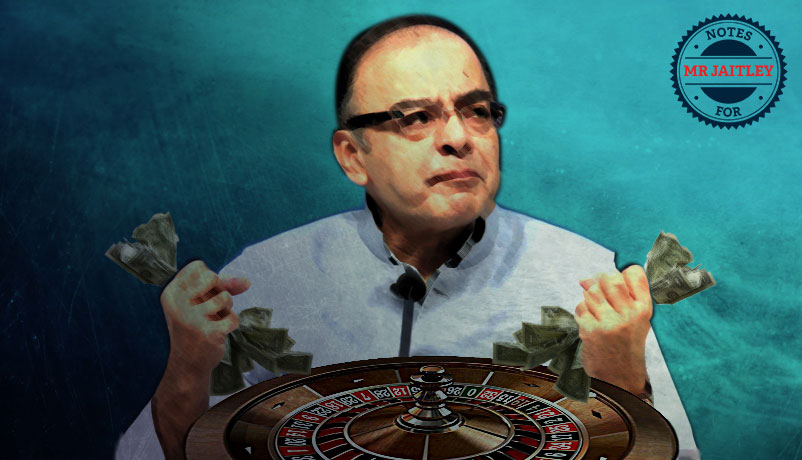 The doubts
Economists have recently started doubting the govt\'s GDP numbers
The original growth target for 2015-16 was 8-8.5%, which was revised to 7.5% and then upped to 7.6%
The trouble
The govt wants to increase spending on infrastructure to boost the rural economy
However, with public sector banks reeling under bad loans, this looks impossible
In such a scenario, experts believe even a 7% growth is difficult to achieve
More in the story
Why Jaitley needs to set realistic targets - to build confidence in the govt\'s numbers
The probable impact of the global economic slowdown on India
The Budget for 2016-17 is around the corner and all eyes are now on Finance Minister Arun Jaitley. Should the government spend more, or keep its wallet shut?

The global economy is wading through crashing commodity prices, unsure policy moves and shaky investors. In the midst of this, India has to decide which course to take, to ensure jobs to millions of youth joining the workforce every year.

With this backdrop, Catch brings you a series with a focus on all sections of the population and their requirements from Mr Jaitley's Budget.
***
As the Finance Minister of the fastest growing economy in the world, which is set to grow at 7.6% in 2015-16, Jaitley is likely to present even more aggressive growth targets for the next financial year - maybe 8 or 8.5%.
Read- #NotesForMrJaitley 6: underutilisation of defence funds is biggest concern
But is it really possible to achieve these targets? Can India, the bright spot in the world according to the International Monetary Fund, grow at such a fast pace?
Controversial numbers
Jaitley is undoubtedly under pressure to project higher growth targets. In an economy that is witnessing the flight of capital, it'll keep the euphoria alive. It'll help the government sell the India dream to global investors in its roadshows.
Indian GDP numbers have created a lot of controversy. Economists have questioned the govt's data
The Finance Minister's original growth target for 2015-16, as per his last budget speech, was 8-8.5%, which had to be scaled down to 7.5% in the midterm economic review. In the last quarter, the target was again revised to 7.6%.
However, lately, Indian GDP numbers have created a lot of controversy. Many economists have questioned the government's data, to an extent that it is now being compared to the Chinese way of fudging numbers.
Bad loans thwarting govt plans
Ahead of the budget, through various platforms, Jaitley has announced that his government will give a push to the rural economy by spending more on infrastructure.
Increasing public sector expenditure is important in the absence of private sector investments, which are at their lowest in a decade.
Also read- #NotesForMrJaitley 5: Don't listen to everything the babus say
But the problem is, where will the money come from? Do Indian banks have the capacity to fund Jaitley's ambitions?
The Indian banking sector is dominated by public sector banks (PSBs), which account for 70% of the market share. These PSBs reported gross non-performing assets of Rs 3.14 lakh crore at the end of September 2015, which was a 25.19% increase from the figure of Rs 2.5 lakh crore in September 2014.
Due to this, PSBs have so far reported losses worth Rs 12,000 crore in their December quarter results.
Non-performing assets are loans that have gone bad due to non-payment of interest or principal amount by borrowers.
This figure of gross NPAs accounts for 68% of the planned expenditure of the government for financial year 2015-16.
According to ratings agency ICRA, the stress on the Indian banking sector would likely impact earnings and solvency over the next two to three years.
Due to bad loans, public sector banks reported losses worth Rs 12,000 crore in their Q3 results
The government had set a target of infusing Rs 70,000 crore capital in the Indian banking sector between financial year 2016 and 2019. But according to ICRA, that support would not be enough anymore.
"If the government restricts its capital infusion plan to Rs 70,000 crore for FY16-FY19, several PSBs could have restricted growth, leading to further pressure on their credit profile," ICRA said in its banking sector outlook.
Given the stress that the Indian banking sector is witnessing, it would be very difficult for the government to increase its borrowing and spend it on infrastructure.
Other major problems
The government has to implement the Seventh Pay Commission recommendations, which will put an additional burden of Rs 1 lakh crore on the government's finances.
The implementation of the One Rank One Pension scheme, too, needs an additional allocation of around Rs 7,500 crore.
While every discussion with economists results in a recommendation that the government should spend more on the infrastructure sector, the current condition of infrastructure companies suggests it's not possible for them to take up new projects.
Read more- #NotesforMrJaitley 3: How to tackle the subsidy beast without harming the poor
On the top 10 indebted companies of India, totalling a debt of Rs 7.32 lakh crore, eight are from the infrastructure sector. Most of these companies are not in a position to complete projects or repay their debt.
Moreover, if the government gets very aggressive with public expenditure through big infrastructure projects, it may hurt its medium-term fiscal condition.
According to an HSBC report, the falling inflation and lacklustre growth is likely to push India's public debt ratio further up this year, after it increased to 67% in 2014-15 from 65.5% in 2013-14.
"Higher public spending now would make it longer before India returns to the 65% 'suitable' ballpark. But more importantly, if unexpected macro shocks strike during this period, debt ratios could remain 'unsuitable' for the foreseeable future," the report states.
'Even 7% looks difficult'
In such a scenario, Jaitley would do well to keep realistic growth targets. Being realistic ensures the credibility of government data, and avoids controversies that have marred the government's numbers in the current financial year.
Also read- #NotesForMrJaitley 1: how to make this year's budget more farmer friendly
According to Ajay Chibber, visiting professor at the National Institute for Public Finance and Policy, the government "would be lucky to achieve even 7% growth next year, as the global economy slows down further".
It is time Jaitley sets realistic goals and achieves them, in order to build credibility around his promises.
Edited by Shreyas Sharma