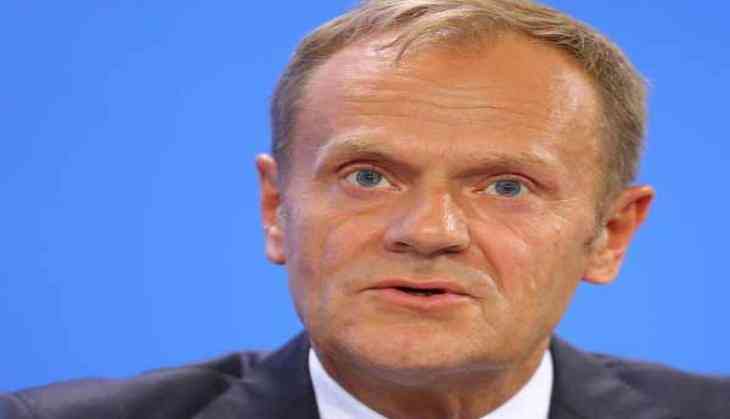 Donald Tusk, European Council president
British Prime Minister Theresa May's Brexit trade plan will not work, said the president of the European Council, Donald Tusk on Thursday.
Holding a press conference here after two days of intense talks with May here, Tusk said that the European Union (EU) leaders had agreed that the Chequer's plan would undermine the bloc's single market, CNN reported.
"Everybody shared the view that while there are positive elements in the Chequers proposal for economic cooperation, the suggested framework will not work -- not least because it risks undermining the single market," Tusk explained.
After two days of an informal summit by the EU leaders, they will meet once again at a formal summit next month, which the Polish politician called "the moment of truth" for smooth Brexit negotiations.
Tusk expressed concerns that no agreements have been signed on how to avoid new custom regimes on the border between Northern Ireland and Ireland, the report said.
It's clear that significant gaps remain between both sides. "The Irish question needs something more than only good intentions. Without clear a precise solution to the Irish question, and for the whole context of our economic future relations, it will be difficult even to imagine a positive process after October," he added.
May had earlier vowed to push for new proposals in order to ensure free trade across the Irish border.
Meanwhile, German Chancellor Angela Merkel said that there could be "no compromise" in the interests of the EU's single market. However, French President Emmanuel Macron blasted at the Brexit plan, saying it was sold to the British people by "liars" and fled from the scene.
May, who proposed the Brexit trade plan at her country retreat of Chequers in July, drew massive criticism, which even led to the resignation of then foreign secretary Boris Johnson and Brexit secretary David Davis.
Describing her meeting with Tusk as 'very frank', May underlined that the UK could have an option to leave the 27-member bloc without a deal. "There's a lot of hard work to be done, I believe there is a willingness to do a deal. However, we are preparing for no deal. The British people can be confident we have done what is necessary to make sure we have a success of leaving the EU," she added.
Under the process, Britain is set to leave the bloc by March 29, 2019. However, in practice, a deal has to be finalised in the next few months to allow for parliamentary ratification.
In June, the EU Withdrawal Bill, also known as the Brexit Bill, became a law, after Queen Elizabeth II gave her approval.
-ANI