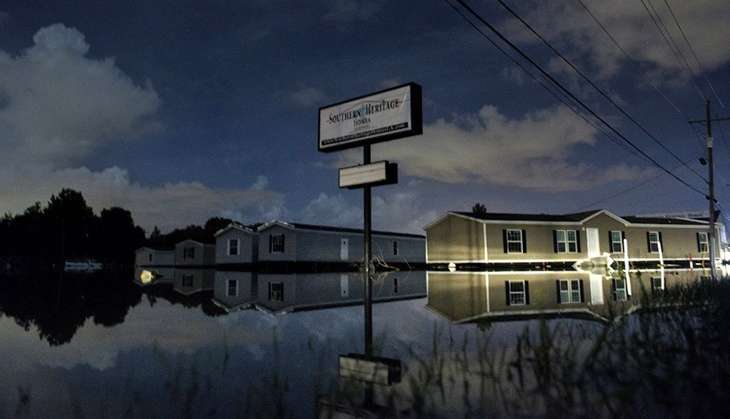 Louisiana located in the southern region of the United States, faced epic flooding, with six people killed and thousands evacuated to emergency shelters after waterways in the southern part of the state overflowed their banks.
Some areas have received more than 20 inches of rain since 11 August, submerging vast swaths of southern Louisiana in muddy waters.
"Our state is currently experiencing a historic flooding event that is breaking every record," Louisiana governor John Bel Edwards said in a statement to residents late yesterday.
"This event is ongoing, it is not over," he said. "We do not know when the floodwaters will recede, and they will continue to rise in some areas."
Six people have been killed and more than 20,000 others forced to evacuate their homes, officials said.
Massive shelters are housing the displaced, including at a Baton Rouge film studio complex and an entertainment center in the state capital's downtown area. Police said the Louisiana National Guard will assist evacuees in emergency shelters.
A helicopter survey late yesterday by the East Baton Rouge Sheriff's Office showed large areas of submerged land.
Muddy water covered roads, forested areas, and residential zones, cars and even the better part of some dwellings.
A spokeswoman for Edwards, Shauna Sanford, said six people have been killed in the floods. Some 40,000 homes and business were reported without power.
The White House declared four parishes -- equivalent to counties in other states -- major disaster areas.
"I fully expect that more parishes will be added to the declaration on a rolling basis," Edwards said.
Floodwaters appeared to be receding in some areas, but were flowing into others. The National Weather Service predicted that many waterways would remain above flood stage into at least Tuesday.
The agency continued to issue flood warnings in effect through early Tuesday, saying water in many areas would not recede at least for another day.
--PTI