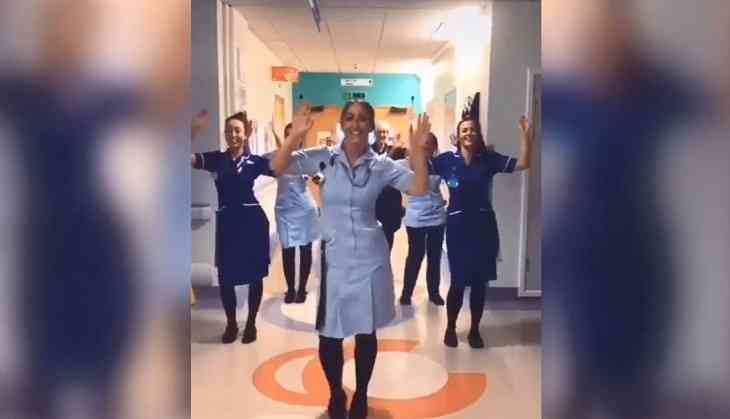 As the number of cases for the novel coronavirus has been increased, the challenges have been increased for healthcare personnel across the globe. Amid this havoc, NHS staff has been criticized for posting their dance videos on TikTok.
On one hand, people are applauding the frontline workers for battling against the COVID-19, but on the other hand, they have been slammed for their dance videos.
NHS staff are saving the lives of others by putting their lives at risk and are available for patients 24 hours to help people when in need. Undoubtedly, doctors, nurses, and health care assistants are the real heroes amid this pandemic outbreak.
During this tough phase, NHS staff have received flak on social media after their dancing videos surfaced on the Internet. From Katie Hopkins to other people have come in from a kill-joy quarters on social media.
A message for dancing doctors and nurses on tictoc. #CoronaBollocks pic.twitter.com/x6f5q5PebE

— Katie Hopkins (@KTHopkins) April 22, 2020
In the video, a group of nurses from wards in London, Buckinghamshire, Leeds, and Wolverhampton have created the videos and uploaded them on the TikTok app.
Families of patients slam 'disrespectful' videos of dancing NHS staff while people are dying https://t.co/Oqn5OQF7zF pic.twitter.com/JxsT6eeTaq

— Daily Mail U.K. (@DailyMailUK) April 23, 2020
A woman whose brother was treating coronavirus patients in London and sister was performing surgery said she was 'seriously p***ed off' by the clips of NHS staff. She added that my brother working 14-hour days in ICU in London to treat COVID-19 patients.
However, the NHS department has created a video to boost up healthcare personnel at a time when morale in many hospitals is low due to the surge in the death toll, a lack of PPE, and increase risk of catching the contagious virus among staff.
The University Hospitals of Derby and Burton NHS Trust also posted their clip and also stressed on the point that no patients were left uncared while making the video.
Still, some people have accused the videos of the Health Service while other people also support the medical staff for doing their dancing video as it would make them relief and calm by doing dance routine amid corona chaos.
What's your view on the dance videos shared by the NHS department?
Also Read: 'Get out of our country': Asian students left horrified after racist attack during COVID-19 pandemic