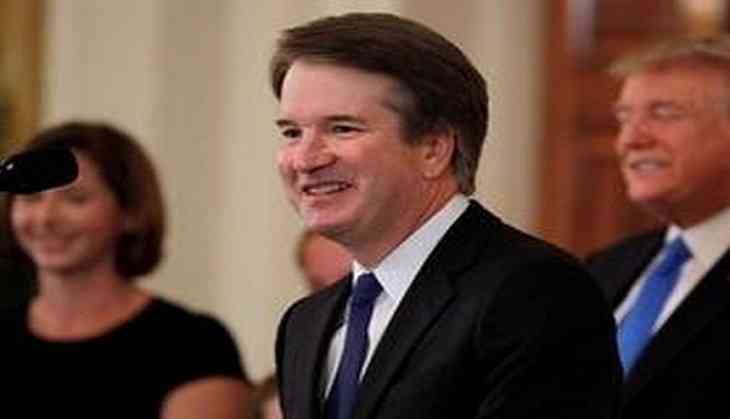 In a major victory for the US president Donald Trump, the controversial nominee Brett Kavanaugh was sworn in as a judge of the US Supreme Court, amid angry protests, tension and drama at Capitol Hill.
Brett was officially sworn in as the 114th Justice of the Supreme Court by Chief Justice John Roberts who administered the Constitutional oath in the Justices Conference Room, hours after the 53-year-old judge was confirmed by a divided Senate by 50-48 votes.
Brett Kavanaugh's nomination was hit by several allegations of sexual harassment and misconduct against him from his past, has replaced Kennedy who announced his resignation earlier this year.
Brett has denied all allegations and charges pressed against him of misconduct while he was in high school and college.
The swearing in of Brett as the Supreme Court judge comes after weeks of fight and battle between the ruling Republican and the opposition Democratic parties.
Things took an ugly turn in the last few weeks, when three women came forward with allegations that Brett had sexually assaulted them.
The first accuser Christine Ford, a professor in California and Brett were seen by millions of people inside US and abroad on the television sets during the open hearing of the case.
Donald Trump, after consistent political pressure ordered a last-minute FBI supplemental inquiry.
"This investigation found no hint of misconduct," Senator Grassley said in a statement. "There's nothing in it that we didn't already know."
"The crowd in front of the US Supreme Court is tiny, looks like about 200 people (& most are onlookers) - that wouldn't even fill the first couple of rows of our Kansas Rally, or any of our Rallies for that matter! The Fake News Media tries to make it look sooo big, & it's not!" Trump said in a tweet.
Also read: US Secretary of State Mike Pompeo seeks allied unity in dealing with North Korea