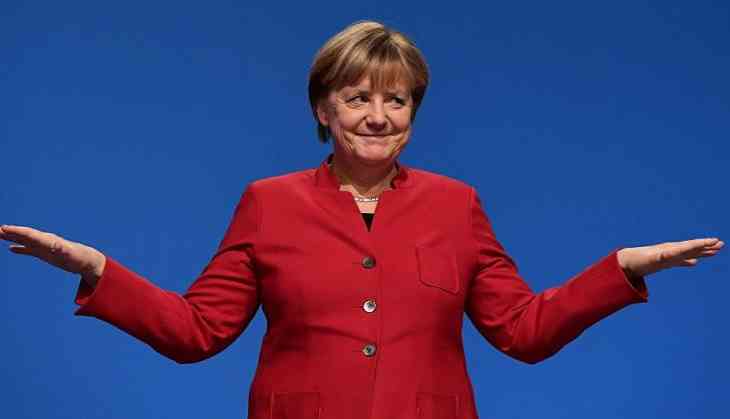 German Chancellor Angela Merkel was on Wednesday re-elected to the German Parliament for a record fourth term and will be sworn in later today.
The vote ended almost six months of political uncertainty after the last year's German federal election saw voters desert the two mainstream parties -- Merkel's Christian Democratic Union (CDU) and the Social Democratic Party (SPD), turning instead to parties on the left and right, the CNN reported.
364 of the German Parliament's (Bundestag) 709 members voted in favor of Merkel in the secret ballot, nine more than the 50 percent required for being elected.
Also Read: China successfully cuts down air pollution in last 4 years, says the United States study
Merkel will first travel to the residence of German President Frank-Walter Steinmeier in Berlin to be officially nominated before returning to the Bundestag to be sworn in as the Chancellor later on Wednesday.
Last week, the CDU received a boost as the SPD agreed to form a "grand coalition" government with them, ending months of political uncertainty in Germany. The agreement by the SPD guaranteed Merkel a fourth term in office.
According to reports, the SPD voted in favor of the CDU, getting 399 seats in the 709-seat German Parliament. While the SPD got 153 seats, the Merkel-led CDU got 246 seats.
Also Read: Renowned scientist Stephen Hawking passes away at the age of 76
The leadership of the SPD had initially ruled out joining Merkel in the government in the wake of historically disappointing results at federal elections in September last year.
The SPD lawmakers will finalise six ministerial posts, with SPD caretaker leader Olaf Scholz confirming that there would be three female and three male ministers.
This will be the third "grand coalition" between the ruling CDU and the SPD since 2005.
--ANI
Read More On Catch: The Wall Street Journal slams Hillary Clinton for saying Trump won due to 'backward' US states