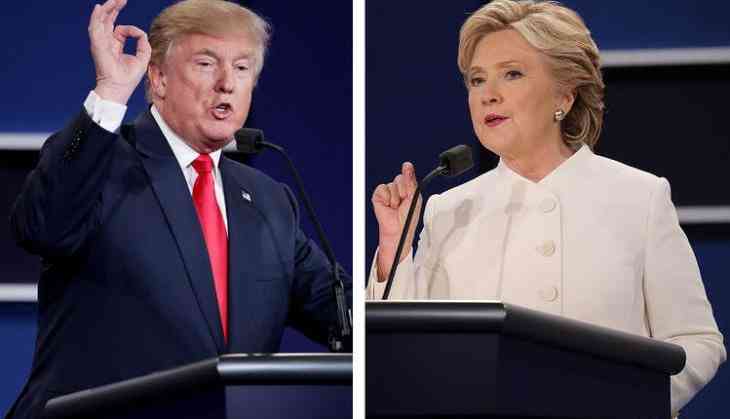 Top American daily 'The Wall Street Journal' has slammed Hillary Clinton, the 2016 Democratic presidential nominee, for her remarks in India wherein she blamed the "backward parts of the US" for her loss.
Speaking at the recently-concluded 'India Today Conclave' in Mumbai, Clinton suggested that those people who supported Trump did so because they didn't like black people getting rights, women getting jobs or Indian-Americans succeeding more than them.
"You know, you didn't like black people getting rights. You don't like women, you know, getting jobs. You don't want to see that Indian-American succeeding more than you are. Whatever your problem is, I'm going to solve it," Clinton said during the India Today Conclave 2018. "If you look at the map of the US, there's all that red in the middle where Trump won. I win the coasts, I win Illinois, I win Minnesota, places like that," Clinton said.
Also Read: Trump visits California first time as President
"What the map doesn't show you is that I won the places that represent two-thirds of America's gross domestic product. So I won the places that are optimistic, diverse, dynamic, moving forward. And his whole campaign, 'Make America Great Again', was looking backward," she alleged.
'The Wall Street Journal' in its editorial board yesterday criticised Clinton for her "contempt" for so many Americans."Democrats may think Mr. Trump is unfit to be president, but maybe they should take responsibility for nominating a candidate who had such contempt for so many Americans," The Wall Street Journal said.
"This a reprise of her famous "deplorables" crack from the campaign trail, but she didn't stop there.
She also complained about "married white women" who supported Mr.Trump because they were too weak to stand up to "a sort of ongoing pressure to vote the way that your husband, your boss, your son, whoever, believes you should"," said the editorial board of 'The Wall Street Journal'.
Also Read: Trump, Musk Twitter tiff over tariff
The daily said that Clinton was supposed to be the feminist champion for the aspirations of all American women.
"Yet it turns out she really believes that any woman who voted against her must have been a mental or emotional prisoner of some man, trapped in a kind of political purdah," the daily said.
Indian-American Sikh leader Gurinder Singh Khalsa was also critical of Clinton's remarks.
"We do not agree with that statement (of Secretary Clinton).Reason being this administration is very diverse and very good for Indian-Americans," said Khalsa, a close friend of Vice-President Mike Pence.
Trump has appointed Indian Americans to top positions in his administration, he said.
In Nikki Haley, US Ambassador to the UN, Trump appointed the first ever Indian-American in a presidential cabinet.
He has appointed Deputy Press Secretary Raj Shah in the White House, Seema Verma as head of Center for Medicare and Medicaid Services, and Ajit Pai as head of the Federal Communications Commission.
"President Trump listened to the voices of those in rural areas and major parts of the country who were being disconnected by special interest," Khalsa said.
"The policies of Trump, in particular tax cuts, have benefited Indian-Americans in this sector.
Majority of Indian Americans are small business owners, who are benefitting from the tax reforms," he said.
--PTI
Read More On Catch: Saudi Crown Prince Mohammed bin Salman to visit White House