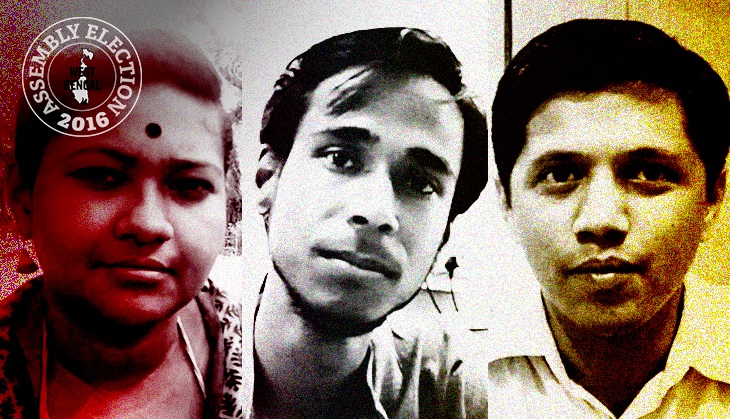 Arumita Mitra is a well-known face at Jadavpur University. A third-year student of Philosophy at the university, she is an activist of the All India Students Association (AISA) and a former president of the association at Jadavpur University. She has been instrumental in launching many campaigns for women empowerment in the campus including the Hok Kolorob Movement and Sanitary Napkin campaign - Pads Against Patriachy.
Arumita feels that student politics plays a major role in the larger scheme of things. "Student politics in India in the last 10 years has emerged as a very significant force. Bengal has a long history of student politics. The Left Movement and the Naxalite movement were started by students".
"Student leaders during elections help party candidates in campaigning, spreading awareness, social media management etc. But student politics is very important as it like as a pressure group on political parties, especially in matters related to social injustice," she says.
Abhijit Biswas, vice-president of the Akhil Bharatiya Vidyarthi Parishad (ABVP) in West Bengal claims that the student wing has not been campaigning for BJP in the state.
"We are campaigning to ensure 100% voting in Bengal. It is a constitutional right that everyone should be exercising. That is our agenda. We encourage people to vote smartly, vote against corruption, vote for development etc. We are not BJP's student wing and we aren't campaigning for them here in Bengal."
According to Biswas, student's power is the nation's power but parties like TMC, CPI and CPI(M) have made it "nuisance power".
"The students' wing is being used by these parties to carry out their dirty work. ABVP is against such practices," he says.
Sanjib Pramanick of the Trinamool Chhatra Parishad (TMCP) feels that people will continue to have faith in Mamata Banerjee. He feels that the CPI(M)-Congress alliance will not be a challenge to the TMC. "People know that the Left is not the way forward in Bengal".
Sanjib feels that BJP is not a threat in Bengal. "People of Bengal are smart. They know the BJP's hidden agendas. Bengal is not communal or casteist and Didi is the only way to go.
Abhijit, the ABVP activist, says that political parties in West Bengal only indulge in appeasement politics. "They treat communities as vote banks. We warn people and students about these political tactics".
Biswas refused to speak about BJP's politics in Bengal. He even said that he has no comments over BJP's chances in Bengal.
Though a Left activist herself, Arumita Mitra feels that the Left movement is leading towards a slow death. "Left parties in India over the last 35 years have become very regressive. They have become very regional. Their ideology with respect to India is changing and that makes me sad".
She says that the advent of Mamata Banerjee happened only because of the people of Bengal were frustrated with the CPI(M) rule over 34 years. She says that Mamata offered nothing exceptional to win a majority in 2011, it was the Left's failure to implement their own ideas and ideology. "The ideas of Marx have to be reinterpreted in India," she says.
Abhijit Biswas feels that there is nothing wrong with 'saffronising' Bengal. "Saffron is the colour of our nation, so why is saffronising wrong?"
So how is the ABVP spreading the saffron message in Bengal? "If saying Bharat Mata ki Jai means saffronising, then we are 'saffronising' Bengal," says Biswas.
Arumita predicts Mamata 2.0. "The politics of Bengal is always a binary. The urban sector doesn't care about who's in power, who wins the elections...It's only the rural population that is affected by elections. And what happens during rural campaigning, the fairness with which polling is conducted, is questionable," she says.
Edited by Aditya Menon