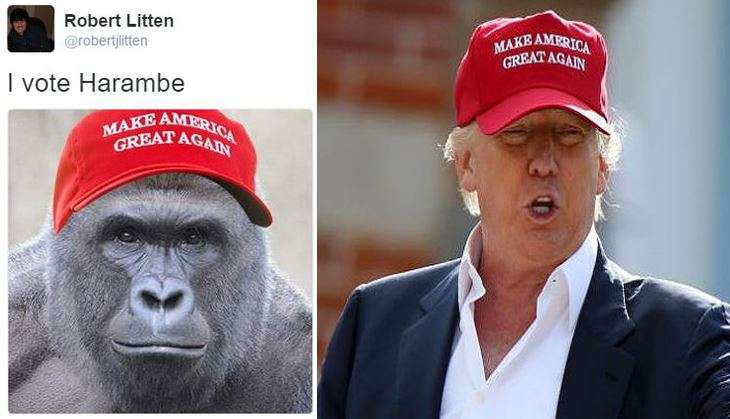 The US Presidential Election may have dominated headlines for months now. But for a select few, the complex voting process remains a joke.
Amid the Twitter meltdown that ensued after news of Republican presidential candidate Donald Trump leading by a clear margin, one particular name seemed to pop up over and over again on the microblogging site.
Official: Harambe gets nearly 15,000 write-in votes for presidency of the United States: https://t.co/5vmJ8N8veI pic.twitter.com/5k8oej4g1G

— NFL Memes (@NFL_Memes) November 9, 2016
If Twitter buzz is to be believed, around 11,000 people voted for Harambe in the 8 November 2016 US Presidential polls.
In what seems to be the umpteenth time since his death in May this year, the 17-year-old male western lowland gorilla, who was killed at Cincinnati Zoo earlier this year, found his name being dragged into yet another Twitter storm.
While the reports are yet to be confirmed, the rumours sparked a flurry of reactions. While some Twitterati outraged about how voting for Harambe was an insult to democracy, others took a dig at the US elections as a whole.
Take a look:
Here's the problem: 11,000 people voted for #Harambe and 7,000 voted for #Hennessy

— Sam Garcia (@Samuel_Garcia19) November 9, 2016
Things Ohio did wrong in 2016:
Voted Trump
Killed Harambe
Everything

— ian (@ipmacdougall) November 9, 2016
11,000 votes went towards Harambe. Eleven. Thousand. Votes. Towards a deceased gorilla. This is America people, this is America.

— GOATness🐐 (@KermickLamar) November 9, 2016
Let's no forget this guy who died for our sins! #ElectionNight #Election2016 #Harambe #HarambrforPresident #memes #memesdaily pic.twitter.com/aPm2t7KGRr

— Abdullah Abin Bomber (@Haharambe) November 9, 2016
#HARAMBE had 11,000 votes. That's right 11,000 of you dumbassss actually went through with it. Congrats. #ElectionNight pic.twitter.com/KuOroaIfd9

— Catnip 🐱 (@RadioCatnip) November 9, 2016
Election Day attire #Harambe @benshapiro pic.twitter.com/WnwtRj9CDh

— Alex (@alexluongo5) November 8, 2016
Over 11,000 people voted for Harambe. Harambe is a dead gorilla.
Those 11,000 votes would have saved our country. #ElectionNight

— David Leavitt (@David_Leavitt) November 9, 2016