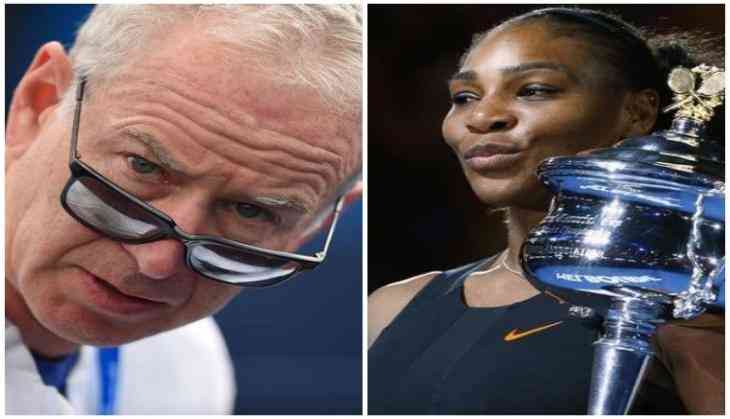 McEnroe regrets Serena 'No 700 on men's tour' (ANI)
Tennis legend John McEnroe has admitted that it would have been better had he not made the 'No 700 on men's tour' remark for 23-time Grand Slam champion Serena Williams.
His comparison of Serena to men's tennis players created a furor which McEnroe now feels could have been avoided.
"Maybe it was wrong," Sport24 quoted McEnroe as saying.
"I'll agree, it would have been better not to have said it. I didn't realize it would create something like this," he added.
The seven-time major champion further said that he has a lot of respect for the American tennis star.
"Maybe it's better if it hadn't been said, because I have a lot of respect for Serena," McEnroe said. "She has been great for the game. People that know me know that. I think that's really what it boils down," he added.
The 58-year-old further insisted that he had no idea that his ideas of where women would rank in the men's tour would create the controversy they did in this case.
"That was just an opinion. That's just my opinion. This is not something that has been earth shattering, that I feel there's a difference in the level of the women and the men," he said.
The row started after McEnroe had claimed that Serena, who is the best player of her gender, would be ranked 700 if she plays on the men's circuit.
McEnroe, seven-time major champion, speaking as part of a tour to promote his new book 'But Seriously', had said that while he has great respect for Serena, he would place the 23-time Grand Slam winner "like 700 in the world" on the men's circuit.
"Best female player ever - no question."
"If she had to just play the circuit - the men's circuit - that would be an entirely different story," he added.
The next day, Serena hit back at McEnroe and wrote on Twitter, "Dear John, I adore and respect you but please please keep me out of your statements that are not factually based."
"I've never played anyone ranked 'there' nor do I have time. Respect me and my privacy as I'm trying to have a baby. Good day sir," she added.
The American has already made it clear she is determined to return to the tour next year, with Margaret Court's all-time record of 24 slam singles titles an obvious goal.
In April, she had announced that she was pregnant and would not compete for the remainder of the season.
Serena became the oldest woman to win a grand slam when he won the 2015 Wimbledon title at the age of 33.
The 35-year-old tennis star has 23 grand slam singles crowns and 14 doubles titles in majors.
-ANI