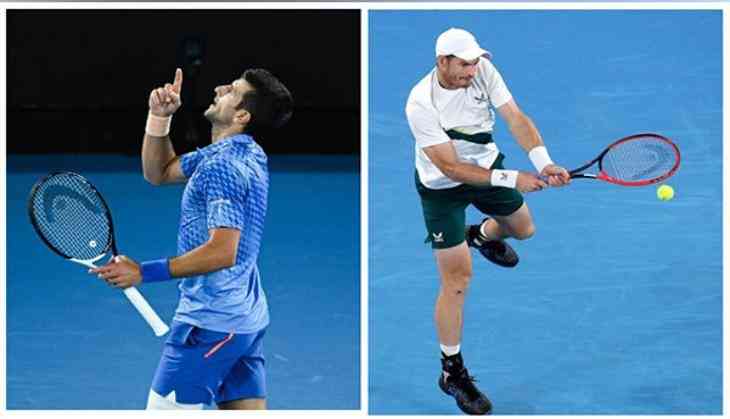 Novak Djokovic and Andy Murray
Serbian tennis star Novak Djokovic defied an injury scare to battle his way into the third round of the Australian Open after securing a win over Enzo Couacaud at the Rod Laver arena on Thursday.
The nine-time champion, Novak Djokovic persisted through his pain to oust the Frenchman 6-1, 6-7(5), 6-2, 6-0 despite battling with his bandaged left leg.
After dropping the second set tie-break, Djokovic seemed to be struggling, but he quickly recovered and charged through the remaining three hours and four minutes of the match to seal the third-round spot.
This week, the Serbian is vying for a record-tying 22nd Grand Slam championship, and if he succeeds, he will retake the top spot in the ATP Rankings.
But with former World No. 3 Grigor Dimitrov looming in the third round, the 35-year-old will remain focused on the challenge in front of him.
Andy Murray produced yet another resilient performance to defeat Thanasi Kokkinakis 4-6, 6-7(4), 7-6(5), 6-3, 7-5 in a five-set marathon to advance into the third round of the Australian Open on Thursday.
The tennis star produced a win in consecutive five-set thrillers to beat home favourite Kokkinakis with a comeback in the longest match of his career, which ended just two hours before sunrise in Melbourne. The South Australian gave up 102 winners, including 37 aces, against Murray.
For the second time this week, Murray displayed his mental and physical toughness in front of an enthusiastic Australian crowd. In the first round, he defeated Matteo Berrettini in a five-set thriller that lasted four hours and 52 minutes.
Additionally, Murray hasn't advanced past the third round of the season's opening major since 2017, and his 4:05 a.m. finish in Melbourne was the latest of his career.
At the hard-court major, Murray has played some of his best tennis, making it to the final five times. The 35-year-old, who now has a 51-14 record in Melbourne, hasn't made it past the third round of a major since 2017 when he made it all the way to Wimbledon's quarterfinals.
When he next faces Roberto Bautista Agut, the Spaniard, who also overcame a two-set deficit to upset American wild card Brandon Holt 4-6, 2-6, 6-3, 6-2, 6-2, he will attempt to go past the third round in for the first time since 2017 at a Grand Slam event.
(ANI)
Also Read: Australian Open bans flags from Russia, and Belarus on site