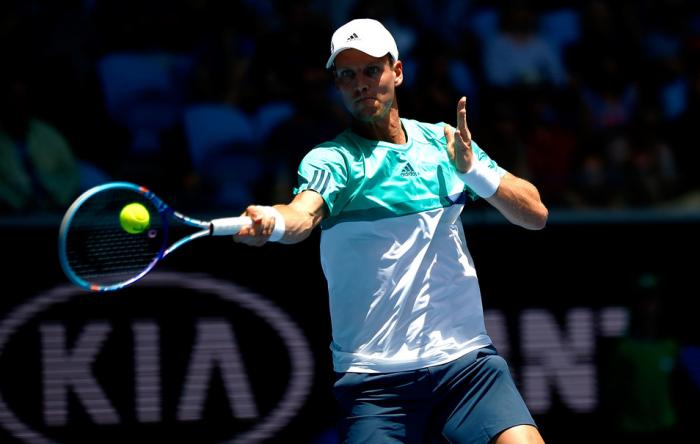 A shocking report alleging widespread match-fixing in tennis loomed over the Australian Open as the first Grand Slam of the year kicked off today.
According to a report from the BBC and BuzzFeed, 16 top-50 players in the past decade - including Grand Slam champions - have been repeatedly suspected of fixing matches for betting syndicates.
Three suspect matches were at Wimbledon, while eight of the players under suspicion are due to take to the courts for the Australian Open in Melbourne, the report claimed.
None of the "core group" of 16 players had faced sanctions, added the report which was based on secret files leaked by a group of anonymous whistle-blowers.
Association of Tennis Professionals chief Chris Kermode said the timing of the report was "disappointing" and rejected any suggestion that match-fixing had been covered up. He told reporters:
"The Tennis Integrity Unit (TIU) and the tennis authorities absolutely reject any suggestion that evidence of match-fixing has been suppressed for any reason or isn't being thoroughly investigated".
"And while the BBC and BuzzFeed reports mainly refer to events from about 10 years ago, we will investigate any new information, and we always do."
Graft charges
The match-fixing report cast a shadow over the Australian Open, where 128 matches were scheduled on Day One with defending champions Novak Djokovic and Serena Williams both in action.
BuzzFeed reported that players were targeted in hotel rooms at major tournaments and offered $50,000 or more to fix matches for the betting syndicates.
The leaked files included details of an investigation into a 2007 match which world number four Nikolay Davydenko lost to 87th-ranked Martin Vassallo Arguello. It found insufficient evidence of corrupt practice by either player.
But the report said the probe uncovered syndicates in Russia and Italy making hundreds of thousands of dollars betting on matches investigators thought to be fixed.
The key group of 16 suspect players had not been targeted in any crackdown, it said, questioning the effectiveness of the TIU, the sport's anti-corruption body.
Kermode said the TIU had won 18 convictions including six life bans since it was set up in 2008, adding it "has to find evidence as opposed to information, suspicion, or hearsay".
"Let me just say that all of us here in tennis are absolutely committed to stamp out any form of corrupt conduct in our sport".
"There is a zero-tolerance policy on this. We are not complacent. We are very vigilant on this."
Other allegations included that a confidential report in 2008 recommended investigations into 28 players "but the findings were never followed up", the BBC reported.
The sport introduced a new anti-corruption code in 2009 but after taking legal advice were told previous corruption offences could not be pursued retrospectively.
Mark Phillips, one of the investigators in the 2007 probe, told the BBC:
"There was a core of about 10 players that we believed were the most common perpetrators that were at the root of the problem."
"The evidence was really strong, there appeared to be a really good chance to nip it in the bud and get a strong deterrent out there to root out the main bad apples."
The report added that the European Sports Security Association, which monitors betting for bookmakers, flagged up more than 50 suspicious matches to the TIU last year.