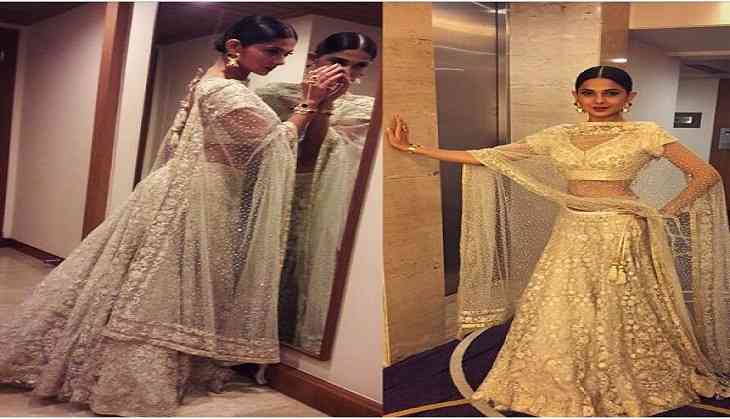 Every year during the famous film festival of Cannes, our heartbeats gets faster after seeing our Bollywood actress all decked and dressed up on the red carpet at the French Riveria and this year too the same happened. A lot of Bollywood actresses like Deepika Padukone, Aishwarya Rai, Mallika Sherawat walked the red carpet while there were some who made their debut such as Huma Qureshi and Kangana Ranaut but what if we tell you that famous TV actress, Jennifer Winget will also be walking at the Cannes 2018.
Now you must be wondering how the Bepannah actress will look in her glamorous avatar on the red carpet of the prestigious film festival, so let us clear your thoughts by letting you know that the actress will not be walking this year at Cannes 2018 but it was a picture that she posted on her social media account that gave us a proof that she definitely wants to walk one day.
Jennifer, posted a picture on her Instagram account and got little 'punny' in giving a caption to her picture as she wrote, "Not walking the red carpet in Cannes doesn't stop me from having my own little Cannes moment in cann-jurmarg."
ALSO READ: Bepannah: Jennifer Winget to bring back her pycho-lover Maya avatar from Beyhadh? Here's the new twist of the show
Check out the picture here:
For those who didn't understood the pun intended in her caption, she used the word 'cann-jurmarg' which isn't a foreign place but a place in Mumbai named 'Kanjurmarg' where she has been shooting for Colors TV show Bepannah. Well, we bow for her amazing sense of humor.
ALSO READ: Jennifer Winget Viral Videos: Bepannah actress looks unrecognizable in this avatar with Abhishek Bachchan, Aishwarya Rai
Recently, she also posted some pictures from her childhood in which she looked adorable. Check out this and other pictures from her Instagram account.
As soon as she posted the picture on her account, her fans came in huge numbers to bless her and hope that one day they will see her walking on the red carpet. One of the user wrote, "Maam u worth it to walk cannes... N definitely vry soon u will walk it... ♥." - (sic)
ALSO READ: Here's what Jennifer Winget and ex-husband Karan Singh Grover have to say about the future of their son post their divorce
Well, we too can't wait to see her dream fulfilled and it seems pretty obvious that she will rock with her amazing dressing sense. Till then, you all can imagine her walking in Cannes 2018.