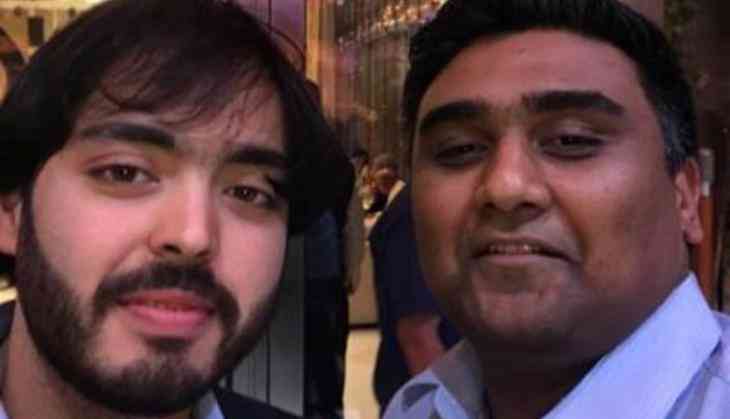 Freecharge owner calls Mukesh Ambani's son Anant Ambani 'the biggest loser'
Freecharge app owner Kunal Shah has called the business tycoon Mukesh Ambani's son Anant Ambani 'the biggest loser'. Kunal Shah has shared one picture with Anant Ambani and posted it on Facebook by captioning it 'the biggest loser'. Actually, Kunal Shah has called Anant a loser in terms of losing weight.
According to a leading daily, Kunal Shah met Anant at a party and he clicked one picture with him. While sharing this picture on Facebook, Kunal praised Anant a lot. Kunal Shah captioned the picture as, 'With the biggest loser I know. 139 kgs lost. 4 hours workout every day. Enjoying protein shakes at a party.'
Also Read - Ranveer Singh will not promote Padmavati on Bigg Boss, know why?
Also Read - Not Virat Kohli, this Pakistani cricketer is Zareen Khan's crush
According to some reports, Anant has lost his 100 KG weight in just last 18 months and, he does exercise every day for 4 hours. According to the trainer of Anant, he decided to lose his weight till his 21st birthday, and for that, he used to do a lot of exercises and he maintained the diet normally.
Also Read: http://www.catchnews.com/tech-news/reliance-jio-spokesperson-claims-the-incident-of-jio-phone-blast-as-a-case-of-intentional-sabotage-86585.html
He is much more fit now if we see his past body and he will continue his fitness diet in future also. Anant has lost his 109 KG weight through natural ways. He used to walk 21 Km every day, and did cardio exercise and yoga every day to lose weight. A few days back when Kunal Shah met Anant Ambani he also got amazed after seeing his transformation.