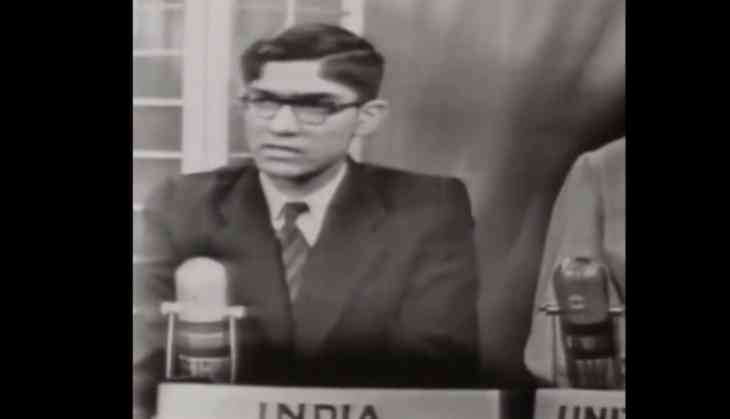 Anand Mahindra shares video of Indian student debating.
Industrialist Anand Mahindra regularly puts out interest posts on social media. In one of the viral posts he shared recently, you can see a young Indian student, identified as Padmanabha Gopinath debating a British host who asked about his views on prejudice. This clip even caught the attention of Congress leader Shashi Tharoor.
The video shows a British host questioning students about prejudice. Once she completes the query, Gopinath begins to say, "Prejudice is willful ignorance. It is dictated only by emotion. And the fear and suspicion it creates causes more harm than I can think of." Further in the video, a Pakistani student joins the debate and supports Gopinath. He can be heard saying to the British host, "You built the whole British kingdom from India."
Here's the video:
This was going around furiously on social media yesterday. Wonderful to see someone so vigorously champion the cause of India back in '57! @ShashiTharoor I'm sure you have seen this and perhaps know what became of Mr. Gopinath… pic.twitter.com/Px2ys5hbQW

— anand mahindra (@anandmahindra) January 27, 2023
After Anand Mahindra posted this video on Twitter, he commended the student's expertise and confidence while advocating for India in 1957. Mahindra also cited Congress MP Shashi Tharoor, asking about Gopinath's whereabouts.
Congress MP also responded to the old video in the comments section of Mahindra's Tweet and said, "Yes, Anand." In a separate tweet Tharoor revealed a little more about Gopinath. He wrote, "I was born by then! And I know the brilliant, bespectacled Indian student who went on to be a star official at the @ILO. He is now retired & living in undeserved anonymity."
Since being shared, the video has been liked by more than 13,000 people.
Also Read: Actress Chahatt Khanna makes shocking claims about Conman Sukesh, says He proposed to her in Tihar jail