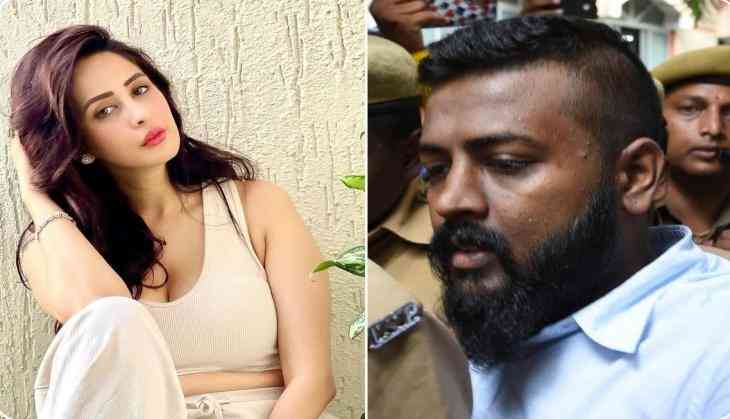 Chahatt Khanna and Sukesh Chandrasekhar
Television actor Chahatt Khanna has claimed that she was tricked into visiting alleged conman Sukesh Chandrasekhar in Tihar jail, where he went down on his knees and proposed marriage to her. When the actress told him that she was married, and had two kids, she was told that her husband was not the right person for her. Chahatt said in a latest interview that at that instant, she did know it was Sukesh, who was proposing to her, but thought she was meeting the 'owner of a south Indian TV channel'.
Investigations are underway in a money laundering case involving Sukesh Chandrashekhar and Bollywood actors, Jacqueline Fernandez and Nora Fatehi, who have also been interrogated in relation with the case.
Speaking about her meeting with Sukesh, the actor told ETimes that the man was dressed fancily wearing a gold chain to go with his fancy shirt and introduced himself as the owner of a popular south Indian TV channel, and J Jayalalithaa's nephew. "He said he was a fan of mine and had watched my TV show, Bade Acche Lagte Hain, and wanted to meet me. I was frantic and told him, 'Why would you call me here? I have left my six-month-old baby at home and have come here thinking it's an event.' Then, before I knew it, he went down on one knee and said he wanted to marry me."
Furthermore, the actor stated, "I shouted at him, saying, 'I am married and I have two kids.' But he said my husband was not the right man for me and that he would be a father to my kids. I got so anxious that I started crying."
Chahatt Khanna also told the daily that it was not before ED summoned her in the alleged extortion case, which involved Sukesh – a little over a year ago – that she realised she had met Sukesh Chandrashekhar.
Also Read: 'Stay away from politics,' Kangana Ranaut warns Bollywood over usage of 'triumph over hate'