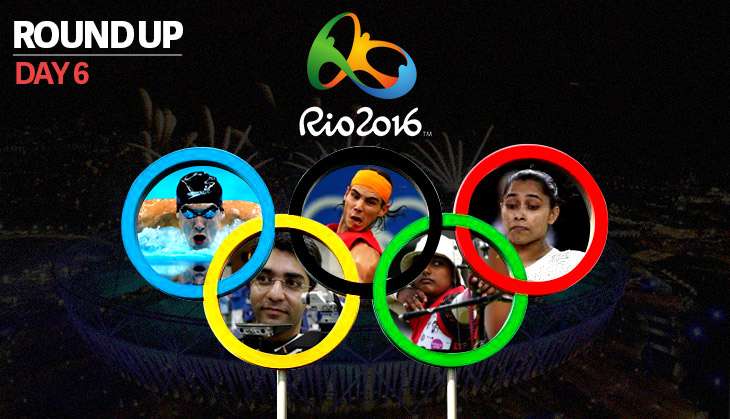 Week one is almost complete at the Rio Olympics and on Day 6 of the Games and there are a couple of major highlights to point out. The Indians qualified for the knockout stages of men\'s hockey for the first time since the Moscow Olympics in 1980, 36 years ago. There was embarrassment for India as the Games organiser\'s threatened to cancel Sports Minister Vijay Goel\'s pass to visit the venues.
Michael Phelps wins gold number 22 and an athletics coach was sent home after posing as an athlete and giving a urine sample.All this and more in our roundup of Day 6 at the Rio Olympics:
The Indian men's hockey team lost 1-2 to the Netherlands for their second defeat in four matches. Argentina and Germany played out a 4-4 thriller afterwards. Despite India's loss, that draw meant that India had qualified for the knockout stages for the first time in 36 years. The last time they qualified for the knockout stages, at the 1980 Moscow Olympics, they had won a gold medal. Maybe, just maybe, history will repeat itself.
02
Deepika Kumari and Bombayla Devi (archery)
Indian women's archers campaign came to an end on Thursday, 11 August as both Deepika Kumari and Bombayla Devi lost in their Round of 16 matches. Bombayla was beaten 6-2 by Mexico's Alejandra Valencia. Deepika lost 6-0 to second-ranked Tan Ya-Ting of Chinese Taipei. India's archery hopes now turn to the sole competitor left in the men's draw, Atanu Das.
Indian boxer Shiva Thapa has bowed out of the 56kg category. He was out-punched by fourth-seeded Cuban Robeisy Ramirez and subsequently eliminated in an opening round bout on Thursday, 11 August. India's hope for a medal in boxing are far from over as both Vikas Krishan (75kg) and Manoj Kumar (64kg) qualified for the pre-quarterfinals.
04
Anirban Lahiri and SSP Chawrasia (golf)
Golf returned after a period of 112 years and after the first round of play, the results were a mixed bag for the two Indians taking part in the men's individual event. SSP Chawrasia's level-par score of 71 was only good enough for tied-27th out of a 60-strong field. The other Indian in the field, Anirban Lahiri, didn't fare well. He finished at 3-over 74 to finish the round tied 50th.
05
Saina Nehwal
, PV Sindhu, Jwala Gutta and Ashwini Ponnappa (badminton)
The Indian pairing of Jwala Gutta and Ashwini Ponnappa may not have gotten the Indians off to a good start but Saina Nehwal and PV Sindhu brought smiles to the faces of many. Jwala Gutta and Ashwini Ponnappa lost 15-21, 10-21 to the World No.1 Japanese pair of Ayaka Takahashi and Misaki Matsumoto in a match that lasted just 36 minutes. Saina, a former world no. 1, staved off a spirited challenge from world no. 73 Vicente Lohaynny, winning 21-17, 21-17. Sidhu thumped her opponent Laura Sarosi of Hungary 21-8, 21-9 and this match was only 27 minutes long.
06
Kidambi Srikanth, Manu Attri and B Sumeeth Reddy (badminton)
A similar story took place in men's badminton at the Rio Olympics. The men's doubles pair of Manu Attri and B Sumeeth Reddy lost 18-21, 13-21 to World No.2 Indonesian duo of Mohammad Ahsan and Hendra Setiawan. It was then time for Kidambi Srikanth to make up for this loss. He did that with a straight sets 21-11, 21-17 win over Mexico's Lino Munoz. All in all, it was a pretty good day at the office for the Indian shuttlers.
The Indian women's hockey team are on the verge of being knocked out in the group stages after a 0-3 loss to the United States of America. They were outclassed and outplayed and never looked like scoring. The Indians did well to defend as many as five penalty corners in the last quarter, but without any goals scored, that really didn't matter. India has one more match left to play - against Argentina - and they need to win to have any chance of progressing out of the group stage.
A day later than scheduled, due to rain that washed out all 25 matches, India's Sania Mirza and Rohan Bopanna took to the court to face the Australian pair of Samantha Stosur and John Peers. Sania and Bopanna, who are being touted as India's medal hope at the Olympics, broke little sweat in their opening round match to post a 7-5 6-4 win in 73 minutes. The Indians now face the much fancied British pair of Andy Murray and Heater Watson on 12 August at 11:30 PM (IST).
09
Vijay Goel (India's Sports Minister)
In major embarassment coming out of the Indian contingent at Rio, Rio Olympic organisers have threatened to cancel Sports Minister Vijay Goel's accreditation if unaccredited people accompanying him do not end their "aggressive and rude" behaviour.That's all from the Indians at Rio on Day 6. Here's a look at the rest of the action both on and off the field:
10
Michael Phelps (swimming)
Michael Phelps just doesn't stop being Michael Phelps. Once again in the pool on Day 6 of the competition, Phelps competed in the finals of the 200m individual medley and boy did he dominate that event. He just keeps on adding to his record haul of gold medals, which now stands at 22.
11
Simone Manuel & Penny Oleksiak (swimming)
Competing in the women's 100m freestyle, Canadian Penny Oleksiak and Simone Manuel of the United States were inseperable. A stunning race came to an end in a dead-heat as both swimmers were awarded gold medals. Both women touched the wall in 52.70 seconds. Sweden's Sarah Sjostorm, winner of the bronze medal, had this to say, "I think that was a big shock for everyone in the final.
Everyone had to watch the result many times before we understood what happened ... the biggest surprise so far in this competition". This was only the second time - first since 1984 at the Los Angeles Olympics - that a race has ended in such a fashion. Back then, Americans Nancy Hogshead and Carrie Steinseifer in 55.92.
USA's Kayla Harrison won her second straight gold in the 78kg judo final and at the age of just 26, has announced her retirement from the sport. Back at London 2012, she became the first American to win a judo gold. Over in Rio, she's gone and done it again! She stood atop of the podium and sang the Star Spangled Banner.
Fiji have won a historic gold in the men's competition of Rugby Sevens. The Rugby Sevens team also delivered the first gold for the island nation. One more than India has won so far. They demolished Great Britain 43-7 in a lop-sided final.
Reports of Chinese swimmer Chen Xinyi failing a dope test have come to light. The 18-year-old swimmer was set to be subject of a ruling by Court of Arbitration for Sport (CAS) on Thursday night, reported Estadao, a major Brazilian newspaper. Chen finished fourth in the women's 100m butterfly. Apparently, the test was done prior to the Games and she was only told of the positive result two days ago. She had taken the case to the CAS to avoid any kind of suspension.
How dominant is American gymnast Simon Biles? Nobody even comes close to her as she aims for a historic five gold medals from the Rio Olympics. She's undoutedly the best gymnast in the world. She dominated the women's all-round competition on her way to a gold medal.
Reuters has reported that Anzrah, a Kenyan athletics coach, was sent home from the Games after "posing as an athlete and giving a urine sample in a #doping test".
"We cannot tolerate such behaviour," said Kip Keino, chairman of the National Olympic Committee of Kenya. Kenya said that the coach presented himself as 800m medal hope Ferguson Rotich.
They went on to add that Anzrah "even signed the documents" for the doping test. Anzrah is the second Kenyan official to be sent home over doping issues.
17
AermAndranik Karapetyan (weightlifter)
Aermenian weightlifter Andranik Karapetyan suffered what is being termed as a "horrific" elboy injury. This happened during one of his lifts in the men's 77kg clean and jerk on Wednesday, 10 August.During his third attempt in the clean and jerk, his elbow bent backwards, as he was lifitng the weight over his shoulders.
18
Spectator on the golf course without a ticket!
A capybara (100-plus pound rodents) was found being a visitor to the golf course. The problem was that no one invited the animal to play. The rodents are native to South America and regulars on the golf course and as such, it isn't a surprise.
Vice-president of the International Olympic Committee, Australia's John Coates described the Rio Olympic Games as the most "difficult Games ever". Talking to the BBC, he said that seeing a large number of empty seats were disappointing. Coates also acknowledged the transportation issues in Rio.