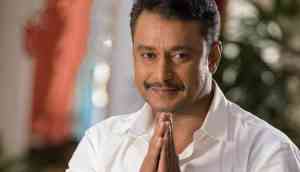 A slipper was hurled at Kannada actor Darshan in Hosapete, Karnataka, on December 18. The incident happened while the actor was addressing his fans during the promotion of his upcoming film 'Kranti'. Details about the person who threw the slipper at the Kannada actor are yet to emerge.
Darshan's recent comment during an interaction sparked widespread outrage and was labeled misogynist by fans.
In the video, the actor can be seen standing on a stage; suddenly, a slipper hits his shoulder. Cops immediately surrounded the actor after the attack. Darshan said, "It is not your mistake brother, no problem", told his fans to calm down, and left the scene with police protection.
ಹೊಸಪೇಟೆಯಲ್ಲಿ ಕ್ರಾಂತಿ ಸಿನಿಮಾ ಹಾಡು ಬಿಡುಗಡೆ ವೇಳೆ ದರ್ಶನ್ ಮೇಲೆ ಚಪ್ಪಲಿ ಬಿಸಾಕಿದ ವ್ಯಕ್ತಿ..!@dasadarshan @Dbeatsmusik

#Hospete #DBoss #Boss #D #Darshan #DarshanThoogudeepaSrinivas #Kranti #KrantiMovie #KrantiMovieSong #KannadigaKrishna pic.twitter.com/DA0DrH0SGP

— ಕನ್ನಡಿಗ ಕೃಷ್ಣ ❁ (@kannadigkrishna) December 19, 2022
The actor visited Hosapete with his co-actors for the release of a new song from his upcoming film 'Kranti'. He also paid tibute to late actor Puneeth Rajkumar by garlanding his statue in the town. r
Directed by V Harikrishna 'Kranti' also stars Rachita Ram as a female lead.
Darshan was in the news recently for remarks he made about 'luck goddess' during another promotional event of the film Kranti. Many people were offended by the actor's remarks and pointed out his misogynistic views toward women.
The actor was also in the news because he had allegedly assaulted his wife around ten years prior and had been taken into custody.
FIFA World Cup Special: 'I dreamt it…': Lionel Messi pens emotional note for fans