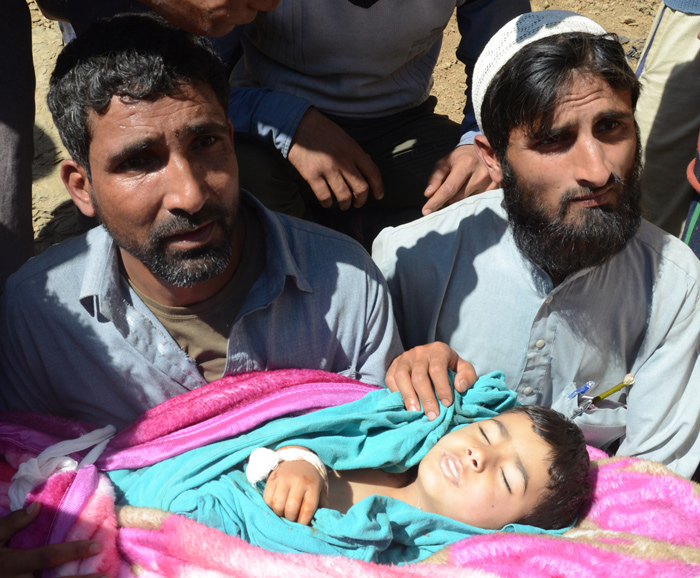 The killings
3-year-old boy Burhan and his father Bashir Bhat were attacked near Sopore on Friday
His father died, a former militant, on the spot. Burhan succumbed to his injuries a day later
Burhan is being compared to 3-year old Aylan Kurdi, who has become symbolic of the suffering of Syrians
But Burhan\'s death will never get the same kind of attention
The shock
No one knows why Bashir Bhat was attacked
12 people have been killed by \"unidentified gunmen\" in North Kashmir of late
Burhan\'s death has sparked outrage as well as fear
But little is likely to happen except a few protests and a hartal
Burhan Bhat wasn't washed up ashore after drowning in the sea, like Aylan Kurdi, the 3-year-old boy who has become symbolic of the Syrian refugees suffering. He died in a hospital after receiving a bullet in his abdomen in an attack on his father by unknown gunmen in the outskirts of Sopore. Like Kurdi, Bhat was just 3 years old.
His death has shocked people in Kashmir and turned the focus on the recent spate of mysterious killings in Valley.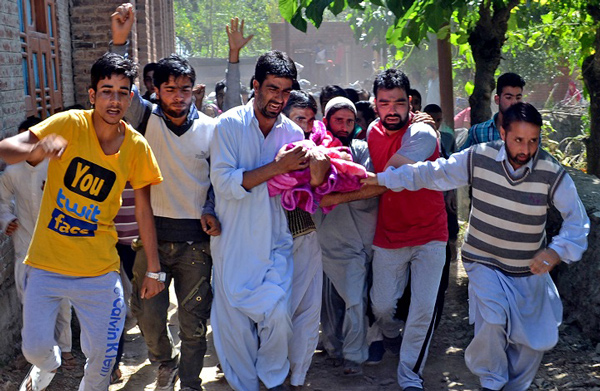 But unlike Kurdi, Bhat's death hasn't turned the world's focus on the larger tragedy in Kashmir.
As is the case with everything that happens in Kashmir, his death sparked a local political furore, a hartal and some outrage on the social media. That's it.
How did Burhan die?
On Friday, Burhan's father, Bashir Ahmad Bhat was preparing to go to the mosque for the Isha or night prayer. Burhan insisted that he wanted to go as well. He wanted his father to buy him a chocolate. Bhat kissed Burhan, lifted him in his arms and took him along.
Before entering the mosque, Bhat dropped Burhan off at a nearby shop and bought him some sweets. After finishing his prayers, Bhat returned to the shop and picked up Burhan, who was delighted to see his father back.
When the father-son duo were on their way back home, two young men on a motor-cycle tossed a grenade at them. But when it didn't explode, the men sprayed a volley of bullets on Bhat and Burhan. Bhat died on the spot.
According to an eye-witness, despite being shot in the belly, Burhan "walked to his home" which was nearby. When his family members saw blood seeping out of his abdomen, they rushed him to the hospital. He succumbed to his injury a day later at Srinagar's Sher-i-Kashmir Institute of Medical Sciences.
Burhan was killed along with his father Bashir Bhat, a former militant. He was just 3-years-old
His funeral was a simple affair. He was laid to rest next to his father's grave. Many villagers, lined up in three to four rows, collected for the namaaz-e-janaaza (funeral prayers). This also included some of Burhan's classmates from kindergarten.
But fear created by the series of mysterious killings in the Valley ensured that very few people from outside the village came for the funeral.
At home, Burhan's distraught mother was left attending to his 15-month-old younger sister Horain.
Grieving the deaths of her husband and her 3-year-old son, she has said very little in the past couple of days. The only noises coming from her are the ear-splitting wails she breaks into.
The reason
Nobody in the village can quite make a sense of why Bhat was killed. He was a former militant, one who had joined the insurgency during its peak in the 1990s, like many others. He had spent 3 years in jail. But he had settled down to a normal life after his release.
"Ever since (he was released) he had been helping his father in farming, besides running a small provisional store outside his house," said his younger brother Pervez Ahmad Bhat.
Twelve people, including Burhan and his father, have died in mysterious attacks in parts of North Kashmir in the past four months.
The villagers recall seeing two unknown young men on a motorcycle driving through the village several times during the day. "The motorcycle didn't have the number plate," says another villager who was too scared to reveal his name.
Little is known about who is behind the recent spate of mysterious killings. But the shadow of "unidentified gunmen" looms large over the Valley.
But for Burhan's death, the incident would have been dismissed as the killing of another former militant and would have struggled for attention in the media
However, it hasn't broken the silence that exists on the recent bloodshed in the state. Unlike what Kurdi's death did for Syrian refugees, it hasn't made outsiders aware of the plight of Kashmiris.
After a familiar spell of politics and hartals, Kashmir too has moved on, a fact noted in an editorial by the state's leading daily Greater Kashmir.
"Burhan's killing deserves much more than a condemnation. It deserves much more than a hartal," the editorial reads. "It requires an authentic mourning. It requires anger. And it requires a deep sense of indignation."