Catch Team
| Updated on: 3 January 2018, 16:48 IST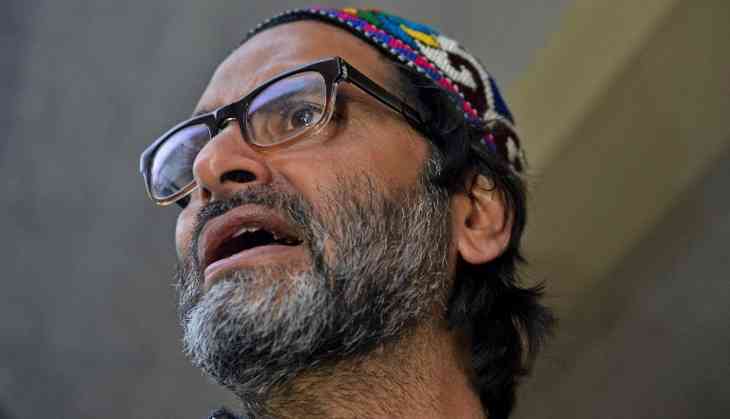 A lot of controversy was generated over Pakistan's treatment of the mother and wife of Indian prisoner Kubhushan Jadhav when they went to meet him. Indian External Affairs Minister Sushma Swaraj reacted sharply, pointing out the way the two women were made to look like widows.
Following her much-discussed Parliament speech, Jammu Kashmir Liberation Front Chairperson Yasin Malik wrote to her highlighting the plight of prisoners. Here's the content of the letter:
Respected Sushma Suwaraj Jee
Minister for Foreign Affairs, India.

Madam Sushma Jee:
In public life, from time to time, it becomes necessary to converse one's insights, apprehensions and worries to others in public life on the imperative issues of our time in an open and honest manner. It is in this long tradition of public communication between individuals and in a spirit of honesty and frankness, that I address your good self through this open letter. I am penning down these lines not as a political campaigner but as a common individual, a prisoner, who has served many years of his life in Indian jails and is still forced to endure this torment on daily basis here in Jammu Kashmir. On 28th December 2017, I was listening to your emotional speech you made in Indian parliament wherein you in your own words illustrated the ordeal of Indian prisoner Kulbushan Yadhav's meeting with his family in Pakistan on 25th December. Madam Suwaraj, believe me, your words touched the chords of my heart and as a person who has seen the miseries of jail life; I could envisage the tribulation Yadhav's wife and mother had to go through. A human being has feelings and he/she displays these feelings in melancholies as well as in his/her exhilarations. This is what makes us distinct from the animal world. Being an advocate of human dignity, rights of prisoners and ascendancy of kindness over cruelty, I stand for the rights of Kulbushan Yadhav too. No matter who he is and what he has done or what he has been condemned for, he is a prisoner, a captive and every religion, international covenants and human norms endow him and his family certain rights which no one can and should deny. Allow me to use this occasion to call upon Pakistani authorities that Pakistan being a Muslim state has to be more heedful as the Holy Book of Islam and hundreds of sayings of our Prophet (PBUH) on the rights of prisoners and welfare of their families, their right to mutual meetings and a fair trial are well established facts that need to be pursued in letter and spirit.
Madam: as a prisoner, I can comprehend the pain of Yadhav family and when during your speech you said that Yadhav's mother wanted to hug her son after 22 months of long separation but was not allowed to do so, my eyes got wet. My old wounds got scratched too by your poignant lexis. It recalled me of my old mother's ordeal, who not once but many a times, in the same manner, after her repeated pleadings to jail authorities, was denied a chance to hug me, her only son, at many Indian jails especially at Tihar. This reminded me of the tears of my sister who could not tolerate to see me from behind a glass wall, talking on an intercom just like Yadhav. Her plea to touch me was also discarded on the pretext of security reasons. I recollect my little sisters' tears rolling down her cheeks at Indian notorious Jhodpur jail in 1999, when the then superintend of jail rejected her plea with a strange argument that only blood relation was allowed a meeting and brother sister relation was not a blood relation in his view. As a dignified woman you can envisage the trauma my little sister "Aamina" had to pass through when she had to leave and travel thousands of miles again back to home without meeting her brother.
Madam: I and everyone who has some empathy left in him went into tears when you quoted Yadhav's mother saying that on seeing her without Mangalsutra her prisoner son asked about the welfare of his father assuming that he might have died because mother was without a Bindiya on her forehead and Mangalsutra. I could visualize the situation as hundreds of times during my jail Yatra these kinds of thoughts haunted me too.
Madam: the ordeal of Indian prisoner and his family is painful for them but allow me to remind you that the records of your country in this context are also not so dazzling. It is India that hanged Kashmiri freedom fighter Muhammad Maqbool Butt without allowing him a last meeting with his family members. His younger brother late Ghulam Nabi Butt, who wanted to travel to Delhi to receive his elder brothers corpse, was arrested at Srinagar airport. Maqbool Butt in absence of his family members was buried inside the Tihar jail. It is India that, without proving his guilt and just on the pretext to 'satisfy the collective conscience of India masses, hanged another Kashmiri youth, Muhammad Afzal Guru in 2013. It is on record that he not only was denied a last chance of meeting his 12 year son, 80 year old mother and a wailing young wife but even his proper burial was denied by the Indian authorities. The families of these two Kashmiris are still waiting for their mortal remains to be handed over to them. Isn't it a grave Be-Adabi of humanity too? Moreover, Madam Suwaraj; there are thousands of Kashmiris who have disappeared after being picked up by Indian forces from their residences and their families are yet clueless of their whereabouts. Their wives have been named as 'half widows' (a newly introduced terminology) by well reputed international human rights organizations. The continued agony of these families is too worth consideration.
Madam: you raised some legitimate questions in your speech about the rights of a prisoner and his family and I also agree with you especially about the right to hug a mother, to touch his wife and to see his children. But this principle should hold same for every prisoner be he a political prisoner, a freedom fighter, a criminal, or any other lawbreaker. I recently met with the families of some prisoners from Kashmir who are in Tihar jail, held for their political beliefs. During my meeting with their kids and wives, they narrated before me the stories of same malice and humiliations. Daughter of one of these asked me to do something so that she is permitted to touch her father's face. Innocent heart of her other sister is wrecked to the extent that she no longer longs for a meeting with his father through glass wall. This is what poor families of your prisoners have to face; A meeting with their loved ones behind a glass wall, a chat on intercom, without mother's hug, without a physical touch by a daughter and without a close meeting of a wife with her husband, pains a lot. Stories of Syed Shabir Ahmad Shah to that of Ayaz Akbar, from Altaf A. Shah to Shahid-ul-Islam and from Peer Saifullah , Raja Meraj-ud-Din to Farooq Ahmad Dar @ Bitta Karatay and Zahoor Ahmad Watali to Naeem A. Khan and many others remains the same. Madam, I wish to put names of all those here who are languishing in Indians jails from many years ,whose families are facing a continued persecution, but lack of space and time is impeding me from that but believe me, Jails from Kashmir to Kanya-Kumari share same kind of horridness and tyranny.
Madam, as I have held before, I did not write this letter as a politician but as an eyewitness to miseries of jail life. I remember that in 2004, I was sent to Tihar Jail for I had failed to attend few hearings of my case at a Delhi court. The jail authorities removed all my attire and asked me to remove my trousers for a shameful rectum check-up. I resisted this undignified torture which was not meant for me alone but for every prisoner. My refusal to accept torture was reciprocated with an attack on me with bamboo sticks and Gun-butts which fractured my right arm. My sympathies with every prisoner are for these kinds of revulsions and miseries and I will always stand for the welfare of inmates whosoever and wherever they are. In-fact it was this conviction which enthused me to go against tide and plead in favor of late Sarabjit Singh at a time when I was sitting on hunger strike in Islamabad in 2013 against Muhammad Afzal Guru's illegal and merciless hanging by India.
Madam, the tale of thousands of young Kashmiris and students, who are facing the wrath of your state from last many years is also worth consideration. During recent months and years I as a prisoner got a chance to witness the ordeal of these young Kashmiris at various police stations. I witnessed tribulation faced by these young boys and their families. Arrested during peaceful protests, these youthful Kashmiris are beaten ruthlessly in police stations and whilst their mothers and sisters visit them at police stations, the abusive language used by police officers against them and profanity faced by their mothers and sisters is actually beyond description. Regrettably this torment and mortification is responsible for pushing many of these young Kashmiris to a hard line path.
Madam: when you lashed out at a section of Pakistani media who according to you harassed Yahdev family in Islamabad Pakistan by asking unethical, provocative and abusive questions, I too felt dismayed. The family of a prisoner should not be harassed in such a manner. This is against normal human instincts, against Islamic ethics and our sub-continental morals. How could we be such cold-blooded? But madam! Let me remind you that this kind of unethical behavior is also not cartel of anyone alone. I was in Delhi with my wife and two year old daughter, to see them off. We had made a prior hotel booking but as we entered hotel premises, management refused to let us in. I pleaded with the hotel management but they refused to take a Pakistani (my wife and her little daughter) in. I was thrown out of hotel with my little daughter in my lap. I repeatedly contacted DIG Kashmir of that time Mr.Ifhadul Mujtaba, asking him for help. He assured me of aid and shifted my plea to ADG-CID with no respond. I contacted authorities in Delhi but how could they help me, as we had been thrown out of hotel at their behest. I along with my family had to take shelter at Dargah Nizam-ud-din for hours before a friend could host us for a night. It was not the first harassment; earlier your party activists also attacked me and my family at late Khawaja Abdul Gani Lone's residential flat in Delhi. We were even not spared during our visit to Ajmer Shareef shrine. I got injured while saving my wife from stones thrown by the same people who stand with a slogan ''Ateethi Devo Bawa" (guests are like gods). In fact these nonstop attacks have left inerasable scars on the hearts and minds of my family and may haunt us forever and this is why I strongly feel for the unfortunate Yadhev family too.
Madam, antagonistic attitude towards each other has actually taken away humanity and humility from humans. Humans' especially the divergent states often lay blame on one another for tyrannies and cruelty. In fact the whole world has turned a blind eye on human rights and human dignity now. How can one ignore Abu Ghareeb and Guantanamo bay jails set out by the mighty human rights champions, where humans dignity and pride was trampled callously, setting out a bad example for the rest of the world.
Madam: as a human being I stand for the ascendance of humanity in every aspect of life. Someone has rightly said that "failure will never overtake me if my determination to succeed is strong enough and that no success is final and no failure fatal, it is courage to continue that counts". Let us take a leaf out of this present disappointment and tread a path that can make our lives more civilized. Difference in political perceptions, ideologies and endeavors of life shall not turn us away from what makes us distinct from flora and fauna. We have our religious teachings, international covenants and pledges, moral and social bindings that govern our individual and public lives. Let us all pledge to follow these promises and regulations at least in case of prisoners and make their lives and the lives of their families' better. This couplet of Allama Iqbal's describes this yearning fabulously and I hope one day this will become every human's desire;
"Khuda kay banday tou hain hazaroon Banoo main Phirtay hain Maray Maray
Main us ka banda banooga jis ko khuda kay bandoon say Piyaay Hoga"
Thank you
Muhammad Yasin Malik