S Murari
| Updated on: 27 February 2018, 18:17 IST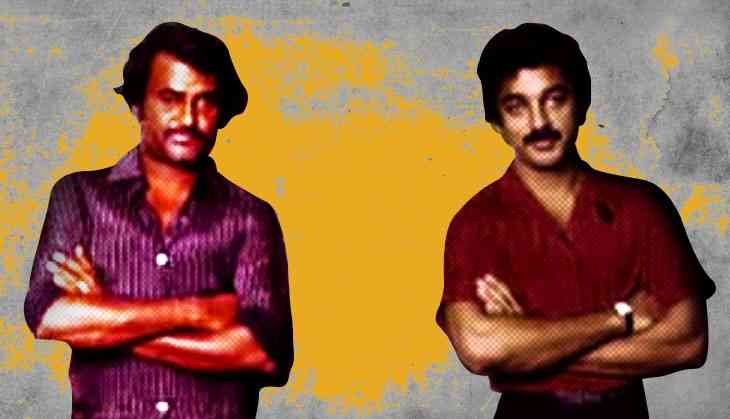 (Arya Sharma / Catch News)
Tamil film superstars Kamal Haasan and Rajinikanth are a study in contrast: While Kamal is natural in films, refusing to fall into any image trap, Rajini projects a super-hero image on screen. Off-screen Kamal comes across as a confused man with intellectual pretensions. Rajini on the other hand, comes before television cameras in simple pajama and kurta and sporting a stubble and receding hair.
As if he is saying "So what if I had started as a bus conductor in Bengaluru? Kamal, on the other hand, is conscious – he is a school dropout from a family of lawyers. This complex shows in his public appearances. It was more apparent when he launched his new political outfit – Makkal Needhi Maiyyam or 'People's Centre for Justice' from Madurai the other day.
He has avoided the Dravidian appellation because critics asked ahead of his launch why he should float a new party if it was going to be another kazhagam, more so when the people are looking for change from 50 years of Dravidian rule in Tamil Nadu.
Yet, having taken the position that the Bharatiya Janata Party's (BJP) attempt to gain a foothold in the State after Jayalalitha's death should be frustrated, Kamal has to show his party is also rooted in Dravidian ethos. Hence the name People's Justice Party.
He could not have chosen a worse name than that as the Justice Party was a stooge of the British, which was propped up to weaken the Congress-led freedom movement in Tamil Nadu. The Justice Party sustained itself by fighting for representation for non-Brahmins in Government jobs.
Periyar, who was part of the freedom movement and was a close associate of C Rajagopalachari, quit the Congress only in 1930 after a state conference where non-Brahmins were discriminated against. Even so, his association with the Justice Party was very brief.
He started his own non-Brahmin movement and that led to reservation for non-Brahmins and the first amendment to the Constitution in 1952. Of course, Ambedkarites say the Dalits were left out of Periyar's movement. But that's another story.
By taking the name Justice Party to show his politics is rooted in Dravidian politics, Kamal has shown a shallow understanding of history. He has chosen to take the middle path in politics. That is his choice.
He has always been close to communists. Unlike in Kerala or West Bengal, the DMK is already leading a secular front with the Congress and the IUML as its allies in Tamil Nadu. Soon the Communist Party of India may join hands with Stalin.
Kamal has shown a preference to Chief Ministers who could be leaders of a third front like Pinarayi Vijayan of Kerala, N Chandrababu Naidu of Andhra Pradesh and Mamata Banerjee from West Bengal. Except for Delhi's Arvind Kejriwal, Naidu and Banerjee are fighting both the Congress and the BJP while Bihar's Nitish Kumar has been a cat on the wall. Ditto Odisha's Naveen Patnaik. Where will Kamal fit in this scheme of things?
In any case, he will have to prove his popularity in the home turf before looking at the national level. Can he, therefore, be part of a DMK-Congress front? Despite his proximity to Stalin and M Karunanidhi, it is uncertain. In fact on the eve of his political entry, Stalin described him as well as Rajini as "paper flowers which may shine but will have bloom".
To Stalin, who is also in his mid-60s, it is going to be a now-or-never battle for power. Such being the case, he does not want any desertions from his party to either Kamal or to Rajini. Hence his attack on Kamal and other star politicians.
All that can be par for the course. But what was on show in Madurai was the shocking ignorance of Kamal on issues of vital interest to Tamil Nadu like Cauvery and the plight of Rameswaram fishermen. He went to Rameswaram, but could not find time to interact with the fishermen and instead asked them to share the dais at his press conference. Even so, it was not clear if he was able to grasp their problem.
Worse is his shallow talk of resolving the century-old Cauvery dispute with Karnataka through dialogue. The Supreme Court has already given its final order on water sharing and it will be in force for the next 15 years. Does he want to reopen the issue with Karnataka through talks? Worse, he has shown a disinclination to get into details.
In sharp contrast, Rajini told reporters later that Tamil Nadu should explore the option of filing a petition for a review before the Supreme Court. Earlier also, he said a long-lasting solution would be interlinking of at least peninsular rivers. It is a different matter whether it will be feasible or not. At least, Rajini has some grasp of the issue.
Rajini has also welcomed all political parties rallying behind the Government on this issue to press the Centre to set up within six weeks the Cauvery Management Board to enforce the tribunal's final order.
Most important, neither Kamal nor Rajini is ready to spend from his pocket. The RK Nagar bypolls showed that contesting elections in Tamil Nadu has become a multi-crore business. Rajini has latched on one of his producers by making him a key member of his fan club. Kamal is talking vaguely of running with public donations.
All that can be forgiven, but not Kamal's failure to plan of action. "Let's go by Chandrababu Naidu's advice to shed isms and instead do good to the people", he has said. How will he fight corruption?"With your help", he says glibly. He has not learnt from Kejriwal's battle for a Lok Ayukta.
In contrast, Rajini has said his will be spiritual politics – or being close to the BJP. Rajini has also said he will tour Tamil Nadu only after his new party is in place at the grass-roots level.
Leaders like MGR and Jayalalitha and even Karunanidhi, before he took ill, used to extensively tour Tamil Nadu. Neither Kamal nor Rajini has such indefatigable energy shown by even Modi in the last Lok Sabha elections.
Ultimately, you cannot win unless you reach out to the masses. Both know it, but age is against them.
Kamal started his political yatra from Abdul Kamal's residence. Will he follow his credo of simple living and high thinking which other tall leaders like Kamaraj and Rajaji also lived by?