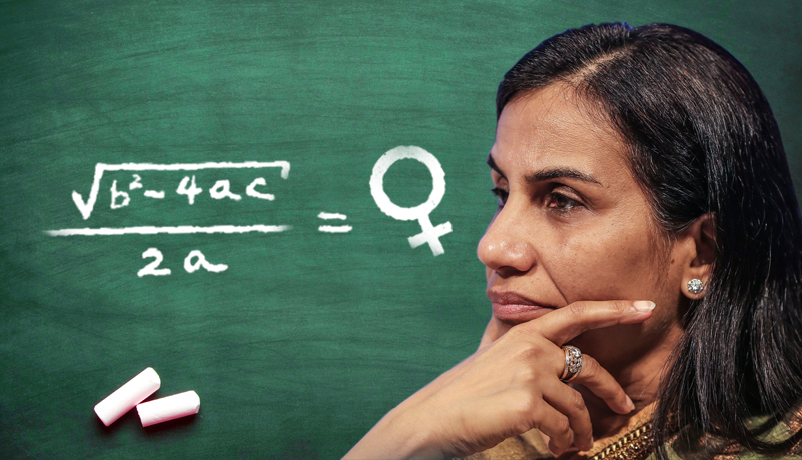 The statement
Chanda Kochhar, MD & CEO of ICICI, laments that there aren\'t enough women in managerial positions
She says that girls find it difficult to clear MBA entrances as they aren\'t good at math
The counterpoint
It is sad to see a professional like Kochhar reinforce gender stereotypes
Women are often held back because of social reasons, not math
More in the story
Why do women find it difficult to climb the corporate ladder?
The day I finished school, I was thrilled. I was certain I had bid my final adieu to mathematics. The quotidian calculation I could deal with. But I couldn't care less about Percy's current age vis-a-vis John's age four years back, or the rate at which the bucket will be filled to the brim if it has a tiny hole at the bottom.
Today, after an eight-year hiatus, as I am trying to befriend the subject again, reading a post about how real math anxiety is, makes me happy. All this while I thought I lacked the knack for it because I just suck at it. Well, now I'm being told it could be so because I am a woman.
Since Twitter launched polls, one has noticed all kinds of polls; funny, stupid and moot. Then there's the glib kind. And it's not even surprising that this one was conducted by TOI.
POLL: If MBA entrance exams were made less math oriented, would more women become business managers?

- Times of India (@timesofindia) November 4, 2015
To TOI's credit, they didn't cook this one up. Chanda Kochhar, the MD & CEO of ICICI Bank, made a statement earlier this week to this effect: she believes there are fewer women business executives in India because quant-based entrance exams keep women from joining MBA classes.
Girls are often told to study arts and leave engineering and management for men
Such generalisations are wrong
One would think a professional of her stature, a woman who has broken through the glass ceiling, would encourage other folks of her tribe to push further. At a time when we need to be told that it should be normal for women to be heads of organisations, we are being told - by a woman - that women leaders like her may be exceptions. Why? Because for all other women, two plus two needn't easily equal four.
In one sweeping statement, Kochhar ignores the real reasons why women are not as present in the workforce as men are. Perhaps it has something to do with several issues because of which women drop out of school at early ages, or jaded societal ideas of women running the household and men winning the bread, or maybe the even paltry maternity packages, thanks to which many women are forced to quit their job after pregnancy.
If women are specifically absent in managerial roles, it could be also due to the widespread prejudice that arts and home sciences suit women better; engineering and management is best left to boys (conversely, the humanities are considered too "feminine" for boys). What is sad is that many women have actually come to believe this about themselves now.
Thanks to paltry maternity packages, many women are forced to quit their job after pregnancy
Half a step back
Then there's a leader like Kochhar. While Kochhar says that she wants to see more women in the workforce, especially in management positions, she is targeting the wrong problem.
If women are being told that they can't play a sport, what is the point if a female stalwart in the sport comes and says the trial rules should be changed?
Sure, some women may be bad at mathematics *raises hand*. But this is because some people are good at something, and some aren't. Some women may be bad at English literature while some men may be great at it. There's no room for sex-based biases here.
The struggle of ensuring a level playing field for women is very real. Even when women are pushing through, and scoring goals along the way, they still face discrimination. All of us are fighting this discrimination. Women have continuously been saying that opportunity, not ability, is the problem. But when we have a team member who scores a self-goal by saying the exact opposite, we move a step forward only to get pulled back half a step.