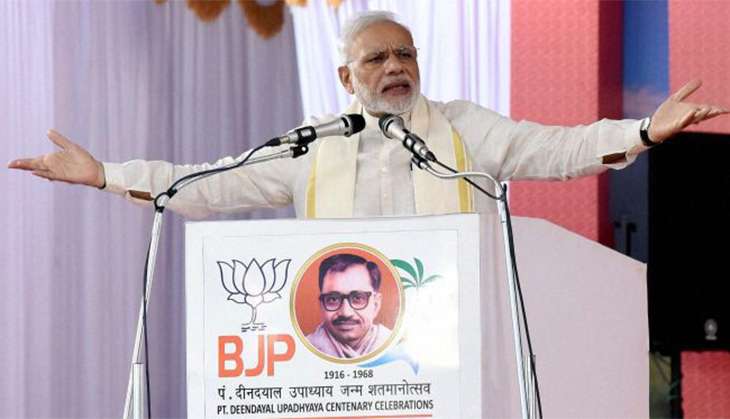 Narendra Modi never disappoints his audience. Whether speaking in India or abroad, language is hardly ever a barrier for him. On Saturday, too, as he took on the microphone in Kozhikode, Kerala, the Malayalam-speaking crowd did not wait for translations of his Hindi speech before roaring at every mention of Pakistan.
Six days had passed since 18 Indian soldiers were killed in Uri, Kashmir, by terrorists believed to have come from Pakistan. Because the BJP leadership had prohibited its members from speaking on the Uri attack, the public, and indeed the Sangh's own cadre, were anxiously waiting to hear from the prime minister himself.
Also Read: Uri terror attack: what India may do to retaliate
Modi hit all the right notes - naming Pakistan as the haven of terrorists in Asia, praising India's military, and insisting that India would never bow to terror. Recounting Zulfikar Ali Bhutto's provocative remark that Pakistan was capable of fighting India for a thousand years, Modi declared, "Main aapki chunauti sweekaar karta hun (I accept your challenge)." Then he paused to acknowledge the applause.
This is exactly what the people would have expected to hear from Modi, who had made being unforgiving towards Pakistan-aided terrorism a central plank of his election campaign in 2014.
When Modi said "there is an atmosphere of rage across the country. Eighteen of our soldiers sacrificed their lives after our neighbour exported terrorists", it was the first time someone from the government had publicly acknowledged the popular sentiment.
Modi taunted Pakistan's Prime Minister Nawaz Sharif - whom he had not long ago personally engaged with to work out lasting peace - for bringing up Kashmir in his United Nations General Assembly speech by raking up, again, the issue of unrest in Balochistan. "You can't deal with Gilgit, which is under your control, you couldn't deal with Bangladesh which was yours once, you can't quell protests in Balochistan, and you mislead people by talking about Kashmir?"
Talking of Kashmir, one has to say Modi wasted a big opportunity in not addressing the unrest in which 87 Indians there have lost their lives so far.
But Modi wasn't addressing just the people in Kozhikode, Kashmir, or even India. He spoke as a world leader, as someone above regional conflict; as an advocate for peace and prosperity in Asia and beyond.
After Modi acknowledged the old Bhutto challenge, in a deft diplomatic turn he addressed the people of Pakistan directly, distinguishing them from the military which is said to wield greater influence than democratically-elected leaders.
"I accept the challenge... people of Pakistan ask your rulers that when both countries gained independence simultaneously, why is it that India is known for exporting software and Pakistan for exporting terrorism... Fight with us if you have the courage... between the two of us let's see who ends poverty first... who ends illiteracy first... who ends child mortality first."
But if it seemed he had forgotten his pre-2014 poll promises, Modi added, "And the rulers should listen to us. The sacrifice of our 18 soldiers will not go in vain. The day isn't far when we isolate you from the whole world and your own people will be forced to stand up against you."
Hollow promises
Modi is such a successful public speaker because he knows what people want to hear. Which means he can raise people's expectations, not necessarily deliver on them. As with his promise to recover black money and deposit Rs 15 lakh in the bank account of every Indian, his fiery rhetoric on Pakistan, in the run up to becoming the prime minister, has come to nothing.
Also Read: Was the Uri attack designed to provoke in the run up to UNGA session?
Before the election, he aroused a blood-lust in people looking to wipe out Pakistan from the world map. In a TV show, clippings of which are being widely shared these days, he had criticised the former government's weak response to repeated attacks aided by Pakistan claiming it wasn't doing anything apart from diplomacy.
Yet, that is exactly how his government has responded to the Uri attack, the single bloodiest attack on the army in Kashmir. At least so far.
His government has responded by reaching out to various countries in Asia and elsewhere to diplomatically isolate Pakistan. But despite its best efforts, the strategy isn't working.
It can be assumed almost as a statement of fact that India will never be able to create distance between Pakistan and two of the five UN Security Council members - the US and China. India's old friend Russia, with whom it had developed close relations after Pakistan allied with the US, has gone ahead with a military exercise with Pakistan. Turkey, with whom India has been trying to develop close relations, has sided with Pakistan and demanded that a fact-finding team be sent to investigate human rights violations in Kashmir.
The only "victories" India has secured from its diplomatic offensive are the UN secretary general leaving out Kashmir from his speech to the General Assembly, Russia saying it won't hold any military drills in "so-called Azad Kashmir", and the symbolic gesture of two lawmakers moving a bill in the US Congress to designate Pakistan as a terror state.
The only allies India has found, even within Asia, are Afghanistan and Bangladesh.
One understands if Modi doesn't share details about any military response to Pakistan, but not once in his speech did he tell the people how his diplomatic offensive against Pakistan was progressing.
India runs the risk of being termed an aggressor and of starting a war with nuclear-armed Pakistan if it attacks the country directly. It risks losing the international stature it has maintained for the past 70 years of conflict with Pakistan if it carries out a covert or a "non state actor" strike in Pakistan. Yet, while its diplomatic offensive is still under question, the BJP risks being pummelled in the upcoming assembly election in Uttar Pradesh if it doesn't react to the Uri attack militarily.
While Modi's speech may have ensured his partymen and supporters get a sound sleep tonight, he and his team are going to wake up tomorrow and find themselves staring at these questions again.
Also Read: Will Pakistan really launch a nuclear war if attacked? Strategic experts are divided