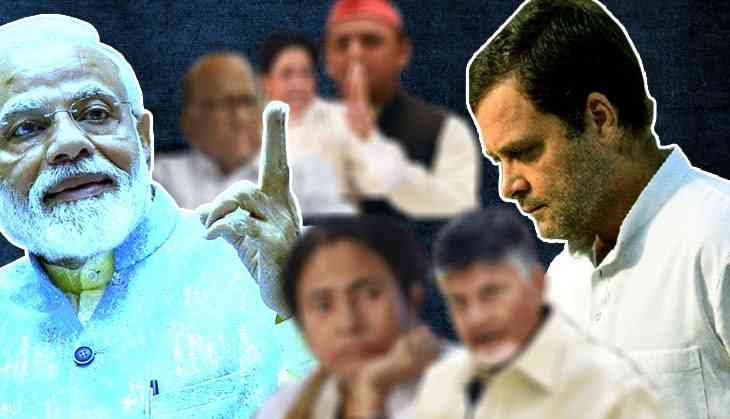 A couple of months prior to the announcement for seven-phase Lok Sabha Elections 2019, the combined opposition was trying to cobble up some kind of front to counter Prime Minister Narendra Modi led NDA. But PM Modi and BJP President Amit Shah largely pointed their political barbs at Congress President Rahul Gandhi, clearly making him feel as if he was the only political leader worth his salt in the entire opposition. And there appears to be a clear strategy behind this move.
Rahul on cloud nine
Buoyed by victory in three States of the Hindi heartland—Chhattisgarh, Madhya Pradesh, and Rajasthan in December 2018 Assembly Elections—Rahul Gandhi was seen making personal attacks on PM Modi—Chowkidar Chor Hai—which failed to find resonance with the masses.
The ecstasy of social media wins
Rahul Gandhi and his social media team members were fiercely engaged in pitched battles against BJP on Twitter and other social media platforms. Yes, this provided few 'deja vu' moments to Rahul Gandhi but nothing significant was achieved in terms of making a political impact. Rahul kept on making personal attacks on Modi, but in a deft move, PM Modi tried to avoid it till the fag end of the campaigning when he started targetting former prime minister Rajiv Gandhi.
Result: Rahul Gandhi appeared to be the only prominent leader challenging Narendra Modi. While Rahul campaign was seen by many as being 'negative' and 'lacking details on various programmes', PM Modi kept talking about National Security, need to form a strong government capable of effectively countering aggression from Pakistan, and the need to make a positive change in the lives of poor and common citizens of the country.
At the same time, implementation of welfare schemes and a strong army of BJP-RSS workers ensured people even in the remotest part of the country were approached and apprised about the need to have Modi government again at the Centre.
Clearly, Rahul Gandhi failed to provide and communicate a clear narrative to the voters. Rahul kept talking about Rafale deal, but even other Opposition leaders were not willing to match his pitch which left him waging his lonely battle. Rahul's allegations failed to tarnish Narendra Modi's clean image in the eyes of the public.
In a nutshell, it became a presidential form of a contest between Narendra Modi and Rahul Gandhi. Going by the popularity reports and perception of voters, such a contest was always in favour of Narendra Modi.
Rahul's every move met a response
BJP started reacting to practically every statement of Rahul as if other political leaders did not matter. And Rahul failed to focus his campaign on lack of jobs, farmer distress and lack of growth in the economy due to some controversial steps taken by Modi government like demonetisation and 'hasty implementation of GST'.
Modi made Opposition faceless
As BJP was responding mostly to Rahul only, national leaders of other political parties did not get media attention. No other face from the Opposition could get to the centre stage of the campaign.

If BJP would have given the same kind of attention to other Opposition leaders, the narrative would have been jobs, development and communal harmony. This would have helped Opposition give a definite shape and face to their front, but BJP determined not to give this opportunity to the rivals.
Controversy makes a story hit
PM Modi is fully aware that the media gets interested in a story only when it becomes controversial. So, BJP kept the campaign largely centred around Rahul's statements. Although Modi termed Opposition front as 'Mahamilavati Gathbandhan' but steered clear of repeatedly targetting any particular leader.
Mission accomplished
BJP managed to prop up 'Brand Rahul' and how easily this was decimated by 'Brand Modi' is no secret now. Some Opposition leaders must be complaining: we never got the media attention to make our presence felt.
Wasn't this part of BJP's game plan?