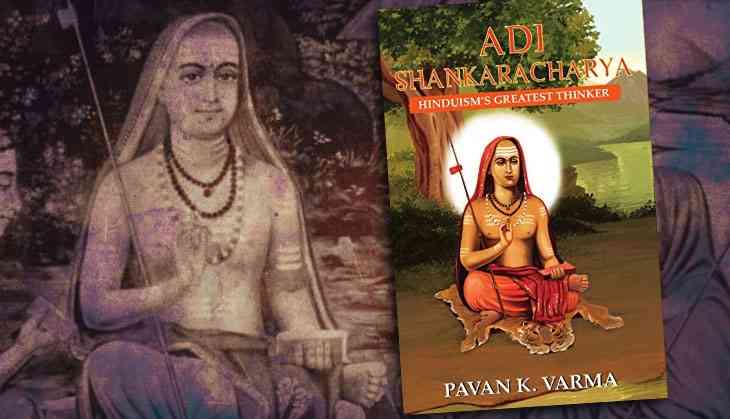 After the Bharatiya Janata Party came to power in 2014 with full majority, even so-called secular writers are writing books on Hinduism in a manner that they be acceptable to the Rashtriya Swayamsevak Sangh. This is a period of Hindu revivalism.
After Shashi Tharoor (a Nair from Kerala) wrote Why I am a Hindu, another politician bureaucrat-writer Pavan K Varma, a Kayastha from Bihar, has written a book on Adi Shankaracharya that can find a praise-worthy place in the RSS library. Varma is another writer I encounter on national English television channels as a spokesperson of the Janata Dal (United) led by Nitish Kumar. He is a go-getter with every school of thought.
Earlier Varma has written on Kautilya's Arthshastra and Vastayana's Kamasutra as great Hindu books. Now he has characterised Adi Shankara as 'Hinduism's Greatest Thinker' (the book's sub-title). He has written the book at a time when Dalits and Other Backward Classes (OBCs) are fighting for equality within that religion, with Ambedkar and Mahatma Jyotirao Phule's writings in their hands; at a time when Dalits are forced to convert to Buddhism, as a mark of protest.
Only about a week ago at Una in Gujarat hundreds of Dalit families converted to Buddhism, leaving their Hindu tag behind because that religion treats them not only as Untouchable but as less than a Cow. Una is just a few hundred kilometers from Dwaraka Peetha of Adi Shankaracharya.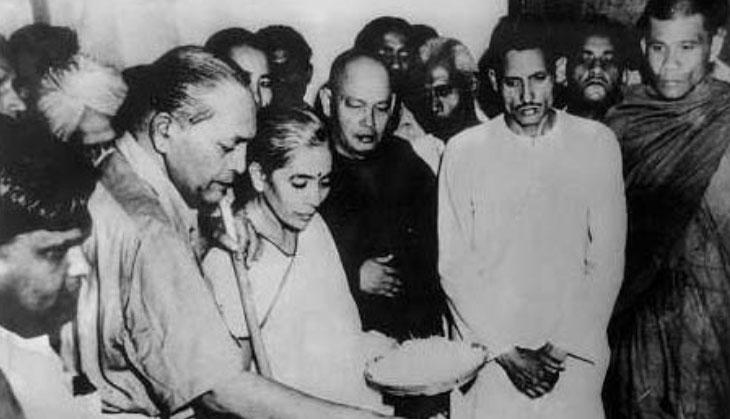 Bhimrao Ambedkar (second from left) at a Buddhist prayer in New Delhi. (Wikimedia Commons)
Any writing on an ancient thinker should be done to make him/her relevant to the contemporary problem of the given religion. The supposed establishment of 'Hindu Rashtra' by the RSS/BJP could have been examined in the light of Adi Shankara's philosophy. The author could have examined whether Dalits and OBCs have any solace in Adi-Shankara's Hinduism, if not in Mohan Bhagwat's Hinduism. But this book does not have any re-interpretative value of his thought to reduce the present tensions in the Hindu society.
The book is about how Varma flew from place to place and talked to people living in that place with the same old ideas of Adi Shankara's Advaita and Dhyana. It does not unearth any ground-breaking angle to Adi Shankara's reincarnation through Pavan Varma's costly tours in the air and in cozy cars with the help of governors, civil servants and Brahmin pundits. The volume does not provide any creative critical interpretation of Advaita Vedanta and the so-called monotheism of Shankara. It does not tell us why it again slipped into polytheism.
In his 200-page commentary on Adi Shankara's Peethas and Mutts, Varma has not mentioned even once how Shankara confronted Buddhism of his times and how there was severe clash between the Advaita school of Shankara and Buddhism.
A lot has been written about how the Shankara school persecuted Buddhism. Both Indian and foreign scholars and political activist-writers have written about how several Buddhist Viharas got converted to Shankar Mutts and Hindu temples. He should have at least read Ambedkar's Revolution and Counter Revolution, where he at length examines how the Advaita campaigns led to mass murders of Buddhist monks, particularly in the South.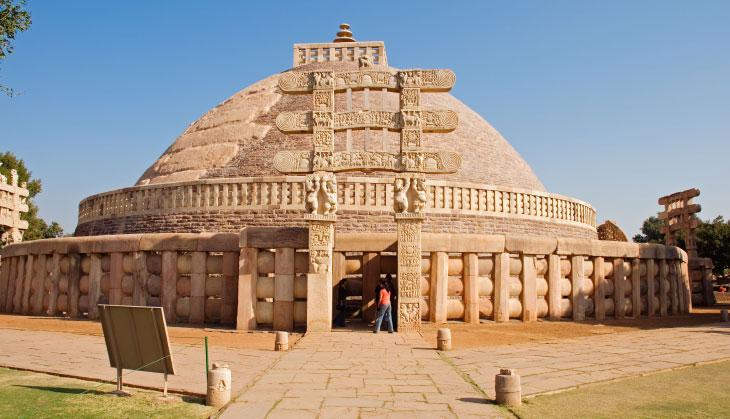 Sanchi Stupa. Several Buddhist faced the brunt of violence. (Wikimedia Commons)
Ambedkar said Shankaracharaya, the leader of the Brahminical revival, struck terror into the hearts of the Buddhists with his diatribes against their religion. Jawarhalal Nehru, in his Glimpses of World History, writes: "The Gupta revival of Aryanism and Hinduism was naturally not very favourably inclined towards Buddhism. This was partly because this movement was aristocratic, with the Kashatriya chiefs backing it, and Buddhism had more democracy in it".
Adi Shankara did not like that democracy of Buddhism. The only thing that the movement of Shankaracharya succeeded in was that propagating vegetarianism among the Brahmin Bania forces. The results we can see now. The Cow has become superior to humans in India.
Varma continently avoids all that. At a time when Navayana Buddhism is expanding into Dalitwadas of India, after Ambedkar embraced Buddhism, the relationship between Shankara's Hinduism and Ambedkar's Buddhism would have made lot of sense to contemporary discourse and religious tensions in India.
Varma tried to project Shankara as great as Buddha or Jesus Christ or Prophet Mohammed in order to impress upon the conservative Hindu Brahminical Order (HBO) and the Hindu Rastra Nirman project of the RSS/BJP. But he failed to tell us why Islam expanded into the Hindu world, taking away Afghanistan, Pakistan, Bangladesh and even Kashmir after Adi Sahnakara established Mutts and Peethas across India. Why Hindu rulers were defeated in war after war even in the hands of child invaders like Muhammad Bin Quasim.
Varma says he visited Kashmir to see the Mutt that Shankara established there. What happened after that? Why did the whole Kashmiri population except Brahmin pundits turn to Islam?
Apart from losing those big regions to Islam, 14 per cent of mainland Indians are in the fold of Islam today. About 3 per cent of Indians became Christians. In his own Kerala, even around Kaladi, Islam and Christianity took away massive number of people.
According to the 2011 Census of India figures, only 54.73% of Kerala's population are Hindus, 26.56% are Muslims, 18.38% are Christians, and the remaining 0.33% follow other religions or no religion. If only the Ezhvas, who constitute about 22 per cent of the Kerala population declare themselves as Narayana Guru Dharma followers as a separate religion like Lingayats of Karnataka, what will remain in Hindusim of Kerala? Does it show Shankara's greatness or weakness?
Hinduism's caste system and its abhorring human untouchability were solely responsible for the expansion of Islam in the Hindu world.
Most Hindu pundits — including Pavan Varma — try to convince its casteist and divisive Brahminic youth that Islamic violence was responsible for expansion of Islam in the Indian subcontinent. He refers to Aurangzeb's attacks on Shankar Mutts but not once mentions Adi Shankara's attacks on Buddhist Vihars.
If Islam's expansion could be explained only in terms of violence, why did it not expand into the present Buddhist world that encompasses China, Sri Lanka, Tibet, Taiwan, Myanmar to Japan, Koreas (North and South) in the East and the whole of the Christian world in the West, beyond Turkey?
Adi Shankar's Hindu revivalism started in the wake of expansion of Syrian-Mathoma Christianity and post-629 AD, the year when the first Masjid of India was built near Kaladi, and after Islamic expansion in Kerala. Cherman Perumal, a Shudra king left his kingdom in around 622 AD, went to Mecca, met Prophet Mohammed and embraced Islam. He was the first Muslim of India.
This happened at a time when Namboodiri Brahmin brutality was at its peak. The Namboodiri castesist superstition was so brutal that even Pavan Varma could not avoid telling about it.
According to Varma, Adi Shankara returned to Kaladi after his first voyage to see his mother Aryamba. She dies when he was with her. No Namboodiri Brahmin came to his house to carry his mother's dead body to the cremation place. May be because he was Advaiti as against the existing practice of Namboodiri Hinduism.
Shankara was also casteist, with all his Advaita Vedanta. He did not ask the Shudra and Dalit neighbours to help him carry his mother's body. He then indulged in the most brutal act of cutting her body into pieces and burnt within the compound of his house.
If he was rational he could have at least buried it without cutting. He had to cut the body because he had to burn it with banana leaves. The story is terrifying. But Pavan Varma finds greatness of purity in that act of brutally cutting his own mother's body into pieces and says that it became a custom in some Namboodiri families, at least a knife will be put on the dead body before it is cremated. In the entire career of Shankara there was no attempt to work for spiritual social reform. Yet Varma tried to construct a prophet out of Adi Shankara.
Adi Shankara built four Mutts – Puri (Orissa), Sringeri (Karnataka) Dwaraka (Gujarat) Badrikashrama (Uttarakhand) – in his life time. He also established one in Kashmir. The Kanchipuram Mutt, perhaps, was established after his death. But that has become more prominent with a university of its own, apart from other educational institutions.
However, what struck me the most is, according to Varma, Shankara travelled from Kaladi to the Vindhyas to the Narmada bank and from there to Varanasi: places in the West to far North to East and far South. In this whole journey on foot did he not meet shepherds, other cattle rearers, fishermen, tillers, pot makers, shoe makers and so on? What was his relationship with them? Did they not give him food, water and places to sleep? If Sanskrit was a very developed language and Shankara was a Sanskrit scholar why did he not write his travelogue?
About 1,400 years before him Gautam Buddha travelled like him. His approach to shepherds – men and women – fishermen, poor women, men, beggars and who gave him food was recorded. He enlightened all of them and took into his Sangha. It is in this process that he started his socio-spiritual reform. He mobilised all caste people into his Sangha.
Take another example, of Jesus. He travelled only for three years after he stopped working as a carpenter. He met fishermen, gentiles, Samaritan (Untouchable) women, beggars, lepers. He ate in their houses. Till he was crucified he went on working for spiritual and social reform. His story was written by four persons – Mathew, Mark, Luke and John.
Prophet Mohammed, who lived in the most underdeveloped Arab deserts had a vivid biographic history written by his close companion and son-in-law, Abubakar.
Where is such an account of Adi Shnakara, who lived in the eigthth century?
If reform and advancement of all social forces considered to be in that religion is not the agenda of the so-called 'greatest thinker', what is it then?
The Chinese of those times have good written history, Arabs have such history; why have India's great thinkers and scholars not written in the so-called greatest language of the world – Sanskrit? Does mere praise now makes them great or should there be such greatness in their humanitarian work, with written evidence or in the fruits of that work? Varma alone should answer.
How can anyone consider Adi Shankara the 'greatest thinker' going by what he has written in a Kavya called Soundarya Lahari. He describes Parvati like a sexologist would. Can we imagine such language from Gautam Buddha, Jesus Christ or Prophet Mohammed on women?
Here's what he wrote:
"Oh! Queen of the destroyer, that he can mediate on your Kamakala (art of love) treating your face as a point, below that the pair of your breasts, and further below the womb can forthwith captivate women is an easy trifle, for such a one can quickly conquer three worlds, whose breasts are as it were the sun and moon" (Varma, page 278).
If this is divine language about women – that too divine women – it is a tragedy for the society. If a prophet or, as Varma says, 'greatest thinker' has this language to describe a woman's (Parvati, the Goddess) body, no society would be free from rapes and murders. If perversion is constructed as art by contemporary Hindu writers, rape could be explained away as a pleasure play.
In the costly project of Pavan Varma, Adi Shankaracharya does not emerge as a 'great thinker' but emerges as a builder of casteist Mutts, which even today are headed only by Brahmin Peethadhipathis. Even by 2018 the monolithisation of Hinduism has not taken place. It's fractured and fragile existence is evident from the Dalit protests and conversions.
The author is a well-known writer and has penned Why I am Not a Hindu and Post-Hindu India. He retired as professor of Political Science from Osmania University