Supaul assistant prof Yadav: No one in our village will vote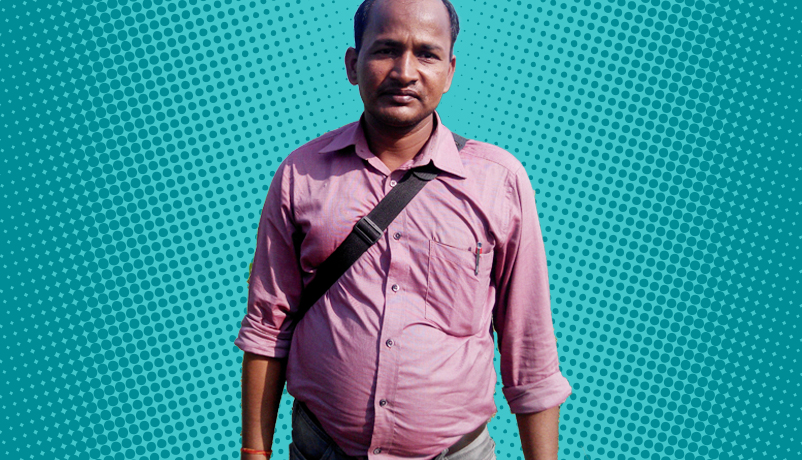 The struggle
Dr Jai Prakash Yadav is an assistant professor in physics at Bhagalpur\'s College of Engineering
He had to struggle hard to complete his PhD because of the lack of adequate schools and colleges
The decision
His village in Supaul district doesn\'t have electricity or road connectivity
Villagers have collectively decided not to cast a single vote in these elections
More in the story
What Yadav thinks of Nitish Kumar and Narendra Modi
Why NOTA isn\'t an option for people of Khunt village
Elections are not just about politicians. They're about people and issues. And what will really drive their vote.
Catch is, therefore, starting a 'People of Bihar' series, which will daily capture what different impact groups across the state are feeling. This is true insight on the Bihar election: up-close and hyper-personal.
"When you don't have anything, you still have hope," says Dr Jai Prakash Yadav, with a sigh of resignation.
Yadav, 38, is a PhD in physics, and is an assistant professor at the College of Engineering, Bhagalpur. But he hasn't forgotten his roots, or the current poor plight of his village.
"I am from a village called Khunt in Supaul district. It's been 68 years since India's independence and the village still doesn't have electricity, or roads to connect the village to the town. Forget colleges, we don't even have secondary schools. Hospitals are nearly non-existent," he says.
A bamboo bridge is all that connects his village to the road to Supaul, and the frequently flooded River Kosi puts the village on the brink every year.
But even more than this natural phenomenon, Yadav says political negligence is to blame for its backwardness.
"During election time, political leaders come here for votes, but they do nothing for this village. It might sound bizarre, but hundreds of women deliver their babies without proper healthcare. Many of them even die because we don't have proper medical facilities. No wonder maternity deaths in Supaul are skyrocketing," he says.
"The strange thing is that this time, not a single leader turned up in our village. Probably they've understood that we won't get swayed by any talk of development."
Here's more from our conversation with Yadav about the assembly polls.
Will you vote in the assembly polls?
No. We've decided that no one in our village will cast his or her vote. We are going to boycott the polls. Whom should we vote for and why? Whoever brings us electricity, colleges and hospitals before the elections, we'll vote for them.
Why not opt for NOTA?
NOTA doesn't help. It's better for the election commission to bar candidates who make fake promises prior to the elections. MPs and MLAs need to be removed from their offices if they are unable to fulfill the promises made to the village.
"We'll vote if someone brings us electricity, colleges and hospitals before the elections"
Every time, politicians come with bags full of promises, but no one delivers. Look at Modiji, he has put India on the world map, but why doesn't he turn his face towards our village? Why doesn't Nitishji prefer the development of villages over metalled roads and flyovers in the cities?
Why do you think politicians have ignored your village?
Imagine if there were schools and colleges here - kids would have been educated. Politicians are scared about getting questioned, which is why they don't build schools/colleges where kids can learn to question them.
After the 2008 Kosi flood in 2008, did you receive the monetary package announced by the state government?
The word 'package' is a mere 'jumla'. Political parties use it to play vote bank politics. Just look at our village, do you think we have got any such 'package'?
If you were asked to pick between Nitish and Modi, whom would you choose?
Neither. Only I know what the journey to a PhD degree was like. Just think, where will the kids who want to study beyond middle school go? Has any political leader every thought about this?
Of course not. One is busy travelling the world, while the other wants to be known as 'Sushasan Babu' (Mr Good Governance). There's no point comparing them.
Read more from our #PeopleofBihar series: Bihar's Brahmins ask: why is our vote taken for granted?
Dalit PhD student Krishna: 7/10 for Nitish, 3/10 for Modi
An ATM guard who's always with a book, and why he'll vote NOTA
Banka Silk founder Udayan Singh wants a third term for Nitish
Graduate Azra feels Modi isn't inclusive enough to vote for
Whoever comes to power must create jobs: front-office boy Divyanshu
Nitish is a better leader than Modi: Student politician Zeeshan
Nitish has ruined his chance by joining Lalu: Lakshmi, graduate, Muzzafarpur
There's little to choose between Modi and Nitish: wannabe cop Vinit argues for NOTA
Lawyer Indira Sharma: Nitish started well, but has now lost his mind
Farmer Ali Ashraf: 'Dadri is jungle-raj. I don't want that in my state'
Researcher Sunita: don't like BJP but today's Nitish is worse
Social worker Munna Jha: no matter what surveys say, I'll vote for Nitish
Madrasa student Ahmed: Modi's promises fake, I'll vote for Nitish
Entrepreneur Imran: give BJP a chance to prove secular credentials
BCA graduate Manish gives Modi a 10/10. Find out why he's not voting Nitish
Farmer Pawan Yadav is angry with Lalu, but may still vote for him
Left activist Vineet: grand alliance lesser of two evils
Unskilled worker Ajeet: no interest in politics, but will vote Nitish
PhD student Tejee: I don't want development with riots in Bihar
Engineer-entrepreneur Sonu: Nitish did a great job for agriculture sector
Folk singer Chandan Tiwari is voting NOTA - to protest neglect of art & culture
'I won't vote for people who ask us to eat beef': khaini seller Kanhaiya