Banka Silk founder Udayan Singh wants a third term for Nitish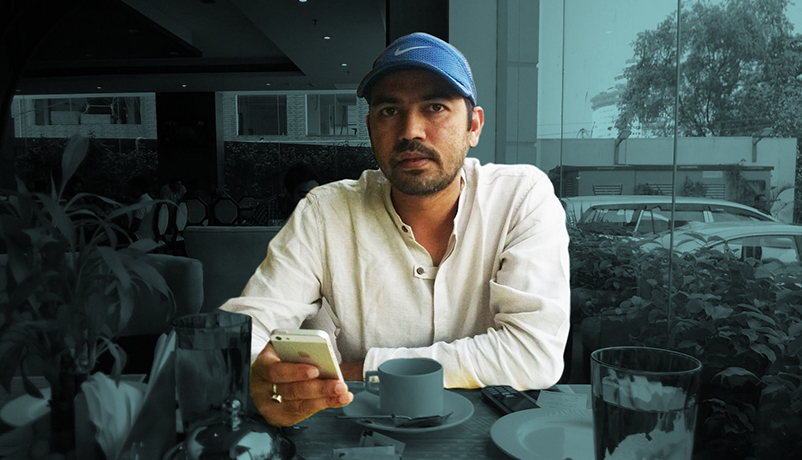 The enterprise
Banka Silk is a company that exports handmade silk garments and has a net worth of $3 million
It employs 50 people and is a source of income for about 7,000 more
Its proprietor is 32-year-old Udayan Singh, who hails from Banka town
The entrepreneur
Udayan left Bihar in 2006 owing to the poor condition of the state\'s economy and lawlessness
He worked as a railway employee, and then became an advertising professional in Delhi
He also ventured into TV production before returning home and starting up Banka Silk
The viewpoint
Udayan credits Nitish with changing the image of Bihar and improving the ground reality
He feels Nitish deserves a third term as CM, but is wary of his alliance with Lalu Prasad
He also feels Narendra Modi has improved India\'s image abroad, which has benefited his business
Elections are not just about politicians. They are about people and issues. And what will really drive their vote.
Catch is, therefore, starting a "People of Bihar" series, which will daily capture what impact groups across the state are feeling. This is true insight into the Bihar election: up-close and hyper-personal.
Udayan Singh embodies the spirit of entrepreneurship and innovation among the youth of Bihar.
In 2006, he left the state, only to return to his roots six years later. In the interim, he changed many hats - from a railway job in Siliguri to a successful career in the world of advertising and TV serial production in Delhi and Mumbai.
Eventually, he founded the Banka Silk company, named after his hometown, upon his return to Bihar.
Today, Singh's company is renowned not only in India but abroad as well. Banka Silk's net worth is estimated at $3 million. It employs 50 people directly and is an indirect source of bread and butter for around 7,000 more.
The phenomenal rise of Banka Silk was made possible by the ongoing boom in online trade. The silk clothes the company produces are marketed by an e-commerce enterprise called 'Indian Roots'.
But, the 32-year-old Singh also gives credit to the improved political scenario of Bihar for his success.
His achievements have been recognised by the Election Commission, which has brought him on board for its election awareness drive across the state.
Atul Chaurasia caught up with Singh to get his perspective on the economic and political state of Bihar. Excerpts:
AC: What was the idea behind starting Banka Silk? What made you come back to your roots?
US: I left the state when the situation was really bad. However, once things started changing for the better, I had no reason to remain a migrant.
I had started missing Bihar while hopping from Siliguri to Delhi to Mumbai. But the situation back home was so bad that the term 'Bihari' was used as an abuse for us.
But once the situation had improved, I came back in 2012. By then, Banka district had been carved out of Bhagalpur, and over 10,000 families involved in the production of Banka silk, better known as Bhagalpuri silk, were in a bad state.
I pooled together 100 of these families that produced silk handloom, and decided to market it as Banka Silk.
AC: Are you in favour of Nitish Kumar getting a third chance at the helm of affairs?
US: Political stability and a secure atmosphere are an essential prerequisite for any plans to materialise. The Nitish government provided us exactly the same. This is the reason Bihar has a different image today. Nitish is wholly responsible for getting rid of the negative image of Bihar from the rest of the country. I certainly think that Nitish should get a third chance.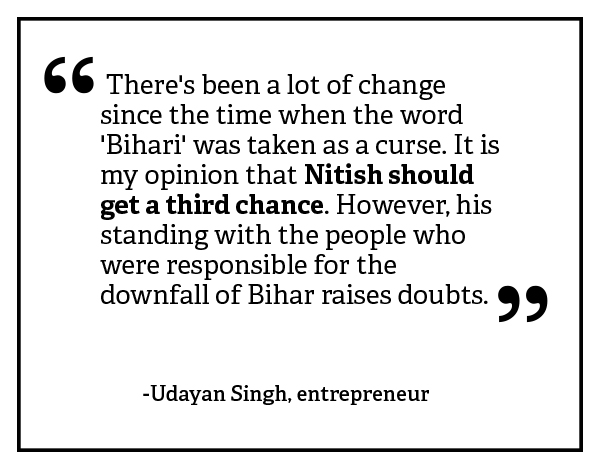 AC: Does the business community fear Nitish's alliance with Lalu Prasad?
US: There are many entrepreneurs like me who have aspersions that Bihar may lose what it has gained during the past decade. The fact that Nitish is standing today with the same people who were responsible for the downfall of Bihar raises doubts.
To prevent this, Nitish will have to ensure that he has full control over the government, so that we do not go back to the dark days.
There is enough of a positive buzz for Nitish, but not for Lalu.
AC: Do you think the NDA will gain an advantage due to the Lalu factor? Also, will PM Modi's business-friendly image matter?
US: Look, it's always better if the state and the Centre are ruled by the same party, or at least friendly parties. Bihar will benefit if there is coherence between the two. Therefore, if Nitish wins, I would urge him to restore friendly relations with the BJP.
As far as Narendra Modi is concerned, he has enhanced India's global image. I deal in a global trade, so my business has also benefited from this makeover.
AC: How big a factor do you think caste will be in these polls?
US: It will certainly be a factor, because it is the reality of Bihar. All the leaders and parties are involved in caste politics. They have even strengthened caste politics for short-term benefits in these elections.
I am truly disappointed with this, because I believe this is what holds Bihar back. We are an overtly politicised society. Anyone who attains some success aims to enter politics, and the sole motive of politicians in Bihar is to further the narrow interests of their own communities.
AC: What are your expectations from the new government, no matter who forms it?
US: There should be a clear-cut policy for youth employment and a secure atmosphere for industry to flourish. Also, the easy availability of venture capital is paramount for new entrepreneurs.
AC: What are your future plans for Banka Silk?
US: We deal in completely handmade silk. It is being exported to more than 150 countries. But soon, we are going to start flagship stores in Delhi and Patna.
We also intend to start an ethnic brand by the name of 'Umaya', which will give a marketing platform to many traditional art forms like Madhubani paintings and Mayusha arts.
Also read: Bihar's industry still trusts Nitish, says state CII chief Dilip Kumar
An ATM guard who's always with a book, and why he'll vote NOTA