Delhi Assembly Election: Kejriwal takes jibe at Amit Shah, says not just Wifi, battery charging is also free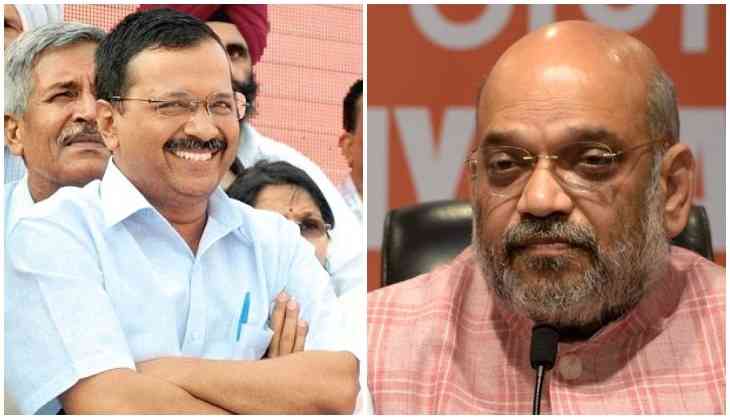 Arvind Kejriwal-Amit Shah
Delhi Chief Minister and Aam Aadmi Party(AAP) national convenor Arvind Kejriwal on Friday took a jibe at Home Minister and former BJP President Amit Shah and said not just Wifi, but battery charging was also free in Delhi as Delhi government has been giving free 200 units of electricity.
Taking to Twitter Kejriwal wrote: "Sir, we have also arranged free battery charging along with free wi-fi. Delhi has 200 units of electricity free of cost." The AAP leader said quoting to a post shared by the Delhi BJP.


सर, हमने फ़्री wi-fi के साथ साथ फ़्री बैटरी चार्जिंग का भी इंतज़ाम कर दिया है। दिल्ली में 200 यूनिट बिजली फ़्री है। https://t.co/eCe51evCFz

— Arvind Kejriwal (@ArvindKejriwal) January 24, 2020
On Thursday, Shah had said that while Kejriwal had promised free Wifi to the city, his mobile battery got drained, but cannot spot any wifi spot. He also said that Kejriwal had promised that if he comes to power, he won't take government facilities.
"Tell me, has he not taken the official bungalow, government car?" Shah asked during a rally.
"He (Kejriwal) had said that they would authorize unauthorized colonies but did nothing. Narendra Modi has done this work," Shah said.
The election to the 70-member Delhi Assembly will go to poll on February 8 and results will be declared on February 11. The term of the current assembly will expire on February, 22.
Also Read: Watch: ISRO unveils humanoid robot that can talk, perform tasks like human astronaut