BJP's Swachh Bharat against 'anti-nationals' should begin at home, not JNU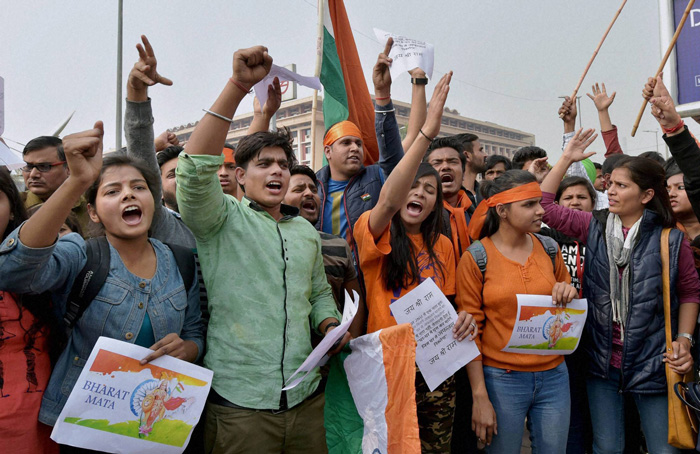 BJP MP Maheish Girri has filed a police complaint against 'unknown persons' for organising an event against the hanging of Parliament attack convict Afzal Guru.
The event was organised at the Jawaharlal Nehru University on 9 February, the day Guru was executed three years ago.
The JNUSU president, Kanhaiya Kumar, has reportedly been arrested for sedition in the same case.
Read: What killed Hyderabad university Dalit scholar Rohith Vemula?
"Will not tolerate anti-national activities," Girri tweeted after filing the complaint on 11 February.
Predictably, Girri also wrote a letter to Union HRD Minister Smriti Irani, complaining against 'anti-national activities in JNU'.
This seems to have become a drill for BJP MPs, who have too much time to kill, it seems.
(To be fair, Girri has other hobbies too. He petitions to change roadsigns with the names of Muslims he doesn't like and gets them replaced with the names of Muslims he does approve of. He is also associated with the Art of Living, whose head was recently awarded the Padma Vibhushan by the government.)
But let's come back to BJP MPs and their McCarthyist battles against imaginary enemies that often end up as letters to the HRD Ministry.
After all it wasn't too long ago that Girri's colleague - BJP MP and Union Minister Bandaru Dattatreya - wrote a series of letters to Irani, complaining about 'anti-national activities' at the Hyderabad Central University. His target was the Ambedkar Students' Association, which Rohith Vemula was a part of.
BJP MP Maheish Girri has filed a police complaint for the pro-Afzal Guru event in JNU on 9 February
Like Girri, Dattatreya complained that the students organised a protest against the hanging of Yakub Memon. The students, including Vemula, were suspended. A few months later, Vemula ended his life.
By filing a police complaint, Girri has gone a step further than Dattatreya.
But if Dattatreya and Girri are so keen on catching anti-nationals in their free time, they should begin their hunt closer home.
Exhibit A: BJP MP Sakshi Maharaj
Girri and Dattatreya can locate him easily as he sits on the same benches as them in the Lok Sabha. Maharaj called Mahatma Gandhi's assassin Nathuram Godse 'a patriot'.
"I feel Nathuram Godse was a patriot, just as Mahatma Gandhi was," Maharaj had said.
Surely someone who praises the assassin of the Father of the Nation is more anti-national than a bunch of students who think Memon and Guru shouldn't have been hanged.
Also read: Afzal Guru JNU protest: Stringent action against those raising anti-national slogans, says Rajnath Singh
At least no one was comparing Memon and Guru to Mahatma Gandhi. But then the Mahatma might not be a very emotive issue for the two BJP MPs.
Exhibit B: Shiromani Akali Dal
Perhaps targetting an MP of one's own party might be a little difficult for Girri and Dattatreya. So let's try an ally. A few years back, the Shiromani Gurudwara Prabhandak Committee engraved a plaque glorifying Khalistan terrorist Jarnail Singh Bhindranwale at the newly-constructed Bluestar Memorial inside the Harmandir Sahib complex in Amritsar.
"In the memory of the 14th head of Damdami Taksal, martyr Sant Giani Jarnail Singh Ji Khalsa Bhindranwale and all martyrs of 1984."
The SGPC is controlled by the Akalis and the Badal government dragged its feet in removing the plaque, even after it was told to do so.
If Assam BJP leaders had a 'deal' with Bodoland terrorists, it's far more serious than the JNU event
So an individual who was the most dreaded terrorist in India in the 1980s is glorified as a 'Sant' and a 'martyr' by the BJP's own ally. But this doesn't create a fire in the nationalist bellies of Messrs Girri and Dattatreya.
Incidentally, like those who opposed the execution of Guru and Memon, the Akali Dal appealed to the Centre against the death penalty for Balwant Singh Rajoana and Devinder Pal Singh Bhullar. Rajoana is a Babbar Khalsa International terrorist sentenced to death for assassinating former Punjab CM Beant Singh, while Bhullar was sentenced for plotting attacks on SSP Sumedh Singh and Youth Congress leader MS Bitta, which caused the deaths of several people in Delhi.
In their appeal, the Akalis said that the executions weren't in 'national interest'. This begs the question, who decides which executions are in national interest and which aren't? But that deserves a separate rant.
Exhibit C: MDMK chief Vaiko
Okay, so if not an ally, then let's try a former ally. If there is one date that has come to be associated with terrorism in India, it is 26 November. But one Indian politician, Vaiko, a former ally of both the BJP and the Congress, remembers the day differently. He organises celebrations on that day, with firecrackers, cake and the works, as it happens to be the birthday of slain LTTE chief Velupillai Prabhakaran.
Also read: Rohith is the 23rd Dalit student suicide in institutes like AIIMS and IITs
Prabhakaran was no Memon or Guru. He was the leader of one of the most dangerous terror organisations the world has seen. An organisation that was behind the assassination of former Prime Minister Rajiv Gandhi and the deaths of 1,200 soldiers of the Indian Peace Keeping Force.
Vaiko was an ally of the BJP in the 2014 Lok Sabha elections, when both Girri and Dattatreya became MPs. Who knows, he may ally with the BJP again in the future, and perhaps even invite these two leaders for a Prabhakaran birthday bash on 26/11.
Exhibit D: BJP leaders in Assam
According to a story that appeared in The Telegraph during the 2014 Lok Sabha elections, Bhabadev Goswami, a BJP leader in Assam, claimed that the party had struck a deal with the IK Songbijit and Ranjan Daimary factions of the National Democratic Front of Bodoland, a banned terror outfit.
Goswami said that he, along with a few other party workers and leaders, had a meeting with members of the two insurgent outfits on the Assam-Arunachal Pradesh border.
According to a report in Assam Times, BJP's Tezpur candidate, Ram Prasad Sharma, was also part of the meeting. Sharma subsequently won the election.
Why are only Muslim terrorists 'anti-national'? What about Bhindranwale, Prabhakaran or Bodos?
The NDFB-Songbijit is behind some of the most gruesome ethnic massacres in Assam. On 23 December 2014, it gunned down over 80 Adivasis in Kokrajhar and Sonitpur, and on 3 May 2014, it carried out a massacre of 32 Muslims in Kokrajhar.
If the reports about the BJP leaders' 'deal' with the NDFB are true, it is far more serious than what the students in JNU are being accused of.
Mind you, protesting against the hanging of a terrorist is not an anti-national act, but colluding with a banned terrorist outfit is.
So the very least our nationalists, Girri and Dattatreya, can do is ensure that action is taken against the BJP functionaries who struck such a deal. Surely, a Swachh Bharat Abhiyan against anti-nationals should begin at home.
But no, Godse, LTTE, Khalistan and NDFB will never evoke the outrage of Girri, Dattatreya and their ilk. And the simple reason for this is that these terrorists are not Muslim.
The truth is that for a very significant section, terrorists have to be Muslim in order to be anti-national. Terrorists who aren't Muslim aren't terrorist enough for them.
Watch- #WhatTheYoungThink: Who is anti-national? JNU responds to RSS allegation
It is the same bias that drives these people to criticise Vice-President Hamid Ansari for 'disrespecting the national flag', but remain silent when Narendra Modi disrespects the national anthem.
What's worse is that individuals like Rohith Vemula are labelled as anti-national just for opposing the hanging of Yakub Memon, as are those who protested against the execution of Afzal Guru.
So Mr Maheish Girri, if you can't identify who the real 'anti-nationals' are, you're better off sticking to Art of Living classes in your spare time. And while you're at it, take Bandaru Dattatreya with you.
(The views expressed here are personal and do not necessarily reflect those of the organisation.)
More in Catch:
Einstein proved right! Gravitational waves detected by scientists 'discovery of the century'
#NotesforMrJaitley: How to tackle the subsidy beast without harming the poor
Headley on Ishrat: when a fibbing prosecutor interrogates a shady double agent
Ishrat an 'LeT operative' says Headley, prosecutor Nikam gets flak for 'prompting'