Ishrat an 'LeT operative' says Headley, prosecutor Nikam gets flak for 'prompting'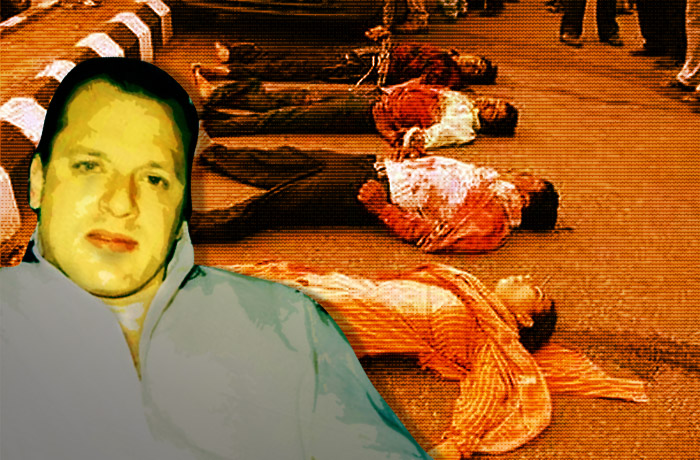 The encounter
Ishrat Jahan was killed along with three men in 2004 for conspiring to assassinate Narendra Modi
An Ahmedabad court later ruled that the encounter was fake
The deposition
On Day 3 of his deposition to a Mumbai court, David Coleman Headley confirmed that Ishrat was an LeT operative
He first said he didn\'t remember the name of the LeT woman operative killed in an encounter
Then, on being offered a choice of three names by prosecutor Ujjwal Nikam, he picked Ishrat\'s
More in the story
The debate over Nikam\'s questioning: fair or prompting an answer?
Headley\'s other revelations about LeT operations and his time in Mumbai
On the third day of his deposition to a Mumbai district and sessions court, Pakistani-American Lashkar-e-Tayyeba operative David Coleman Headley made his most sensational revelation yet. He named Ishrat Jahan as an LeT operative.
Speaking to the court via video conferencing in the US, where he has been jailed for 35 years for his involvement in the 26/11 Mumbai attacks, Headley confirmed that Ishrat was part of an LeT conspiracy.
Read- Headley takeaway: Don't count on Pak to give up on terror
Later, it emerged that Headley had told the court that he didn't remember the name of the female operative. Public prosecutor Ujjwal Nikam then gave him three choices, of which Headley picked 'Ishrat Jahan'.
Asked whether he had tried to lead Headley to a certain name, or prompted him, Nikam denied this. "The information Headley gave is already given to NIA when he was questioned in the US earlier. I am only concerned about what he says in the court. I am very clear in framing the questions, not to suggest or prompt," he said.
Case background
Ishrat Jahan was a 19-year-old girl from Mumbra, Thane district, Maharashtra, who was killed in an encounter along with three men near Ahmedabad on 15 June 2004. They were alleged to have been involved in a conspiracy to assassinate Narendra Modi, then Chief Minister of Gujarat.
The encounter was conducted by officers of the Ahmedabad Police Crime Branch, led by DIG DG Vanjara.
Headley didn't remember the name. The prosecutor gave him three choices and he picked Ishrat Jahan
After a long investigation, an Ahmedabad Metropolitan Court ruled that the encounter was staged. The CBI has also stated in a chargesheet that the encounter was fake.
Vanjara was jailed for his alleged involvement in another fake encounter case, involving Sohrabuddin Sheikh.
The conspiracy involving Ishrat
In his deposition, Headley said the LeT had conspired to kill a police team near some 'naka' (police post), but he didn't name the place. He confirmed that there was a women's wing in the LeT, headed by Abu Aiman Mazhar, though the women didn't work as suicide bombers.
Also read: Headley nails ISI & Hafiz Saeed role in 26/11 on Day 2
Talking to the media after the day's proceedings, Nikam said: "Headley confirmed that (Zaki-ur-Rehman) Lakhvi and Muzammil (Butt, another LeT man) had an altercation over the failure of the operation in Gujarat. Lakhvi blamed Muzammil for the death of the group in the police encounter. He came to know about death of a woman member in the encounter.
"When I asked him the name, Headley said he couldn't remember the name, and asked to give some names. After I gave him three names, Headley identified Ishrat Jahan."
Journalist Rana Ayyub tweeted the sequence of events in court.
And this is the brilliant line of questioning by our Padmashri Ujjwal Nikam which 'proves' ishrat a terrorist. pic.twitter.com/mNexuteU5P

- Rana Ayyub (@RanaAyyub) February 11, 2016
Law experts divided on Nikam questioning
After Ishrat's family raised questions over the claims by Headley, and the family's lawyer doubted the line of questioning by Nikam, a big debate has broken out.
The legal fraternity is divided on the issue. Some lawyers don't see anything objectionable with the questioning, while others have raised doubts over it.
Vrinda Grover, the lawyer for Ishrat's family, said: "There is evidence that Ishrat was killed and the case is still in court. Headley was deposing in the 26/11 terror attack case. The prosecution has prompted him to name Ishrat. It is hard to understand why a person with fabulous memory (Headley) could not remember the name of the woman, and names Ishrat after the prosecution prompted him."
Senior lawyer Majeed Memon said: "This issue is sensitive and pertains to national security. Hence, it should not be blown out of proportion. It is premature to accept what Headley has said today."
Headley identified Ilyas Kashmiri as a member of Al Qaeda. He claimed to have met him in Waziristan
Memon feels the prosecution asked leading questions to Headley, and that the defence lawyer should have objected to it. "The authenticity of the claims cannot be established until the cross-examination of the witness is completed," Memon said.
Advocate Mahesh Jethmalani, who is representing Headley, responded: "The revelation about Ishrat will not affect this case, but can be used in other cases. Headley's evidence is based on information given to him by Muzammil Butt. It seems to suggest that Ishrat was an LeT fidayeen. Anybody who suggests that this evidence isn't valid is trying to cover up for an entire conspiracy to protect her real identity."
Senior High Court lawyer Uday Warunjikar, meanwhile, said there was nothing wrong in asking such questions.
"Questioning is a skill. Lawyers have to extract information from the witness. This is a routine practice by prosecution, as well as defence lawyers. How can one get the information if tricky questions are not posed? Headley had an option not to answer the question, or continue to say he did not remember."
Who is Muzammil?
Muzammil was Headley's handler, and had hatched a detail conspiracy to assassinate Omar Abdullah immediately after the 26/11 Mumbai attacks. However, Abdullah was saved in the nick of time as security agencies got wind of the plan and foiled it. Headley said Lakhvi had told him about a futile attempt by Muzammil to assassinate the then-Chief Minister of Jammu and Kashmir, Omar Abdullah. Lakhvi had also elaborated on the intricacies of the operation, as well as its failure.
One Abu Dujata had introduced Headley to Muzammil. He later learnt that both Dujata and Muzammil regularly visited 'Indian-occupied' Kashmir.
Headley told the court that Muzammil had plans to attack the Akshardham Temple in Gujarat after the Babri Mosque was demolished.
Other revelations about LeT operations
Headley revealed that he knew Abu Khafa, who was second-in-command in the LeT, after Lakhvi.
Headley met Abu Khafa in Murdik, near Lahore, in 2003. Hafiz Saeed and Lakhvi were also present at the meeting, he said. Khafa was a course instructor in LeT's training camp. He later became Headley's trainer.
Sajid Mir and Abu Khafa were handling the 26/11 attackers from a control room in Karachi, he said. Abu Khafa's nephew was one of the 26/11 attackers.
Headley told the court that Sajid Mir showed him the coverage of the 26/11 terror attacks by the Indian media on his laptop in Rawalpindi.
Abu Anas was the assistant to Sajid Mir. He was involved in the 26/11 terror attack conspiracy.
Headley identified Ilyas Kashmiri as a member of Al Qaeda. He claimed to have met Kashmiri in Waziristan, Pakistan. Kashmiri was the commander of brigade 313 of Al Qaeda.
Asked by Nikam asked about the different wings of the LeT, Headley confirmed the organisation has a separate naval wing. He said he knew Mohammad Yakub, who was in charge of the LeT's naval operations.
"Headley claimed that he was not aware about Yakub's role in the Mumbai attacks," said Nikam, adding: "However, he discussed the landing sites for boats carrying attackers with the members of LeT's naval wing."
Headley told the court that one Haji Ashraf, a Lahore-based businessman, is head of the financial wing of the LeT.
Headley's Mumbai chronicles
Elaborating on his activities in Mumbai before and after the 26/11 attacks, Headley said he opened an office at A/C market in Tardeo on 14 September 2006.
He told the court that Dr Tahawwur Rana gave him Rs 66,605 on 11 October 2006 in Mumbai, $500 on 7 November, Rs 17,636 on 30 November, and $1000 on 4 December 2006. All the fund transfers were done through the Nariman Point branch of the IndusInd Bank.
However, IndusInd Bank issued a statement, putting itself in the clear. "The Bank wishes to reiterate that it has not opened any account in the name of David Headley, and has not handled any other business for him," it said.
Read more- The deadly Headley revelations: what the LeT operative said in court
He said the ISI provided the financial support to carry out the 26/11 attacks.
Headley said Tahawwur Rana had visited Mumbai before the attack, and went to the US on Headley's advice, so that he would remain safe.
ISI's Major Iqbal gave him $25,000 and Sajid Mir gave him Pakistani Rs 40,000, before he came to Mumbai.
Apart from this, Major Iqbal gave huge amounts to Headley in April 2008 and June 2008. He also gave counterfeit Indian currency to Headley two or three times.
Retired Pak Army major Abdur Rehman Pasha gave him Rs 18,000.
The rent agreement about the Tardeo office was signed with the owner, one Mr Bora, on 1 November 2006. The information provided for the agreement, such as name, age, religion and nationality were true. The agreement was extended on 16 July 2008.
Headley also named one Raymond Sanders, who tried to help him open a business account in India. Sanders had signed an application to this effect, which was submitted to the Reserve Bank of India, but was rejected.
Headley and Major Iqbal wanted to close the office in January 2009; however, Tahawwur Rana wanted it to remain in operation longer.
Headley told the court that he visited Reliance Webworld on 12 September, 18 October and 30 October, 2007. There, he used 'immigration.usa' as his login ID.
To support his claim, Headley informed the court that his signature would be in the visitor log at the Reliance Webworld.
He told the court about exchange of emails between him, Tahawwur Rana, Major Iqbal and Sajid Mir. They used code language for the conversation.
Headley used two to three mobile numbers from 2006 to 2009, obtained and activated on the basis of his passport, copies of which were submitted to the service providers.
Edited by Shreyas Sharma
More in Catch:
In photos: India's first transgender modelling agency just held its first audition, and it was awesome
RK Pachauri expected a smooth return to TERI, until hell broke loose
Nepal constitution: Madheshi protests end for now, but the anger remains
Odd-Even 2.0: Five suggestions Arvind Kejriwal needs to seriously consider