Somi Das
| Updated on: 14 February 2017, 5:26 IST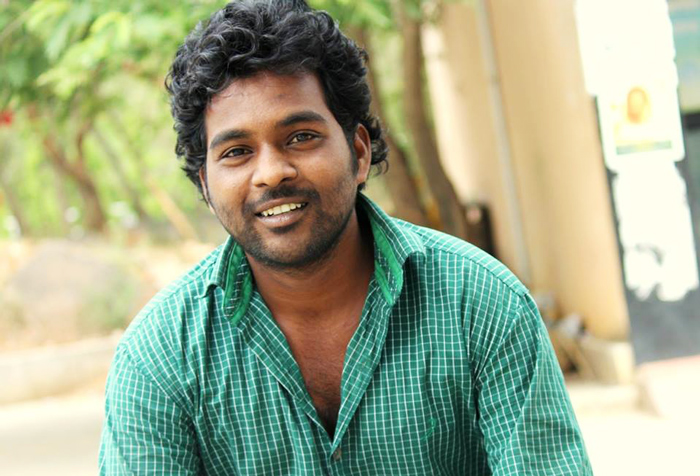 Rohith Vemula, a 25-year-old Dalit scholar expelled by the University of Hyderabad a month ago, committed suicide on Sunday.
Vemula, from Guntur district of Andhra Pradesh, was persuing a PhD in science technology and society studies for the last two years. Allegedly he was embroiled in a tiff between two student groups last August.
The death intensified tension in the campus where students have been protesting the expulsion of five Dalit scholars, including Vemula, for 12 days now. Students protested all night and had prevented the police from taking the body for post mortem for a long time.
Grieving mother of Vemula Rohit who died yday after allegedly committing suicide; family says VC shld answe pic.twitter.com/dDezF3HFm2

- Uma Sudhir (@umasudhir) January 18, 2016
Vemula's death was fast turning into a national issue with students from the Capital's Jawaharlal Nhru University Delhi's and Kolkata's Jadavpur University also staging protests.
People who knew Vemula were shocked to learn about his death and blamed caste politics and discrimination for the drastic step.
Kavita Krishnan of Communist Party of India (Marxist-Leninist) Liberation took to Facebook to write about the apparent suicide.
"Utterly shocked to learn of the suicide of Rohith Vemula, one of 5 Dalit students victimised by HCU at ABVP and BJP Govt instigation for organising a beef festival. Rohit and I had had a conversation on Facebook just on Dec 18, and now a month later, he's gone. This is unconscionable, it's institutional murder. The MHRD must answer - first Ambedkar Periyar Study Circle then FTII and then HCU - Dalit students and protesting voices being victimised for their political and social opinions and activism - and now it's claimed a life."
Expelled and ostracised
A petition on Change.org demanded that the suspension of the scholars be revoked. It claimed that the students were thrown out of the hostel and ostracised and calling the expulsion an absolute injustice. The petition by the University of Hyderabad's Joint Action Committee of Social Justice reads:
"The students have been subjected to suspension from hostels and social boycott barring them from accessing the hostels, administration building, public places and participating in Students' Union elections."
After being expelled, the students put up in a make-shift tent near a shopping complex while protesting against the college authorities. Now, the agitating students are demanding the resignation of Vice Chancellor Prof Appa Rao.
Vemula had written a letter to the Vice Chancellor right after his expulsion. He sought to meet Rao. While the VC told the media that he did meet the aggrieved students and had no clue that Vemula would take such an extreme step, a letter written by the Dalit scholar right after the expulsion should have been taken seriously by him.
In the letter, Vemula said: "Please serve 10 mg of sodium Azide to all Dalit students during admission. Supply a nice rope to the rooms of all Dalit students...I request your highness to make preparations for the facility "EUTHANASIA" for students like me. "
Why were the Dalit students expelled?
The incident that led to Vemula's suspension dates back to a clash on 4 August between two student unions - the Ambedkar Students' Association (ASA), of which Vemula was an active member, and the Akhil Bharatiya Vidyarthi Parishad (ABVP).
#RohitVemula (PhD scholar) carrying photo of Dr Ambedkar when expelled from University hostel ,found hanging. pic.twitter.com/MgL91iLfmM

- yogender kumar yk (@yogender250893) January 18, 2016
However, there is a difference of opinion on what led to the scuffle. The ASA claims that the two groups were warring over a Facecbook post by ABVP president Sushil Kumar. He had reportedly called ASA members 'goons' after the student's organisation screened Nakul Shawney's documentary Muzaffarnagar Abhi Baaqi Hai. The ABVP reportedly disrupted the screening of the riot documentary in Delhi University campus, calling it anti-Hindu.
'The Deccan Herald', on the other hand, reported on 5 August that the two groups clashed after anti-capital punishment protests by ASA members, following the hanging of Mumbai serial blast convict Yakub Memon on 30 June.
Apparently, the ABVP was opposed to the protest and its president vented his anger via social media, calling ASA members "goons".
The post didn't go down well with ASA supporters. Kumar, also a PhD student, alleged assault by ASA members, which they said was a false claim.
Students affiliated to ASA alleged that the university authorities conducted a botched-up investigation, supporting ABVP student. The probe was biased against Dalit scholars and led to their expulsion.
Students say that an investigation by the Proctorial Board of the University clearly stated there was no physical assault on Kumar and that differences between the members on the board led to the expulsion. However, a fresh probe by the Executive Council, the apex body of the University stuck with the earlier order of expulsion. ASA students claim they were not given a fair hearing.
Is BJP's Bandaru Dattatreya involved?
Students have also alleged that BJP leader and Union Cabinet Minister of State for Labour and Employment Bandaru Dattatreya had a role to play in the probe conducted by the University.
Speaking to Catch, Arpita, a student of university said:
"This is all a gameplan of the BJP right from the beginning when the ABVP president filed a false case and followed by Bandaru Dattatreya, Union Cabinet Minister of State for Labour.
"This person sends a letter to Smriti Irani branding students of University of Hyderabad as casteist and anti-national, appealing to her to take action against students affiliated with Ambedkar Students' Association. Smriti Irani writes back to the Vice Chancellor and Vice Chancellor executes it."
However, Arpita adds that the letter by Irani wasn't made public by the VC even when an independent journalist pplied under Right to Information. Here's a copy of the letter written by Dattatreya.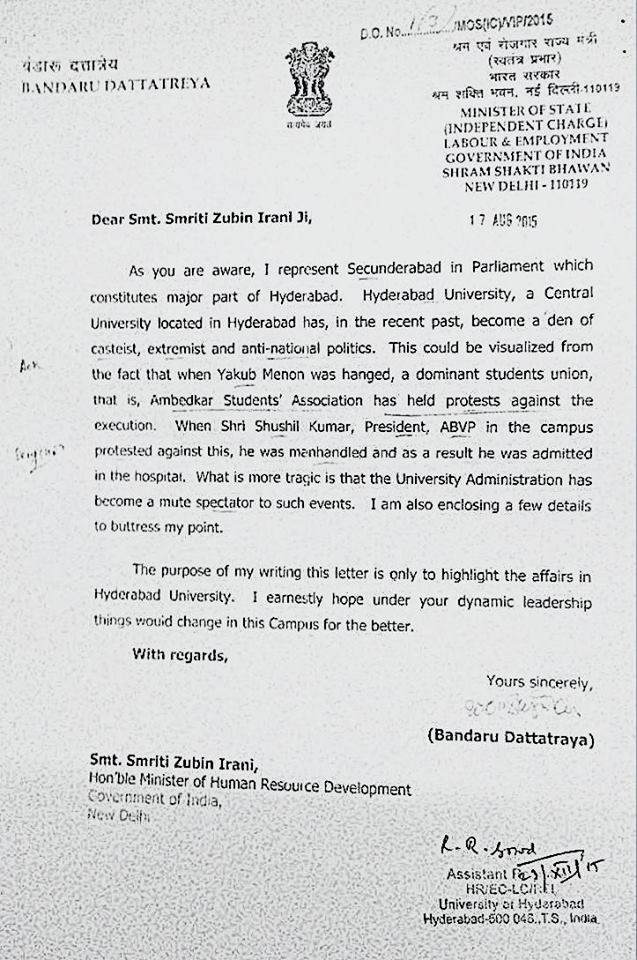 Meanwhile, an FIR has been lodged against Dattatreya, the ABVP president and the VC, according to NDTV
Vemula talks about identity politics in his suicide note
In a hand-written suicide note, Veluma said no one must be blamed for his suicide. However, the scholar also highlighted how identity politics had disturbed him. He wrote:
"The value of a man was reduced to his identity...to a vote, to a number, to a thing. Never was a man treated as a mind, as a glorious thing made of star dust in every field. In studies, on streets, in politics and in dying and living".
He ended his suicide note with the Ambedkarite sign off Jai Bhim.
PL Punia, chairman of National SC/ST commission, will visit theUniversity of Hyderabad on Monday. HRD Minister Smriti Irani has also sent a team to Hyderabad amid protests.
Catch tried to contact Professor P Prakash Babu, the dean of Students' Welfare, but got no response.