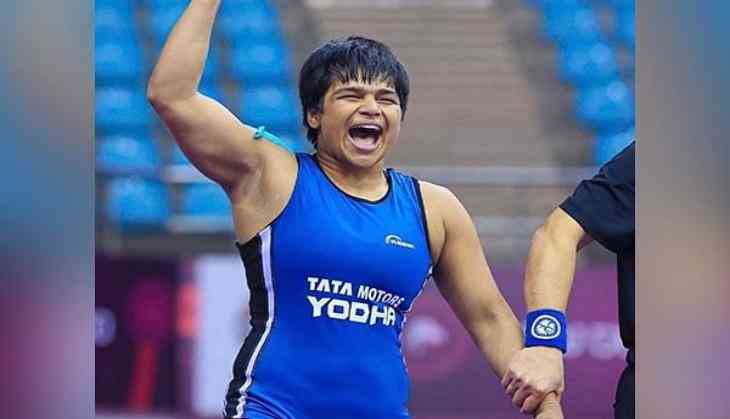 Asian Games and Commonwealth Games medalist wrestler Divya Kakran on Wednesday defended the Wrestling Federation of India (WFI) chief Brij Bhushan Saran Singh, who has been accused of sexual harassment, saying that she has not experienced or witnessed any instances of the same by Bhushan during her decade-long experience of attending camps organised by the governing body.
Notably, Vinesh Phogat on Wednesday alleged that coaches who are favourites of the Wrestling Federation of India (WFI) misbehave with women and harass them. She also accused the wrestling federation chief Brij Bhushan Sharan Singh of sexually harassing girls and calling her a 'khota sikka' after her defeat at the Tokyo Olympics 2020.
"Since morning, a lot of allegations are being made against WFI chief Brij Bhushan Saran Singh. No one is questioning those who are levelling these baseless allegations. When old allegations are not working, the accusers are in search of new allegations against Sharan. Since 2013, when I was 14, I have been going to camp and I attend it even now. Till day, he has done nothing wrong with me or any woman for that matter. Wrestlers from Haryana and UP are supported well by them and he makes sure that they are not discriminated against," said the wrestler in a self-made video.
Kakran also alleged that the wrestlers attending the protest are the ones who were speaking positively about Brij Bhushan and his work as the president of WFI to media just months back.
"I cannot understand that the ones protesting were posting just two months back on social media that the arrival of Brij Bhushan Singh in the WFI as its chief had changed wrestling. These are the people who thank him for the awards they get and thank him for not making them suffer any kind shortages or discrimination. They also said that today nationals take place at various age groups, when it used to start at 19 years of age earlier. There are ranking series, Khelo India events. These are happening because of the money from sponsors. At lower levels, children experience improvement in their game. Brij Bhushan is promoting the sport making use of his top office," concluded Kakran.
On the sidelines of a sit-in protest against the WFI near Delhi's Jantar Mantar, Phogat had said, "Coaches are harassing women and some coaches, who are favourites of the Federation, misbehave with women coaches as well. They sexually harass girls. The WFI president has sexually harassed many girls."
"After my defeat in the Tokyo Olympics, the WFI president called me a 'khota sikka'. The Federation mentally tortured me. I would entertain thoughts of ending my life every day. If anything happens to any wrestler, the WFI president will be to blame," she added.
Olympians Bajrang Punia, Sakshee Malikkh and Phogat led the protest at Jantar Mantar against the Wrestling Federation of India (WFI), alleging "harassment of wrestlers by the WFI through its arbitrary rules and regulations".
The protesting wrestlers further accused the WFI of interfering with their personal lives and exploiting them.
"When we went to the Olympics, we did not have physio or a coach. After we started raising our voices, we were threatened," added another wrestler.
Olympic medalist Bajrang Punia said the wrestlers want the management of the Federation to be sacked and replaced.
"We hope Prime Minister (Narendra Modi) and Home Minister (Amit Shah) will support us in our quest," added Punia.
However, WFI President Brij Bhushan Sharan Singh denied any incident of sexual harassment and remarked that if such a thing has happened, he will hang himself.
"There has been no incident of sexual harassment. If such a thing has happened, then I will hang myself," said the president during a press conference.
He also said that he is ready for investigation.
"Sexual harassment is a big allegation. How can I take action when my own name has been dragged into this? I am ready for an investigation," said Brij Bhushan.
A 2022 Commonwealth Games gold medallist, Bajrang Punia said the wrestlers will not tolerate the ongoing dictatorship of the Federation.
"We would not tolerate the ongoing dictatorship," Bajrang told ANI.
The first Indian woman wrestler to win a gold medal at both the Asian and Commonwealth Games, Vinesh Phogat, expressed her displeasure with the Federation's management on Twitter and other wrestlers including Bajrang and Sakshee also took to Twitter to raise their voices against governing body of the sport in the country.
"The players want self-respect as they prepare for the Olympics and other big events with full vigour. However, if the federation does not support them, their morale breaks down. But we won't bog down anymore and will fight for our rights," she wrote in a tweet.
Meanwhile, Wrestling Federation of India (WFI) Assistant Secretary, Vinod Tomar on Wednesday said he was not aware what ace wrestlers, including Vinesh Phogat, Sakshee Malikkh, Bajrang Punia and others were protesting about.
He added that once the wrestlers approach the Federation, all the issues will be resolved and sorted out.
"Do not know what this is all about. However, we came to know from the letter to the WFI president that some wrestlers are sitting in protest. I have come to ask them about their problem," Tomar told ANI.
Tomar stated that once the wrestlers formally approach the Federation, all issues will be sorted out.
However, he claimed the protesting wrestlers still haven't taken the Federation into confidence about their issues.
"They have not yet told me what their grouse is. No issue has been raised with me or the Federation as yet," he added.
(ANI)
Also Read: Karnataka govt 'covering up' Santro Ravi's case to prevent BJP ministers, alleges Siddaramaiah