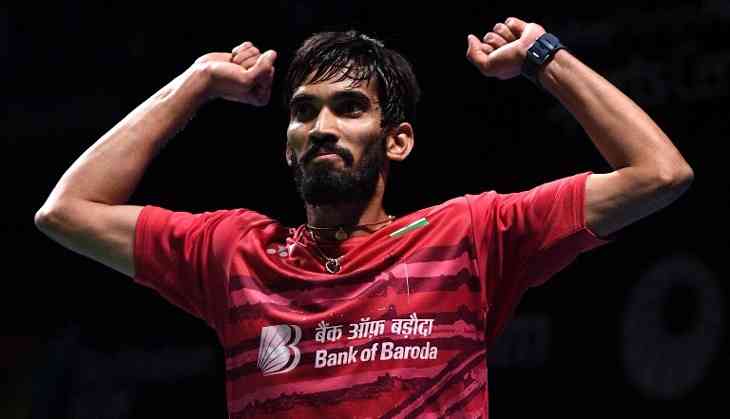 Indian shuttlers have a great chance of winning a medal at next month's World Championship provided they play consistently well throughout the prestigious tournament, feels Kidambi Srikanth, who won back- to-back titles at Indonesia and Australia.
Three Indians -- Srikanth, B Sai Praneeth and Ajay Jayaram -- qualified in men's singles category for the BWF's World Championship slated to be held at Glasgow from August 21-27.
"I think we all are playing well. I can't really say if we will definitely win a medal. We have a chance for sure but we have to be 100 per cent on that day and every match," Srikanth told reporters on the sidelines of a felicitation program by Sports Minister Vijay Goel.
"We have to play consistently well, because it is such a big tournament and everyone prepares really hard."
Talking about the level of competition, Srikanth said: "I think everyone in top 30-35 are playing well. If you actually see HS Prannoy was 29 before Indonesia Open and see how he beat Chen Long and Lee Chong Wei in successive matches. So everyone in the top 35 are playing well."
"The game now is definitely physical for sure. You have to be really alert on the court, move well, for an hour, so it is more physical then skills. But I think the level of the game is growing in the other players as well."
Srikanth, who reached three successive Super Series finals, believes he is picking at the right time for the prestigious World Championship.
"It has been fantastic the last one month. Right from Singapore Open, it has been great. I have received more than what I have asked for, so I am very happy. I don't know how to express," said Srikanth, who also won the 2014 China Super Series Premier and 2015 India Super Series.
"I'm picking at the right time. I am really happy how I played last one month. I really want to train hard for the next few weeks ahead of the tournament and play consistently at the World championship," he said.
The 24-year-old said he never stopped believing in himself during the injury lay-off after the Rio Olympics and it helped him make a successful comeback.
"I never lost the chance of being in team. After winning the China Open I won the India Open in 2015. I managed to win the Syed Modi in 2016 and then lost the Olympic quarters by just a point. So I have been playing well in the important tournaments," he said.
"The matches I lost were very close one, three sets. It is not easy but I always believed that if I can continue working hard, I can do well and I am happy everything worked for me," he added.
The Guntur-lad, however, said the post-Olympics injury changed his life and he thanked chief coach Pullela Gopichand and Indonesian coach Mulyo Handoyo for the turnaround.
"The injury part changed me. My approach towards training and the way I trained with Gopi sir and our new Indonesian coach Mulyo, it really worked for me," Srikanth said.
"I think we only had Gopi sir before and now we have Mulyo, who has seen the highest level of badminton and with both of their inputs, it has really helped me.
"Now two people are working to improve Indian badminton and it is really working for us."
Talking about his match against Chen Long in the Australian Open final, Srikanth said: "Against Chen Long, I think how I was playing before that match gave me the confidence.
"Our last few matches were close, so I thought to give 10 per cent more. All earlier matches helped me to give that 10 per cent."
Srikanth considers the semifinal clash against World No. 1 Son Wan Ho of Korea as one of the toughest match.
"Semifinal match in Indonesia Open was a tough match. Son Wan was playing well. It was challenging. My strategy worked. Everything worked well for me," he said.
-PTI