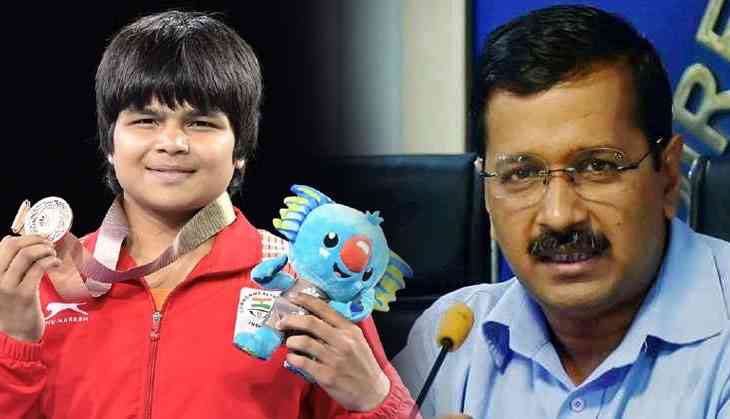 The 19-year-old Asian bronze medalist, Divya Kakran, in the recently concluded Asian Games in Jakarta has slammed Delhi CM Arvind Kejriwal for not supporting her when she needed it most.
She revealed that she had requested for help from the Delhi state government while preparing for the Games but was never provided any help. Apart from his request her written appeal too was ignored and she was left dejected.
During a felicitation ceremony in New Delhi on Tuesday, a Delhi wrestler Divya Kakran told Kejriwal to his face that she could've gotten a gold medal if she received more support from the government.
Divya Kakran told Kejriwal in front of other medal winners and government officials that"I'd won a medal at the Commonwealth Games (in Gold Coast, Australia, earlier this year) and you had told me that I will receive more help going forward. But not even my phone calls were answered", as per reported in DNA.
WATCH: Bronze medalist Wrestler, Divya Kakran confronted Delhi CM Arvind Kejriwal while she was attending a function in her honour, she complained about how no help was provided to her when she wanted support from the government #KejriwalKaKhel pic.twitter.com/MR8526R9PT

— TIMES NOW (@TimesNow) September 5, 2018
"You're felicitating us today but please also think of poor kids aspiring to become athletes. You've gathered us today to congratulate us but there's no support provided when we need it most. If we're given that support at the right time then we can even win gold," she added.
Delhi Wrestler Divya Kakran, in an interview with ABP News she said "At times I didn't even have enough glucose to quench my thirst after practice, but I had the determination to do something and big so I would drink water and get back on the mat. When I was preparing for the Asian Games, we had approached Delhi Chief Minister Arvind Kejriwal for help, I told him about my torrid financial condition they even assured me of help but to no avail. Till date I haven't received any support from the Delhi government," she said.
Also Read: Teacher's Day 2018: Here's how Indian sporting champions including Virat Kohli, Bajrang Punia and many more paid tribute to their coaches