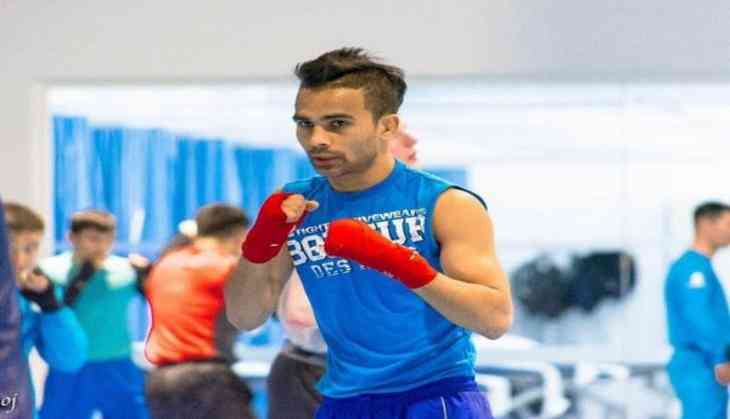 Boxer Gaurav Bidhuri, who entered the World Championships as a wild card and went on to clinch Bronze for India, on 5 September labelled his performance in Germany as `best` of his career before admitting that he put up a more sensible performance this time around as compared to the previous ones.
Bidhuri revealed that, prior to his performance at the World Boxing Championships, he just used to go blind and his mind stopped working every time he enters the ring.
However, the Indian boxer insisted that he performed more sensibly this time and attacked and defended whenever needed.
"The performance in World Championship was my best so far. In the ring, I just go blind. My mind doesn't work in the ring. I played sensibly and according to the boxer this time. I got different type of boxers in every fight. And I somehow managed to play pretty well against each of them," Bidhuri told ANI.
"Previously, I used to play with my heart. I just thought about winning. But this time, I performed more sensibly and I just didn't go blind. I attacked and defended when needed. Whatever was required, I did that," Bidhuri told ANI.
Though he lost in the semi-final to American Duke Ragan, Bidhuri admitted he was quite hopeful of creating a history for India.
"I gave my best over there. I was even hopeful about winning the semi-finals. But the fight was 19-20 and I just missed it. I was thinking of creating a history being the first boxer and would have made the country proud at the World Championships. But I just missed that. However, I am happy I did something for my country," he added.
Describing World Championship as equivalent to Olympics, the 24-year-old from Delhi admitted that the tournament was a great moral booster or him and that it would inspire him to prepare better and put up an even better performance in the upcoming tournaments.
Bidhuri also shared that his next target is Commonwealth and Asian Games, besides keeping an eye on securing his place in 2020 Olympics.
Bidhuri, who defeated Tunisia's Bilel Mhamdi 3-0 in the quarter-finals of the in the Bantamweight (56kg) category to assure a medal for India at the World Championships, is the only fourth Indian boxer to have achieved the feat.
The other three Indians are Shiva Thapa (2015), Vikas Krishan (2011) and Vijender Singh (2009).
Bidhuri's father Dharmendra Bidhuri was also a national level boxer and that he admits to living his father's dream.
-ANI