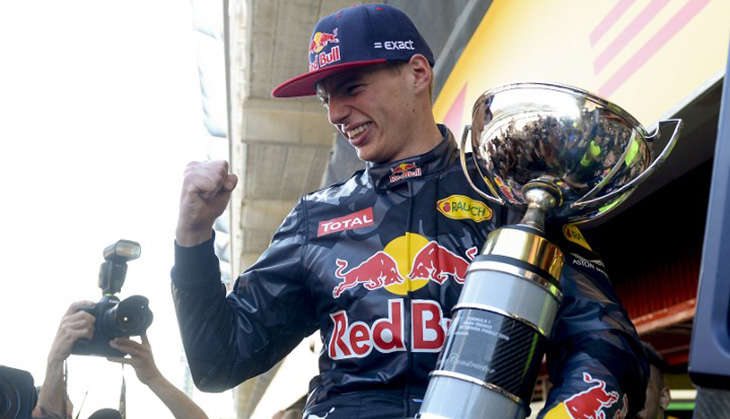 Red Bull driver Max Verstappen, all of 18-years and 228-days-old, made history on 14 May by becoming the youngest ever Formula One winner, dethroning Sebastian Vettel by two years and 210 days. Verstappen won the Spanish Grand Prix on Sunday, 15 May
What makes his victory that much more sweeter is the fact that this was Verstappen's first race after having being promoted from Red Bull's junior team, Scuderia Toro Rosso.
Verstappen is also the youngest driver to ever grace an F1 podium. What's more, he is also the first ever Dutch winner of an F1 Grand Prix and the first driver to win in a Red Bull car since 2014. However, Verstappen's record may be broken soon, as Formula One has now set a minimum age of 18 for anyone who wants to become a driver in the sport.
Ferrari's Kimi Raikkonen finished second while Sebastian Vettel finished third. At the start of the race, Lewis Hamilton was overtaken by Nico Rosberg, and when the British driver tried to regain the lead, they both touched and crashed out of the race.
The entry of Verstappen, who couldn't drive until last year, was questioned by many. "I was targeting a podium but to win straight away is an amazing feeling," Verstappen told reporters.
"I can't ever remember seeing a debut performance like that," Red Bull team principal Chrisitan Horners said. "The kid's just done an unbelievable job. Max hasn't put a wheel wrong all weekend. To win the race, I don't think anyone can have dreamed of that."
Verstappen led from lap 44, when all the postmortems from the first lap crash were done, and never looked back. Red Bull's other driver, Daniel Ricciardo, was given a three-stop strategy by his team and this benefited Verstappen.
"The biggest aspect of his performance has been in calmness. He's obviously got a lot of capacity when he's driving the car. We were all getting tense with five laps to go because the tyres were at the end of their life and he had Kimi breathing down his neck," Horner added.
While we're all celebrating Verstappen's victory, we shouldn't forget that his old teammate, Carlos Sainz, drove an incredible race to finish sixth, his best result.
Edited by Blassy Bobben