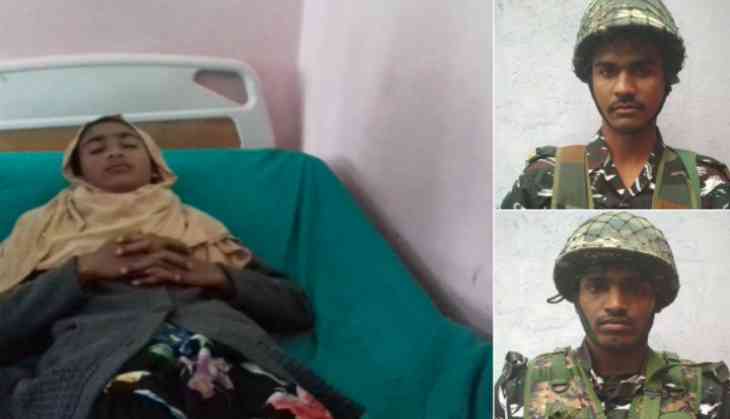 Nageena on left, MG Naidu and N Upendra on right
Two brave Central Reserve Police Force (CRPF) personnel didn't think twice and jumped in strong currents to save a 14-year old girl from drowning in Kasmir. The officers named MG Naidu and N Upendra both constables in the CRPF saved the girl from strong river currents in Kashmir.
In the video, Nageena a teenager from Jammu and Kashmir's Baramulla district was seen drowning in the river before the officers jumped in the strong currents to save her life. One of the officers jumps in the river first without even thinking twice when he sees the girl being swept away by river currents. Another officer comes in for their rescue and to support the two from being swept away.
The video of the unmatched valour act was shared by the official Twitter handle of CRPF India. CRPF wrote, "Constable M. G. Naidu and Constable N. Upendra of #176Bn saved life of a 14-year-old girl drowning in the river. The brave men didn't think twice and jumped in the strong currents. The unmatched valour and team spirit of the men saved a precious life in #Kashmir."
Constable M. G. Naidu and Constable N. Upendra of #176Bn saved life of a 14 year old girl drowning in the river. The brave men didn't think twice and jumped in the strong currents.

The unmatched valour and team spirit of the men saved a precious life in #Kashmir. pic.twitter.com/yHtwuiXd91

— 🇮🇳CRPF🇮🇳 (@crpfindia) July 15, 2019