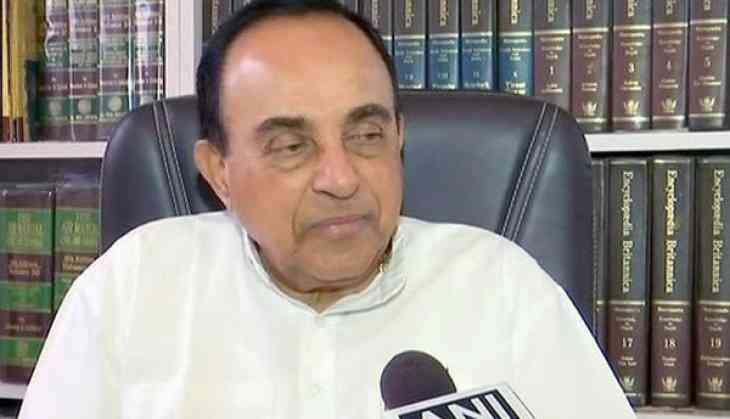 Bharatiya Janata Party (BJP) leader Subramanian Swamy on Saturday said that he wants to ensure a fair trial in the death case of Sunanda Pushkar, wife of Congress leader Shashi Tharoor.
"Today, the Delhi police and counsel for accused said my position is not maintainable. I argued it under section 302 CrPc, I am entitled. Question of maintainability is irrelevant. I am here to see that trial is fair and the Delhi Police does not botch it," Swamy told reporters here.
On Tharoor's counsel questioning his locus standi in the case, Swamy speaking to ANI said, "The arguments made in court were essentially that I have no locus standi which is a bland and a cheap argument, anybody can make it at any time."
He also said, "The other thing is that surprisingly the Delhi police counsel, the public prosecutor said this vigilance report has nothing to do with Sunanda's case which is rubbish. It is centrally and totally on how the evidence was destroyed."
Earlier in the day, a Delhi Court granted bail to Shashi Tharoor in connection with the case.
A Patiala House Court Judge had said, "There is no requirement to file a formal bail. Anticipatory bail had been granted by the Session's Court."
The public prosecutor and Tharoor's counsels opposed the applications moved by Swamy seeking the court's nod to allow him to assist the prosecution in the case and a direction to the police to produce the report of vigilance inquiry conducted earlier.
Tharoor's counsels questioned Swamy's locus standi in the case.
The court has set July 26 as the date for the scrutiny of documents and consideration of the application.
On July 5, the court granted anticipatory bail to Tharoor in connection with the case and he was asked to furnish a bail bond of Rs.1 lakh.
However, the Special Investigation Team (SIT) had opposed Tharoor's anticipatory bail plea.
On June 5, the Delhi court had issued a summon notice to Tharoor in the connection with the case.
Tharoor, who has been charged for "abetment to suicide and cruelty" in the case, was earlier asked to appear before the court on July 7. The court had also taken cognizance of the charge-sheet filed in the case.
On May 24, the Delhi court, which was hearing the case, transferred the matter to the Additional Chief Metropolitan Magistrate (ACMM), Samar Vishal.
On May 14, the Delhi Police had filed a charge sheet in the court, in which it named Tharoor as an accused, under sections 306 (Abetment of suicide) and 498A (Husband or relative of husband of a woman subjecting her to cruelty) of the Indian Penal Code (IPC).
Tharoor, however, had dismissed the charge sheet filed as "preposterous".
Sunanda was found dead under mysterious circumstances in a suite of a five-star hotel in Delhi on the night of January 17, 2014.
(ANI)