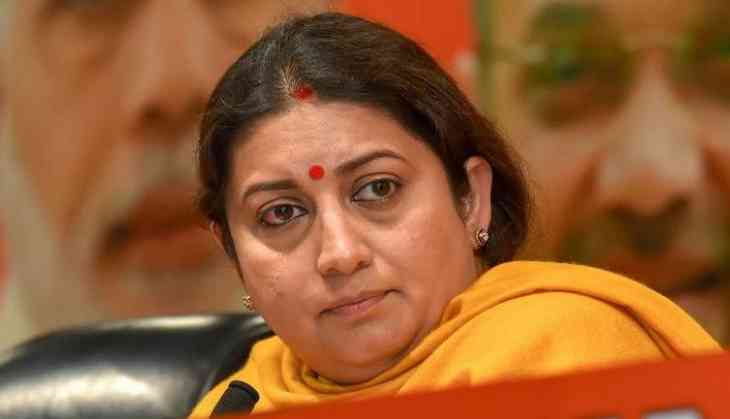 Union Minister and BJP candidate from Amethi, Smriti Irani campaigned in Madhya Pradesh on Wednesday, ahead of sixth phase polling for national election. However, Congress tweeted a video claiming that Irani was left shocked while she was tryinh to attack party chief Rahul Gandhi.
The video was shared by the Madhya Pradesh Congress on Twitter in which, Smriti Irani can be seen pausing during her speech as the crowd roared.
"Now even the people have started calling out their lies," said the Congress, captioning the video.
स्मृति ईरानी की हुई किरकिरी :

स्मृति ईरानी ने मप्र के अशोकनगर में मंच से पूछा क्या किसानों का कर्जा माफ हुआ है ? तो सभा के बीच में किसानों ने चिल्ला कर बताया "हां हुआ है, हां हुआ है, हाँ हो गया है"।

—अब जनता भी इन झूठों को सीधे जवाब देने लगी है।

"अब तो झूठ फैलाने से बाज़ आओ" pic.twitter.com/N9g64K7xAC

— MP Congress (@INCMP) May 8, 2019
In the video, share by Congress on Twitter, the Union Minister can be heard asking a crowd at her rally in Ashoknagar, near Bhopal that whether they have recieved loan wavier by the Congress government in the state as promised by Rahul Gandhi.
Here, BJP leader expected the answer to be no, however, she was left surprised and in embarassment after the crowd shouted "yes, we have".
Smriti Irani has been fielded from Uttar Pradesh's Amethi opposite Congress president Rahul Gandhi. In 2014, she was defeated by around 1 Lakh votes. She has been active in the election campaigns ahead of national polls.
Also read: Modi's jibe at Mamata Banerjee: She is insulting Constitution by not accepting me as PM