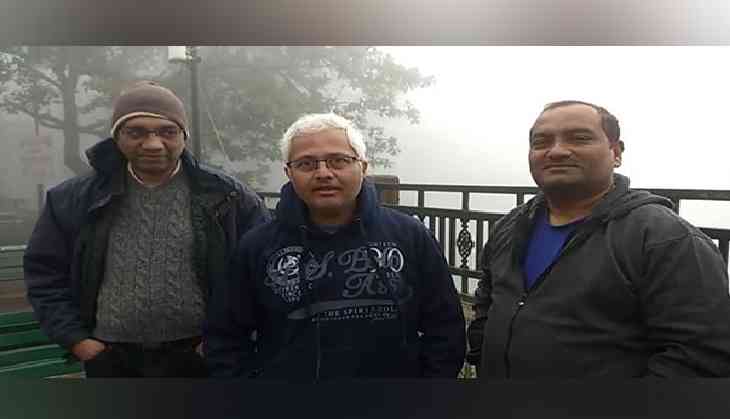 It had rained yesterday in Rajasthan's hill station Mount Abu and as tourists arrived there in large numbers to enjoy the cold weather, fog enveloped the town on Sunday.
A tourist told ANI, "I came here to enjoy the -4 degree Celsius temperature. It rained yesterday here after which there is a lot of fog. A lot of people are here to enjoy the weather."
After the thick fog covered the mountains, heavy rains began in the hill station which continued for a prolonged period of time. Due to the heavy rains, the weather became naturally attractive but the visitors and tourists who came outside to explore the hill station had to rush back to their rooms.
Though the rains caused a little increase in the minimum temperature, the cold weather remained bitter and frigid. The tourists here enjoyed the cold weather and they were seen capturing the climate through their mobile phones as they made their moment memorable.
"Suddenly the weather changed. It seems like heaven. After the rain, the temperature rose a little and the beautiful fog is just a treat to our eyes," said a middle-aged tourist, who visited the place along with his friends.
The tourists and visitors thoroughly embraced the chilly weather and the dense fog in the mountains. The temperature in the hill station has been remarkably low for the last 25 days which on the mercury has remained below 0 degrees Celsius, as claimed by the locals.
The Indian Meteorological Department experts believe that after heavy rains, extremely chilly winds would begin once the sky is clear.
Weather Forecast: Temperature to dip by 3-5 degrees in Delhi, Rajasthan; rainfall alert in these states; check full forecast
Among a group of youngsters, a youth said, "Four of us came from Ahmedabad on a totally unplanned trip. One of my friends suggested on the way that let's head to Abu and I have not regretted it. It is extremely beautiful and one of the best experiences I will ever have on a trip."