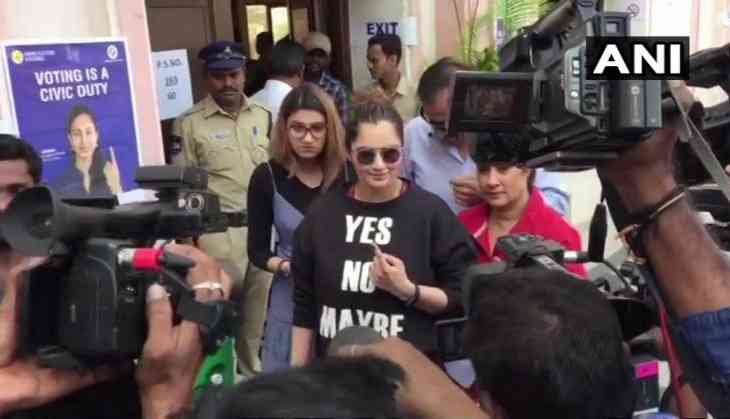 As voting crosses 24% in Telangana, Sania Mirza, Tennis star and wife of Pakistan cricketer Shoaib Malik, had come to vote in Hyderabad.
The Telangana election has become the center point of discussion since the Opposition formed a "People's Alliance" with Congress leading the party and Chandrababu Naidu's TDP and Telangana Jan Samiti (TJS) in support.
Although, the BJP under Amit Shah, has gone alone in the election and TRS is weighing on the Telegu Asmita, through which the caretaker CM K Chandrashekhar Rao was able to form the government.
In the last poll, TRS had bagged 63 seats whereas the Congress came at second with 21.
Sania Mirza cast her vote at Film Nagar Cultural Center in Hyderabad. #TelanganaElections pic.twitter.com/GlD1jNSPRo

— ANI (@ANI) December 7, 2018
Now, it has come down to the Telegu Asmita and the development agenda which the TDP, TRS and the BJP are raising in sync.
Today, BJP MP Bandaru Dattatreya casted his vote at booth no.229 in Ramnagar of Musheerabad constituency in Hyderabad.
Earlier, UP CM Yogi Adityanath and BJP's star campaigner while rallying in Hyderabad had proposed to change the name of Hyderabad to Bhagyanagar.
Yogi had said, "If Hyderabad has to be transformed into 'Bhagyanagar' then I call upon you to support BJP to form the government (in Telangana)."
As per reports from the ground, TDP candidate has accused TRS workers of turning away his supporters from the polling booth.
He said, as reported by Firstpost, "They are analysing the voters and allowing only TRS supporters inside while telling others that they do not have a vote in the booth. We have noticed this in Miyapur and Chandanagar and have informed the Election Commission. Even the police are assisting them with this. As a candidate, when I went inside to question this, the police dragged me out. Are they neutral or not?"
Also read: Telangana Election 2018 Live Updates: Polling begins in Telangana's 119 constituencies seats to decide fate of