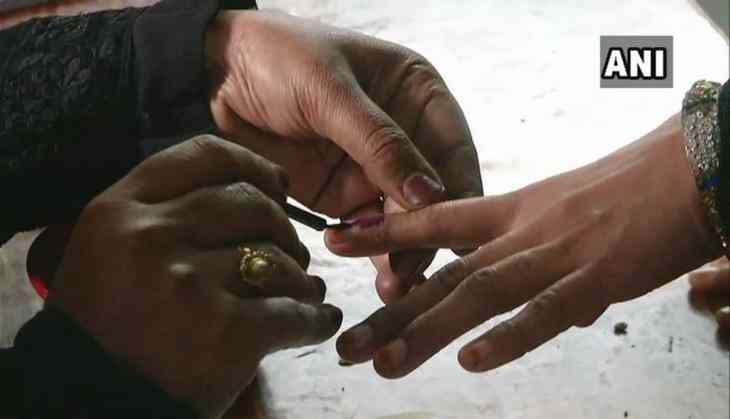 After a huge campaigning and war-of-words between contending parties, voting in Telangana for the Assembly elections 2018 has begun. Polling in 119 constituencies seats for the Telangana Assembly Election 2018 began at 8 am. 119-seats battle ground is now open with the Congress-led alliance challenging the ruling TRS, and the BJP seeking to dethrone its Opposition from the state.
According to Telangana's Chief Electoral Officer Rajat Kumar, polling will be held from 7 am to 5 pm in 106 constituencies while in 13 Left Wing Extremism affected constituencies polling will conclude at 4 pm.
Also read: Rajasthan Election 2018 Live Updates: Polling for 199 constituencies begins; CM Vasundhara Raje casts her vote
The fate of 1,821 contending candidates will be decided in the first full-fledged election in India's youngest state. Over 28 million electorates are eligible to exercise their franchise in the State, which has a total of 32,815 polling stations across.
Telangana Assembly Election 2018 Live Updates:
03:00 (IST): Voter turnout recorded till 3 PM in Telangana elections is 56.17%
02:00 (IST): Telangana Votes for 2018 Election by 1pm
Ammur 46.20% Manakondur 45% Huzurabad 49% Dubbak 50% Miryalguda 51.25%
1:45 (IST): Challa Vamshi Chand Reddy, Congress candidate from Kalwakurthy, Mahbubnagar was allegedly attacked by unknown miscreants earlier today
1:30 (IST): Voter turnout recorded till 1 PM in Telangana Election is 49.15%
01:15 (IST): KCR's son KT Rama Rao casts his vote, tweets "I am inked, are you?"
12:58 (IST): Clashes erupt between Congress, TRS workers reported in Jukkal
12:50 (IST): Telangana CM K Chandrashekhar Rao has voted today for the polls
12:45 (IST): BJP MP Bandaru Dattatreya casts his vote at booth no.229 in Ramnagar of Musheerabad constituency in Hyderabad
12:30 (IST): Congress candidate attacked in Nagarkurnool's Kalwakurthy, blames BJP workers for violence
12:15 (IST): Sania Mirza casts vote in Telangana Assembly polls in Film Nagar in Hyderabad
12:00 (IST): Voter turnout recorded till 11.00 am in Telangana Election is 23.4%

11:15 (IST): Senior Congress leader Randeep Singh Surjewala has tweeted "The youngest state of India, Telangana has lost four precious years due to 'Corruption, Commission & Coterie Raj'. Let us throw out the arrogance of power and usher in a New era towards a 'Bangaru Telangana'
11:03 (IST): Kavitha Rao, KCR's daughter and Nizamabad MP queues up to cast her vote
10:59 (IST): A few villages boycott polls in Khammam and Rangapuram Thanda as none of their problems have been addressed
10:30 (IST): Nandamuri Taraka Rama Rao Junior, also known as Jr NTR or Tarak, a well-known Telegu film personality was seen outside the polling booth.
10:12 (IST): Badminton player Jwala Gutta tweetd "Surprised to see my name disappear from the voting list after checking online. How's the election fair...when names arr mysteriously disappearing from the list"
10:00 (IST): Voting turnout recorded till 9.30 am in Telangana is 10.15%.
9:35 (IST): Andhra Pradesh CM N Chandrababu Naidu tweeted, "Appealing to the citizens of Telangana to exercise their right to vote today. Remember that every vote counts and will make a difference."
09:18 (IST): Voting turnout in Telangana Assembly election is 8.97% till 9 AM
08:40 (IST): Opposition alliance led by Congress and TRS give front page ads in newspapers on polling day, EC says no poll violation
07:55 (IST): Deputy Chief Minister Kadiyan Srihari cast his vote in Warangal.
07:50 (IST) BJP's G Kishan Reddy casts his vote at polling booth no.7 in Kachiguda, Hyderabad.
07:45 (IST) Actor Allu Arjun stands in a queue to cast his vote at booth no. 152 in Jubilee Hills, Hyderabad
Telangana: Actor Allu Arjun stands in a queue to cast his vote at booth no. 152 in Jubilee Hills, Hyderabad. #TelanganaElections2018 pic.twitter.com/5kuui5v5Wy

— ANI (@ANI) December 7, 2018
07:43 (IST) Actor Akkineni Nagarjuna and his wife & actor Amala Akkineni stand in a queue to cast their votes at booth no. 151 in Jubilee Hills, Hyderabad.
07: 40 (IST) Minister G Jagadeesh Reddy today casted his vote at Suryapet.
07:35 (IST) Roads and buildings minister Tummala Nageswara Rao and his family members vote at Gollagudem village in Khammam district.
07:30 (IST): TRS president K Chandrasekhar Rao's nephew and irrigation minister T Harish Rao cast their vote at Siddipet
07:25(IST): Highest number of 42 contestants in Malkajgiri constituency
Telangana's Malkajgiri Constituency has the highest number of 42 contestants and Banswada the least, 6.
07:50(IST): Voting is yet to begin at the polling station at GHMC Indoor Stadium, Amberpet due to a technical problem. Voting in the state began at 7 am today
07:45(IST): State Irrigation Minister T Harish Rao casts his vote in polling booth no. 102 in Siddipet constituency.
Telangana: People queue outside a polling station in Jubilee Hills, Hyderabad to cast their votes. Voting is being held in 119 constituencies of the state today. #TelanganaElections2018 pic.twitter.com/pkAAk6PZ88

— ANI (@ANI) December 7, 2018
Nizamabad: People cast their votes at a polling station in Pothangal. #TelanganaElections2018 pic.twitter.com/yFq8I8ZBtg

— ANI (@ANI) December 7, 2018
6:30 am (IST): Voting to begin shortly in Telangana
TRS MP K Kavitha stands in a queue to cast her vote at polling booth no. 177 in Pothangal, Nizamabad. #TelanganaElection2018 pic.twitter.com/3sQskAJzUs

— ANI (@ANI) December 7, 2018